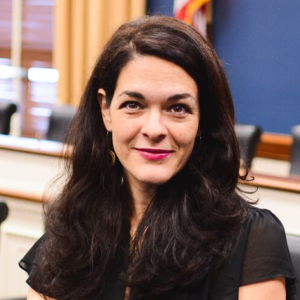 Caroline Bruckner

Professorial Lecturer Department of Accounting and Taxation
Degrees

Bruckner has a Masters in Taxation (LLM) from Georgetown University Law Center, a Juris Doctor from George Mason University School of Law where she won the "Best Memorandum of Law Award" for the First-Year Class, and a BA in Political Science from Emory University, where she was a member of Pi Sigma Alpha, Political Science Honors Society. She is a member in good standing of the Virginia Bar.

Bio

Caroline Bruckner is a tax professor on the faculty of American University Kogod School of Business and is the managing director of the Kogod Tax Policy Center. She has testified multiple times before both U.S. House and Senate Congressional committees as well as IRS. Since 2015, she has released ground-breaking research on the gig economy as well as women business owners and the U.S. tax code. In Oct. 2019, the Ranking Member of the U.S. Senate Committee on Finance, Ron Wyden (D-OR), introduced legislation to address challenges women business owners have accessing capital prompted by Bruckner's research. Earlier that year, she secured a grant from Wharton School of Business to publish research on women turning to gig economy work to shore-up retirement income shortfalls, which will be published in 2020. In addition, she is developing a Congressional witness testimony dataset that is the first-of-its-kind record of the diversity of Congressional witnesses in the federal legislative process. She teaches courses on business law, fundamental principles of federal income tax and business implications of the future of work. Prior to joining AU in 2015, she worked for the U.S. Senate Committee on Small Business and Entrepreneurship from 2009 through 2014, ultimately as Chief Counsel, where she developed small business tax legislation and advised the committee and its chair on tax, labor and budget matters. During that time, she developed expertise on Senate rules and Congressional committee procedure. Prior to public service, Bruckner was a senior associate with PricewaterhouseCoopers, LLP - Washington National Tax Services (PwC-WNTS), where she advised clients on international tax issues. Before joining PwC-WNTS, she served as an associate in the employee benefits group of PaulHastings LLP. Bruckner is an experienced media resource on tax issues generally and her research. Her work and expertise has been featured in interviews with national outlets and publications including: CNBC's The Closing Bell, Yahoo Finance, NPR, The Wall Street Journal, The Washington Post, Bloomberg, Forbes, Time, USA Today, Inc. Magazine, Politico, Tax Analysts, Fortune, Money, Wallet Hub. Her writing has been published in The Financial Times, The Hill, The Chicago Tribune, Tax Notes, and The Journal of Taxation.