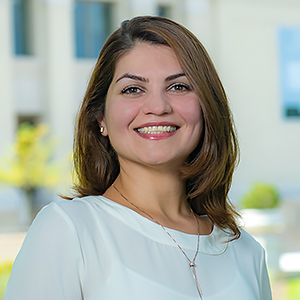 Mahsa Oroojeni

Professorial Lecturer Department of Information Technology and Analytics
Degrees

PhD, Industrial Engineering, Northeastern University, Boston, MA
MS, Industrial Engineering, University of Wisconsin-Milwaukee, WI
MS, Socio- Economic Systems Engineering, Amirkabir University of Technology, Tehran, Iran

Bio

Dr. Mahsa Oroojeni joined the Department of Information Technology and Analytics at Kogod School of Business in August 2017. Prior to coming to American University, she was a post-doctoral fellow at Johns Hopkins Bloomberg School of Public Health. She earned her Ph.D. in Industrial Engineering from Northeastern University, in Boston, MA.

Dr. Oroojeni's primary research interests include supply chain analytics, green supply chain management, green supplier selection, and applied machine learning. She has published her work in the Journal of Applied Mathematical Modeling, International Journal of Business Information Systems, International Journal of Supply and Operations Management, and International Journal of Industrial and Systems Engineering. Dr. Oroojeni has presented her papers at INFORMS, IIE Annual Conference and Expo, and The American Society of Mechanical Engineers.
Spring 2022
ITEC-320 Business Analytics

ITEC-320 Business Analytics

ITEC-320 Business Analytics
2022 Term 1
ITEC-610 Applied Managerial Statistics

ITEC-610 Applied Managerial Statistics

ITEC-620 Business Insights/Analytics
Summer 2022
ITEC-320 Business Analytics
Fall 2022
ITEC-320 Business Analytics

ITEC-320 Business Analytics

ITEC-610 Applied Managerial Statistics

ITEC-620 Business Insights/Analytics
2022 Term 4
ITEC-610 Applied Managerial Statistics

ITEC-610 Applied Managerial Statistics