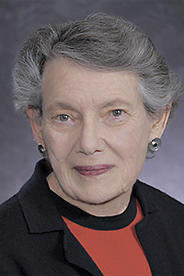 Anna Kasten Nelson Collection
Anna Louise Kasten Nelson was born in 1933 in Fort Smith, Arkansas. Nelson began her academic career as a student at Fort Smith Junior College. She then studied at the University of Oklahoma at Fort Smith, where she earned her BA in history and MA in political science.
Nelson began her college teaching career at George Washington University as a history lecturer in 1970 and earned her PhD in history there in 1972.
In the mid-1970s Anna Nelson served as a member of the National Study Commission on Records and Documents of Federal Officials. Generally known as the Public Documents Commission, it was established after President Richard Nixon resigned and announced plans to control his presidential records. Nelson helped write the commission's report that led to the passage of the Presidential Records Act, which clarified that the records of the president are the property of the American public.
She left George Washington University in 1986 to become an adjunct professor in history at American University, where she became the Distinguished Historian-in-Residence in 1996.
In addition to Nelson's membership to the State Department's Advisory Committee on Historical Diplomatic Documentation (1992 to 1994), she was a member of the American Historical Association's Research Division (1986-1989). In 1994, she was nominated by President William Clinton to represent the American Historical Association on the John F. Kennedy Assassination Records Review Board.
Nelson published more than 30 scholarly articles on 19th and 20th century United States foreign and national security policy. She received the James Madison Award from the Coalition on Government Information, and the AHA awarded her its Troyer Steele Anderson Prize for the advancement of its association.
Anna Nelson passed away in 2012.