International
New Center Highlights Southeast Asia's Growing Global Importance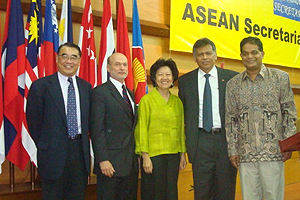 Southeast Asia is a region of growing importance in global affairs. Home to 600 million people and the world's third-largest democracy, it claims more U.S. business investment than China and critical shipping routes populate the region's waters.  

American University's School of International Service—in its tradition of heeding President Dwight D. Eisenhower's 1956 call to train young men and women to "wage peace around the world"—is partnering with the Association of Southeast Asian Nations (ASEAN) to establish the ASEAN Studies Center—the first academic research center of its kind in the United States.

The center will cooperate with the ASEAN Secretariat and other members of its network of study centers by conducting joint research, carrying out specialized training, and serving as a venue in Washington, D.C., for ASEAN-related issues.
The center's creation coincides with an increased U.S. interest in Southeast Asia. Recently, Secretary of State Hillary Clinton attended an ASEAN summit and signed the Treaty of Amity and Cooperation, an event that has been in the making for 33 years. The treaty was drafted in 1976 and until now had been signed by 25 nations; the United States is 26.

"The United States is back in Southeast Asia," said Clinton at the summit. "President Obama and I believe that this region is vital to global progress, peace, and prosperity, and we are fully engaged with our ASEAN partners on the wide range of challenges confronting us, from regional and global security to the economic crisis to human rights and climate change."

ASEAN Secretary-General Surin Pitsuwan hailed the center's opening as "an important new step in raising awareness of ASEAN and the roles it can play to help resolve regional and global problems."

"This center will create knowledge important for building communities which can improve international relations for ASEAN countries and beyond," said Louis W. Goodman, dean of the School of International Service. "With our Center for Asian Studies already in place and world-renowned scholars on Asian and Southeast Asian affairs on our faculty, the School of International Service is a natural home for the first ASEAN Studies Center located in the United States."

Goodman, School of International Service professors Amitav Acharya and Quansheng Zhao, and Heng Pek Koon, the new center's director, recently travelled to the ASEAN Secretariat to deepen their links to ASEAN's emerging worldwide network of study centers.  

ASEAN was founded in 1967 to promote political, economic, social, and cultural collaboration among the nations of Southeast Asia. Indonesia, Malaysia, the Philippines, Singapore, Thailand, Brunei, Burma (Myanmar), Cambodia, Laos, and Vietnam are its member states.