Arts
Japanese and Washington, D.C., Art Blend Together This Spring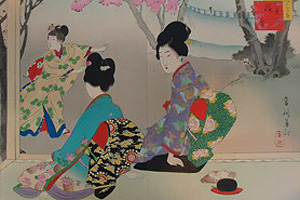 To celebrate the 100th anniversary of Japan's gift of cherry trees to the United States, the American University Museum at the Katzen Arts Center and the Embassy of Japan are collaborating with the National Cherry Blossom Festival to showcase two new exhibits highlighting Japanese woodblock prints and the works of a Japanese-American artist.

The American University Museum's new spring exhibition line-up also includes Washington D.C. artist Lou Stovall's silkscreen monoprint 'vertical' collages in his first solo exhibition at this museum, and four special American University student exhibitions.

Floating World: 19th Century Japanese Woodblock Prints; Tomokazu Matsuyama: Thousand Regards, and Lou Stovall: Vertical Views open at the American University Museum at the Katzen Arts Center on Tuesday, April 3 and close Sunday, May 20. A special reception to meet the artists and a Japanese woodblock demonstration will be held 6–9 p.m., April 5, 2012.      

Borrowed from the Sakai Collection of the Japan Ukiyoe Museum, Floating World consists of 70 UKIYOE pieces of 19th century woodblock prints that concentrate on the Sakura theme and the beginning period of U.S. and Japan cultural exchange.

Japanese born and New York-based artist Tomokazu Matsuyama's Thousand Regards blends Eastern and Western aesthetics into painting and sculpture that resists categorization and cultural belonging. Matsuyama's work is similarly influenced by both the austerity of post-war contemporary art and the rough extravagancy of popular culture. His work is a more conscious and introspective response to the tensions of bicultural experience. An upbringing split between Japan and America spurred the questions of national and individual identity that figure prominently in his work. Attempting to parse the "natural chaos" of our social environment, Matsuyama pushes viewers to confront their conceptions of cultural homogeneity.  

Washington, D.C.-based artist Lou Stovall's prints and drawings are part of numerous public and private collections around the world. Vertical Views—a collection of all new silkscreen monoprint collages—is Stovall's first solo exhibition at American University after a 25-year relationship with AU's arts programs. These 'vertical collages,' which showcase Stovall's love of landscapes and flowers, are made from vertical strips of his abstract silkscreen monoprints. The monoprints are then mounted on bass wood rails and assembled to form a three dimensional collages.  

The AU Museum will highlight American University student work in four special engagements between April 3 and May 20:

American University Department of Art Exhibitions: Studio Art (includes three shows)
-    MFA First Year: Any Thoughts? Anyone? includes works by first-year master of fine art candidates from April 3–April 15.
-    Master of Fine Arts thesis students present MFA Thesis: Nine Degrees, from April 21–May 13.
-    The undergraduate student exhibition, In the Studio: A Capstone Experiment, will be held April 28–May 20.
All three exhibitions showcase American University's student talent and illustrate a diversity of themes and techniques.

Like • Comment • Share •: An Experiment in Art and Social Media (April 28–May 20)
Students participating in Curatorial Practice, a class taught by American University Museum director and curator Jack Rasmussen, will present a group exhibition, Like • Comment • Share • from April 28–May 13. The boundaries between artist, consumer, and curator have officially been blurred. Rather than argue against the presence of personal technology in the gallery, this exhibition explores the interaction between art and social media. Take the picture, tweet a response, "like" the exhibition. #LikeArt

The American University Museum is a three-story public museum and sculpture garden located within the university's Katzen Arts Center. The region's largest university facility for exhibiting art, the museum has a permanent collection that highlights the donors' holdings and AU's Watkins Collection. Rotating exhibitions emphasize regional, national, and international contemporary art.