Education
AU Expands Online Learning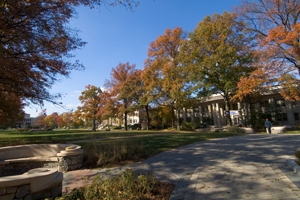 You may notice construction on campus, but American University is also expanding its classroom presence in cyberspace. Two new online graduate degree programs are expected to launch in January 2014: a master of arts in strategic communication, and a master of arts in teaching English as a foreign language ( TEFL). In addition, AU's School of Professional & Extended Studies will launch an online certificate in project monitoring and evaluation.
This is part of a broader AU plan to offer more online graduate degree programs in the coming year. In May 2014, new online master's programs are set to launch in applied economics and nutrition education. Earlier this year, the School of International Service started an online master's degree program in international relations.
"We've been delivering online courses during the past nine summers but we have not been a major player in online degree delivery," says Violeta Ettle, vice provost for academic administration.
Now, the university hopes to change that. After market demand analysis was conducted and school deans were consulted, AU identified specific academic programs suitable for online learning. Ettle says the online expansion will diversify revenue sources and attain the larger goal of "bringing the world to AU and AU to the world."
For these new online degree programs, the university is partnering with an online education provider. The university is in charge of academic affairs-all courses will be taught by AU professors-while the provider will handle technology, marketing, and recruitment. All faculty who opt to create and teach the online courses must go through a training program in online instruction and course design.
Highly Interactive Courses
The new courses are generally considered "asynchronous." Since enrolled students will be spread across numerous time zones, they may be logging in at different times. But the courses will still be highly interactive through written discussion boards, video platforms, and audio recordings. "You don't need to sign on every day at 8 p.m. with everybody. If I'm free to sign on at midnight, I will see the same thing that my classmate who signed on at 2 p.m. saw," Ettle says.
Pallavi Kumar, a professor of public communication, is developing the curriculum for the online strategic communication master's degree program. And so far, she's been quite impressed with the online format.
"If you're a student in the MA program, you would pull up a system called Engage, which is the online learning management system, and there's a video, there's a discussion board, there's a case study," she says. "You're actually pulling up a customized class that has been tailored to you." In utilizing the technology, Kumar is currently working on an online simulation where students will do media training during a crisis.
Strategic communication is a logical choice for an online master's degree program, Kumar says, because the field is growing exponentially. A 2011 Commission on Public Relations Education study found that the number of public relations graduate programs in the United States had nearly tripled since 2000.
Removing Geographical Barriers
TEFL generates interest from both native and non-native English speakers, and an online graduate degree program will remove geographical barriers for recruiting new students in foreign countries.
"We could attract the international community outside of the U.S. who would like to get this global perspective of English language education, rather than the U.S. perspective that we're providing [in residential classes]," says Polina Vinogradova, an AU linguist who helped design the program.
Online degrees are appealing to older students, with family and job obligations frequently limiting their ability to relocate for graduate school. Teaching English as second language applicants are diverse, so the online format could benefit non-traditional students.
"We have students who are in their mid-20s, and we have students who are in their 40s and 50s. And an online program potentially can attract a lot of career switchers, or a lot of people in their mid-career point," says Vinogradova.
Help for Succeeding in Online Coursework
The new online programs allow students to home in on each subject. In strategic communication and TEFL, students will take one class at a time for eight weeks before moving onto the next course.
But online education is no walk in the park. Without face-to-face interaction with professors, students need to be self-motivated and conscientious. The new programs offer a built-in training test on succeeding in online coursework.
And teaching online classes presents its own set of challenges. "Online courses require very extensive, very advanced planning. With face-to-face, yes, we plan in advance, but we really have more flexibility in adjusting," Vinogradova explains.
She adds that office hours can be much more extensive. "When you're teaching an online course, you have to be constantly present and constantly be giving feedback."
Despite fears about diminished interpersonal relationships between teachers and students, "the faculty who have taught online say that they've been very able to develop those relationships," says Rose Ann Robertson, an associate dean in the AU School of Communication.
Heather Linville, an AU instructor who assisted with TEFL, foresees an increasing number of academic degree programs moving online. "I think we are going to get to a place where multiple modes are being offered all the time. So whether it's hybrid, completely face-to-face, or completely online, students and faculty need to be prepared for that."