On Campus
American University Achieves Energy Milestone Solar Energy Now Comprises Half of AU's Power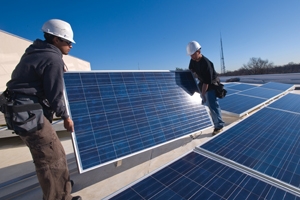 This spring, for the first time, more than 50 percent of American University's power will be sourced from solar energy as a result of the university's innovative Capital Partners Solar Project initiative. The renewable energy project provides solar power to American University, the George Washington University, and the George Washington University Hospital.

"We are delighted to deliver on our commitment to viable sustainability initiatives by investing in renewable energy," said Douglas Kudravetz, CFO, Vice President and Treasurer. "This new power source provides AU with clean energy and helps our overall efforts to become carbon neutral. It is also beneficial to our bottom line."

Capital Partners Solar Project was developed by Duke Energy Renewables for American University, George Washington University, and George Washington University Hospital, in consultation with CustomerFirst Renewables. Together, the partners will purchase 123 million kilowatt hours (kWh) of solar power over a 20-year period. It is the largest solar power project constructed east of the Mississippi River.

To generate energy, 243,000 solar panels located on three sites in North Carolina absorb and convert heat energy from the sun to electricity, which is then transmitted through the power grid. AU and its partners use renewable energy from the grid for electrical power needs. In total, the panels generate 54 megawatts of electricity, enough to power 8,200 homes.

AU's campus-wide focus towards sustainability is reflected in its academic centers, programs, degrees, and courses. The university also is committed to becoming carbon neutral by 2020. Faculty members research sustainability on and off campus, including the effectiveness of green roofs on pollution control. Students' sustainability efforts include the zero waste basketball game, organic garden, and participation in research. New buildings on campus are LEED certified, as energy efficiency is a priority across campus.

AU sustainability and renewable energy programs continue to gain recognition. These initiatives offer learning opportunities for students, improve the campus environment, and contribute to the fight against climate change.