AU Among Peace Corps' 2018 Top Volunteer-Producing Colleges and Universities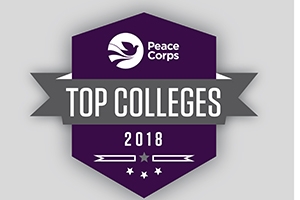 For the third consecutive year, American University has been ranked among the top 5 Peace Corps volunteer-producing medium size and graduate schools. AU ranked No. 2 among medium size and graduate schools on the agency's 2018 Top Volunteer-Producing Colleges and Universities list, with forty-nine Eagles currently serving around the world.

Since the founding of the Peace Corps by President John F. Kennedy in 1961, more than one thousand American University alumni have served as volunteers in the Peace Corps around the world.
AU is the home of Peace Corp Prep., an undergraduate certificate program housed at the School of International Service (SIS). The program combines targeted coursework with hands-on experience, building the competencies that students need to become successful Peace Corps applicants and future international-development professionals.

"The Peace Corps Prep Certificate program empowers our students to develop specialized expertise in community service and in their academic work," said Stephen W. Angelsmith, Director of Peace Corps Programs at AU's School of International Service. "In addition, they gain valuable experience and skills while working with a Returned Peace Corps Volunteer mentor in preparation for future international service roles."

The Peace Corps ranks its top volunteer-producing colleges and universities annually according to the size of the student body. This year's rankings are calculated based on fiscal year 2017 data as of September 30, 2017, as self-reported by Peace Corps volunteers. Since its inception, alumni of more than 3,000 colleges and universities nationwide have served in the Peace Corps.

"Peace Corps service is a profound expression of the idealism and civic engagement that colleges and universities across the country inspire in their alumni," said Acting Peace Corps Director Sheila Crowley. "As Peace Corps Volunteers, recent college and university graduates foster capacity and self-reliance at the grassroots level, making an impact in communities around the world. When they return to the United States, they have new, highly sought-after skills and an enterprising spirit that further leverages their education and strengthens their communities back home."