American University Launches Innovative Carbon Offset Program in Washington, D.C.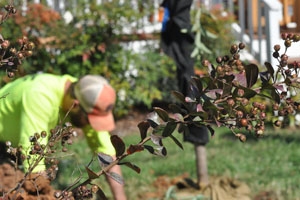 American University has announced an innovative program that will offset the carbon emissions caused by students, faculty and staff members who commute to campus by planting and nurturing 650 trees throughout the nation's capital. The initiative will also provide AU students with access to the urban forestry data from this program to inform their own field studies in urban planning and other related fields. 
As a charter member of the Second Nature Climate Commitment, AU is committed to achieving carbon neutrality by 2020. In addition to cutting emissions by promoting energy efficiency and adopting renewable energy projects on and off campus, the University also purchases carbon credits to offset the effects of commuting across the D.C. region. 
"AU is proud to be the first higher education institution in the region to participate in this program," said Megan Litke, Director of Sustainability Programs at American University. "Not only are we able to offset the climate impacts of our daily commutes, but we're doing it in a way that beautifies our city and provides other very significant benefits to the District and its residents." 
Carbon credits often are generated by tree-planting or emission-reduction projects in remote locations. While helping to reduce global greenhouse-gas levels, these distant projects typically offer no tangible benefits to the local community. Through the new program, facilitated by Urban Offsets, a North Carolina-based urban forest development company, a portion of AU's carbon offsetting funds will be used to augment the District of Columbia Department of Energy and Environment (DOEE) and Casey Trees' ongoing tree planting and maintenance efforts, specifically the RiverSmart Homes and Large Parcel Tree Planting initiatives. 
"The new approach to carbon offsets was developed specifically to help the hundreds of higher education institutions in this country working to reduce their greenhouse gas emissions find local solutions that give back to the communities they serve," said Shawn Gagné, Urban Offsets' CEO. "We're grateful to the Office of Sustainability at AU for their partnership on this project and validation of the approach." 
"Tree planting is an important part of the stormwater control work we do here in the District to protect our waterways," said Dr. Luke Cole, the District's tree policy coordinator at the Department of Energy & Environment. "We appreciate American University and Urban Offsets for the ingenuity in creating this innovative funding source that recognizes the multiple benefits of urban forestry and brings new awareness to the District's stormwater reduction initiatives."