Arts
American University Museum Spring 2019 Shows Open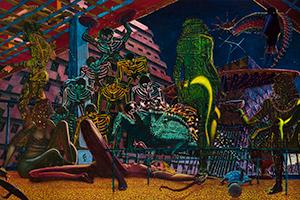 Winter shows at the American University Museum at the Katzen Arts Center open April 6. Spring Opening Reception: April 6 from 6 to 9 p.m. Free and open to all.
Forward Press: 21st Century Printmaking features 10 innovative print artists from across the United States who employ the finest examples of hand printed and digital techniques. Their works reinterpret centuries-old printmaking techniques in the digital age, exploring themes of culture, identity, religion, environment, memory, and art history. Some work in traditional forms, like lithography, intaglio, relief, and screen printing, while others explore these methods as the basis for large-scale sculpture, collage, and integrating technology into printmaking. Featuring April Flanders, Tom Hück, Carrie Lingscheit, Beauvais Lyons, Dennis McNett, Michael Menchaca, Richard Peterson, Nicole Pietrantoni, Steve Prince, and Sangmi Yoo. Gallery Talk: 5 p.m., April 6. Please RSVP at: tinyurl.com/aumuseumkatzen. Curated by Susan J. Goldman and presented by the Printmaking Legacy Project®. Closes Aug 11, 2019.
Kenneth Victor Young: Continuum features painting by Kentucky native Kenneth Victor Young (1933-2017), who moved to Washington, D.C. in 1964 and began to paint abstract forms with washed acrylics on unprimed canvas. Young's artistic philosophy was to bring order out of chaos. Young's knowledge of form and matter gave his paintings a spatial intensity, and he infused this space with multiple orbs of color held together in molecular suspension. Young had an illustrious 35-year career as an exhibition designer for the Smithsonian Institution, and his extensive travels during this time helped inform his cosmic abstract style of painting. His love for jazz influenced the movement and vitality of his work. He is known for his floating colored orbs—imagery that attempts to bring order to chaos and that comments on the pandemonium of life. Curated by Dexter Wimberly and presented by the Alper Initiative for Washington Art. Closes May 26, 2019. Gallery Talk- Free Parking: Kenneth Victor Young. April 18, 5:30-7 p.m. Please RSVP at tinyurl.com/alpertickets  
Testament of the Spirit: Paintings by Eduardo Carrillo is an expansive exhibition of works by Eduardo Carrillo, a painter, teacher, and social activist known for advancing recognition of Chicano art and culture in California. The exhibit features more than 60 paintings and watercolors spanning nearly four decades of the artist's production, from the late 1950s through the late 1990s. The work reflects on the artist's relationship to his native California as well as to his Mexican heritage, his early religious upbringing, and the European tradition of art. It showcases work created for three distinct realms: the public, the private, and the museum. The artist's murals are featured in the full-color, bilingual exhibition catalogue. Intimate watercolors and paintings describe the artist's everyday life in self-portraits, still lifes, and images of people and places he held dear. Large-scale visionary paintings—Carrillo's masterpieces—reveal his complex and creative mind. The exhibition also includes the bilingual video Eduardo Carrillo: A Life of Engagement, by Pedro Pablo Celedón. The exhibit was organized by the Crocker Art Museum, Sacramento, Calif. Closes May 26, 2019.  
Squire Broel's totemic bronze sculptures create space for reflection and contemplation about what it means to be human, be engaged as an individual within community, and interact intentionally with the natural world. In his series of vertically oriented structures, Broel references tangible and intangible notions that resonate universally: botanical and architectural structures, environmental rhythms, physical and emotional solitude. Intentional abstraction creates a generous context for engaging with the sculptures. Allusions to historical references create a sense of timelessness and familiarity, yet the pieces exist outside the rapidly shifting visual language of stylized contemporary aesthetics. This unique sculptural installation exposes viewers to aspects of the American rural West's untamed spirit, vast rugged landscapes, and traditions of mysticism. Broel's intentional decision to live and work in a small agrarian community in the Pacific Northwest provides viewers with a raw vision of inward examinations that relate more to the health of the psyche than to the pop-culture echo chamber.  Closes Aug. 11, 2019.
Peripheral Visions shows the work of artists in their first year of AU's Master of Fine Arts program. The word peripheral becomes the crux in understanding the show as a collective vision, while also highlighting the distance and boundaries that exist between each individual's studio art practice. Featuring the work of Lizzi Alarcon, Basmah Alhumaid, Chelsey Anderson, Amber Cruz, Jennifer Frank, Nieko McDaniel, Matthew Russo, and Cindy Warshaw. Closes April 24, 2019.
In Turbulence, opening May 4, eight emerging artists present their work as part of their program thesis. This exhibition demonstrates a diversity of views on subjects that range from identity to geometric abstraction to activism. Featuring artists J'han Brady, Amanda Muhlena Hays, Sarah Jarrett, Arnaud Leclere, Sonimar Maldonado, Bryan McGinnis, Guy Miller, and Veronica Salas. May 4-May 26, 2019.