American University Names First Chief Online Officer to Lead Digital Learning Efforts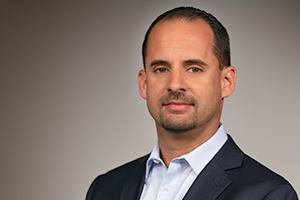 American University President Sylvia M. Burwell announced the appointment of Joseph Riquelme as vice provost and chief online officer. As the first person to hold this position and a key member of the university's academic leadership team, Riquelme will be responsible for the strategic direction and coordination of all aspects of the university's online and digital education offerings. Riquelme will join American University on March 2, 2020, and report to AU Provost Dan Myers.
"Online and digital education are central to both the future of learning and the future of work. AU is meeting learners at all stages of their academic pursuits where they are — on campus, online, and through hybrid models — and the chief online officer is critical to our approach," said President Burwell. "Joseph's experience and his passion for innovation in higher education will catalyze our work to be a leader for a new generation of lifelong learners."
As part of implementing AU's Changemakers strategy, Riquelme will closely collaborate with leaders across all schools and divisions to create and deliver a wide range of digital learning initiatives. Currently, AU offers online courses and programs for undergraduate and graduate students to fulfill curriculum requirements, explore special topics, or work toward completing their degrees. More than 500 online classes are offered during the fall, spring, and summer sessions.
Riquelme comes to American University from Florida International University, where he served as the assistant vice president of online education. Under his leadership, FIU's online education unit modernized its operations for information management, student recruitment and enrollment, faculty development, and instructional design. He successfully developed and launched more than 100 online degree programs at FIU, supported more than 1,000 unique courses and more than 46,000 students per year, and oversaw a 378 percent increase in enrollment for FIU Online.
"Digital learning is a critical component of higher education today and will only grow in importance as students of all types seek unique opportunities that work for them. I am excited to join American University as it creates new pathways to learning for its community and students around the world," said Riquelme.
Prior to his time at FIU, Riquelme held several leadership roles at United Parcel Service. He earned his bachelor's degree in finance and a master's in international business from FIU.