Achievements
They Might Be Eagles Three admitted students consider the opportunity of a lifetime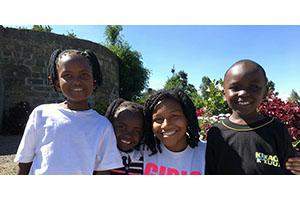 Sophia Andrews of Bear, Delaware, said that she was "beyond excited" when she found out that she received an invitation to join American University's Class of 2024. 

"I had no words when I found out," Andrews said of getting into her first choice of university. 

Andrews; Sabrina Ben Chaabane of Monroe County, New York; and Adam Farris of Peabody, Massachusetts, are among the record 20,072 students who applied to AU for the fall 2020 semester and three of just 7,526 who received their admission letters and emails on March 17.  

Founder of Ngoma Kenya, a registered nonprofit dedicated to supporting orphaned children in Nairobi through music, dance, and other arts programming, Andrews is already a changemaker. The homeschooled 18-year-old began making a difference starting at age 14 when she sponsored a Nairobi orphan with her babysitting money. After visiting that orphanage with her local youth group, she established an arts program that grew into Ngoma Kenya, which she will continue to lead as an undergraduate.  

From studying nonprofit management up close to continuing to learn Swahili, Andrews said AU ticked many of her boxes, practically and emotionally. "I fell in love," she said. "It was the only school I visited where I stepped on campus and thought, 'This is where I want to spend the next four years of my life.'"

Which doesn't surprise Andrea Felder, AU's assistant vice provost for undergraduate admissions. Felder has grown accustomed to welcoming high- achieving young people from across the country and around the world to AU's campus.  

"Certainly, academic strength is one of the things that we're very proud of," said Felder, whose admissions team assembled a cohort of admitted students with 50th percentile GPAs between 3.6 and 4.1 and 50th percentile SAT scores in the 1270 to 1430 range. 

Thirty-nine percent of the admitted class is from a minority racial or ethnic group, nearly seven percent are students who are the first in their families to go to college, and about 12 percent are international students. They are citizens of 49 states and three US territories and 97 countries. The demographics of the class likely will change once students make their enrollment decisions, with a final class of 1,800 expected. The deadline for enrollment deposits currently is May 1. 

"This is very much an academically talented class, very much a racially and ethnically diverse class," Felder said. "It's also a socio-economically diverse class: We've tried to be considerate of students who come from a first-generation background. I think they all, in their own way, want to make a difference."

People Like Sabrina Ben Chaabane, 18, who, with dreams that span the globe, plans to study history and cultural anthropology.

"My father is an immigrant from North Africa; my mom is Italian," Ben Chaabane explained. "I've always had a different kind of mindset, always been very interested in learning about other people's cultures, and exploring my own, too."

Ben Chaabane said she was drawn to AU by its promise of diversity and international opportunities.  A member of the Foreign Language Honor Society at Churchville-Chili Senior High School, she is a multi-linguist, speaking French and Spanish at school, and Arabic and Italian at home as well as English.

"I think I was accepted to the community because I'm very passionate about what I want to do," said Ben Chaabane. "I'm passionate about learning about myself, and about other people. I want to be a history professor, or else teach in the Middle East or North Africa—help girls there have an education, too."

The passion for learning that links Andrews and Ben Chaabane is something Adam Farris also possesses. A self-described "music nerd," Farris is a fan of composers Sergei Rachmaninoff and Eric Whitacre; plays piano and alto saxophone; and was tapped to star as Jean Val Jean in Les Misérables at his high school, Covenant Christian Academy in Peabody, Massachusetts, before coronavirus derailed the show.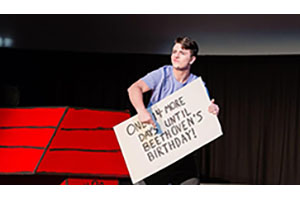 Adam Farris, playing music-lover Schroeder in high school. 

"Outside of the classroom, I'm super-involved in fine arts," he explained. "But I'm also a huge history buff—couldn't wait to take AP history junior year. Anything relating to politics, government, the economy." 

History is his planned major, and although he's waiting to make a final decision, Farris is a big fan of AU.

"American was the first school I researched," he said. "And then I did a visit last year and just fell in love with the campus. I felt a strong sense of community there. And the amount of opportunities in DC—for work, for internships, for entertainment—just the number of things you can do!"

Farris said his philosophy was to be well-rounded, but also have an "angle," and he believes AU can support his educational, career, and life goals in big ways and small. 

For undergraduate admissions official Andrea Felder, it's about a different but related philosophy.

"The changemaker theme is an important part of our strategic plan,'" she noted. "And that resonates with our admitted students."