American University School of Public Affairs Student Mitchell Lenneville Selected as a Truman Scholar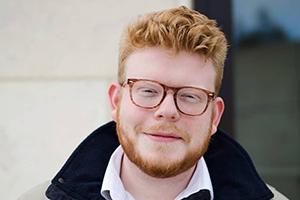 An Oregon native who is a student at American University's School of Public Affairs has been chosen as a 2020 Truman Scholar, an honor bestowed on young men and women from across the U.S. each year. Mitchell Lenneville, a senior in SPA's three-year accelerated Politics, Policy and Law (PPL) bachelor's degree program, will receive $30,000 toward graduate school and the opportunity to prepare for a career in public service. Former secretary of state Madeleine K. Albright, president of the Harry S. Truman Scholarship Foundation, announced the winners today.
"It is gratifying to see Mitchell recognized with this honor," said SPA Dean Vicky M. Wilkins. "As his professors will attest, he has worked hard to take advantage of opportunities available to him at AU and SPA and used them to hone his skills as a leader. It is a joy to celebrate this accomplishment with him."
The Truman Scholarship is the premier graduate scholarship for aspiring public service leaders in the United States. Created by Congress in 1975 as a living memorial to the 33rd U.S. president, the Truman Foundation strives to inspire and support young, outstanding Americans from diverse backgrounds across the United States to answer the call to public service. 
"I feel tremendously excited," said Lenneville, who has been quarantined with his family in his hometown of Tualatin, a suburb of Portland, Oregon. "Part of the Truman application process is learning about President Truman's legacy. His uniquely American story is remarkable, and this scholarship is a fitting monument to him."
"This scholarship is so important to me because of the deep connections that I have with Oregon," continued Lenneville, who has been active in political campaigns in his home state. At AU, he is earning a degree in Communication, Legal Institutions, Economics, and Government (CLEG), an interdisciplinary major, and hopes to advocate for solutions that bring greater diversity to the political process and hold politicians accountable for representing all of their constituents. 
"This scholarship opens up doors to post-undergraduate study that I might not have otherwise had. And while I certainly appreciate that opportunity, I also feel the application process was an incredibly valuable process that allowed me to learn so much about myself and to meet other kindred spirits who are invested in public service."
Previous recipients of the Truman Scholarship include New York City Mayor Bill de Blasio (D) in 1981; U.S. Sen. Chris Coons, (D-DE) in 1983; U.S. Rep. Ted Deutch (D-FL) in 1986; Supreme Court Associate Justice Neil Gorsuch in 1987; U.S. Rep. Dusty Johnson (R-SD) in 1998; U.S. Rep. Andy Kim (D-NJ) in 2003; former Arizona Governor Janet Napolitano (D) in 1977; and former National Security Advisor Susan Rice, in 1984, who currently is a Distinguished Visiting Research Fellow in the School of International Service (SIS) at AU.  
This year 39 AU students competed to become candidates for the Truman Scholarship with five nominees selected by the university's Office of Merit Awards. Two other AU students were among this year's finalists — Allison ("Ally") Higgins from Ohio and Noam Krainin from Pennsylvania.
Truman Scholars were selected from among 773 candidates from 316 colleges and universities. They were chosen by 16 independent selection panels based on the finalists' academic success and leadership accomplishments. The panels met across the United States and included distinguished public service leaders, elected officials, university presidents, federal judges, and past Truman Scholarship winners. A listing of the new Scholars can be found at the Truman Foundation's website: http://www.truman.gov.