Research
'The Boogaloo Ballad of Henry Graves' Outlines Movement's Tactics of Misinformation in COVID-19 Era Video will be tested for its ability to disrupt online radicalization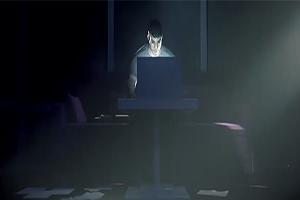 An animated video created by American University's Polarization and Extremism Innovation Lab and the Bertelsmann Foundation released online seeks to educate viewers about the activities of the boogaloo movement, whose anti-government supporters are exploiting fear and uncertainty around COVID-19 to sow distrust of the government and to spread misinformation. The video, which will be tested as an intervention to disrupt online radicalization by boogaloo supporters, shows how the movement attracts supporters through online social media and chats, cyberbullying and the spread of misinformation.

The video tells the fictionalized story of the radicalization of Henry Graves, a U.S. veteran living in Ohio who stumbles onto boogaloo groups online and engages with them. Graves is misled by misinformation the groups are promoting about the government "coming to take" everyone's guns, and then, later, rumors and disinformation about COVID-19 and threats of the military shutting down cities and enlisting other draconian measures to stop the spread of the virus. The 11-minute video depicts the movement's opposition to COVID-19 health and safety measures, and how boogaloo supporters have protested in U.S. state capitols against mask-wearing and social distancing.
 
"Our hope is that the video -- and Henry's story and the outcome of his escalating engagement-- will help the public better recognize the threat of misinformation and disinformation, especially related to COVID-19, acts of militia resistance and calls for a second civil war," said Prof. Cynthia Miller-Idriss, director of AU PERIL. "There is an urgent need to not only inform the public, but to better understand how we might intervene in rising public receptivity to the ideas and conspiracy theories spread by boogaloo groups."  
"Anti-government extremism was increasing before COVID-19, but the global pandemic has accelerated the creation and circulation of anti-government and anti-law enforcement conspiracy theories, disinformation and propaganda, many of which have been organized via social media groups," Miller-Idriss added.

According to the Tech Transparency Project, a nonpartisan, nonprofit watchdog organization, tens of thousands of users on Facebook, Instagram, Reddit, the Chans, and other social media sites, have joined online groups, promoting "boogaloo," the idea of a coming civil war. These groups—and many purveyors of the "boogaloo" meme more broadly—call for the incitement of anti-government and anti-law enforcement violence and a race war. Facebook has over 125 of these groups, more than half of which were created in April alone.

Those affiliated with the boogaloo movement have been arrested for allegedly murdering law enforcement officers, and plotting bombings and other attacks, while others have tried to provoke violence at Black Lives Matters protests, according to experts who track the movement's activities.  

"We've seen online disinformation campaigns take many forms in recent years. From creating social unrest to influencing elections, those who seek to undermine American democracy are becoming more sophisticated every year," said Irene Braam, executive director of the Bertelsmann Foundation. "With that in mind, it's critical that we adapt our tactics to meet this challenge. The story of Henry Graves is the latest in an expanded toolkit we're employing to connect with those most at risk."  

AU will research the impact of misinformation related to COVID-19 and shelter-in-place orders on militia organizing and violence. Researchers will recruit a random sample of 250 people to watch the video and respond to pre- and post-test questions. The study results will help researchers understand if video interventions can reduce support for anti-government extremism, and also strengthen support for public health measures to combat COVID-19.