Technology
New CIO Urges Students: Make Brave Choices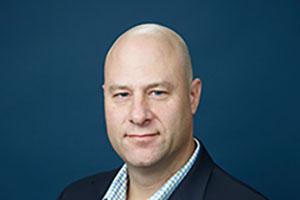 When Steve Munson was named as AU's new vice president and chief information officer in late January, many of us wondered: How does the university's chief computer guy see his role, and what advice does he have for AU students in this rapidly changing technology environment? 
Munson, who worked at AU from 2010 to 2013, returned to campus after seven years as CIO at Marymount University in Arlington, Virginia. 
"I am really excited to rejoin the team in OIT," Munson says. "It is a great, dedicated group of people who are very passionate about supporting the mission of this university and its students, faculty, and staff. AU is a really special place and a very high caliber and distinctive institution. I am excited to be a part of this community and look forward to help write the next chapter of AU's technology evolution."
Munson grew up in New England, but attended high school in South Florida. "I really enjoyed the warmer weather down there," he says. "I am not a big fan of the cold so am happy that we have had such a mild winter!" 
If you're looking for him around campus, you might try his favorite spot—the Davenport Coffee Lounge, where he enjoys stopping in for a cup of sustainably-sourced coffee between meetings on campus.
During his first week on the job Munson took some time out for a brief Q&A. 
What do you see as a key success factor for OIT?
Staying ahead of the curve is critical. Technology is changing so fast and there are so many new products and services that can be applied to our environment here at American. We strive to deliver best in class technology and service for all our students, faculty and staff.
How does the university's new strategic plan mesh with your plans going forward?
There is a great innovative spirit here at AU—people are always willing to try new things and seek ways to improve. I see a lot of energy around the new strategic plan and President Burwell's vision for the university. I am honored to have the opportunity to support the new strategic plan, which builds upon decades of success and charts an ambitious path forward." 
What advice can you offer students based on your own experiences? 
Take advantage of opportunities that come your way and don't be afraid to try new and unanticipated paths. For example, I didn't plan for my career to be in IT as I was an economics major in college. I started learning about information technology my senior year and then had the opportunity to interview for a job with the consulting firm Accenture (Andersen Consulting at the time). I decided to switch gears and cultivate my growing interest in IT at Accenture and found that I really enjoy how implementing technology solutions drives improvement and change.