On Campus
First Things First: Get to Know AU's First-Gen Resources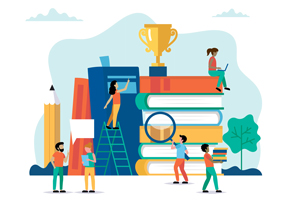 When Veronica Pacheco, SIS/BA '22, began filling out college and financial aid applications, she couldn't go to her parents for guidance—because they had never gone through the process.
It was then that the New Jersey native realized what it meant to be the first person in her family to go to college.
Pacheco isn't alone. About 7 percent of American University's full-time undergraduates are first-generation students. AU provides resources and support to help them navigate the college experience, whether it's figuring out finances, deciphering the many acronyms used around campus, or finding a community.
Being the first in your family to attend college is a proud accomplishment that comes with its own set of challenges, like not being able to draw on the experience of your parents or guardians. It's normal to feel intimidated by a new environment and students from different educational and socioeconomic backgrounds, says Pacheco, an international studies major. While most first-gens are used to doing things on their own, it's OK to ask for help.
"Whether it's the resources on campus or faculty and staff, there's a support system here for you," she says.
FORGE YOUR OWN PATH
Melissa Scholes Young, professor of literature, makes a point to tell students that the resources listed on her syllabus—like the Center for Diversity and Inclusion (CDI) and the Financial Aid office—are included in tuition fees. A first-generation student herself, she thought those services cost more, so she avoided them when she was in college.
Pacheco and her parents didn't know what to expect when she came to AU, so she felt she had to seek out resources on her own. It wasn't always easy, but it bolstered her independence and built her confidence. The AUx1 course—a requirement for first-year students, focusing on academic skills and issues of privilege and bias—provided a good introduction, but Pacheco went out of her way to discover more.
CDI's mission, in part, is to support first-generation students, says Consuelo Grier, director of multicultural student support. The center helps students connect with departments that are vital to their academic and personal success, like the advising teams and the Career Center.
CDI holds events to build community and highlight resources for first-gen students. Last semester they hosted an ice cream social and a barbeque where faculty and staff shared their own experiences as first-generation students. The center also published a first-gen yearbook packed with wisdom from more than 40 first-gen faculty and staff. ("Don't be afraid to make mistakes and ask for help," advises Sharon Alston, vice provost for undergraduate enrollment and a first-gen graduate of Franklin and Marshall College.)
Published in fall 2019, the yearbook was created to show students that there are people across campus who have lived similar experiences. "That professor you thought had a smooth ride to success was once sitting in class wondering if they belonged, just like you," says Shannon Smith, CDI's assistant director of student success and transition.
While only 40 percent of first-generation students graduate with a bachelor's degree, according to Young's 2016 piece in The Atlantic, AU boasts much higher rates. About 69 percent of first-gen students graduated in 2016 and 2017 after four years, and 68 percent did so in both 2018 and 2019.
The university's commitment to first-gen students has been recognized by the National Association of Student Personnel Administrators (NASPA), which in March announced that AU was accepted to the second cohort of its Center for First-generation Student Success. Through the First-gen Forward Institution, AU will engage with peer institutions to consult on challenges, share resources and evidence-based practices, and celebrate program successes.
"Through the application process, it was evident that AU is not only taking steps to serve first-generation students but is prepared to make a long-term commitment and employ strategies for significant scaling and important advances in the future," says Sarah Whitley, senior director of NASPA's first-gen initiative.
ADDRESSING FIRST-GEN STRESS
One-third of US college students are first-generation, according to a 2018 report from the National Center for Education Statistics, and their numbers are only going to continue to climb.
Young is writing a book about the experiences of first-gen students, and her work on the subject has been published in The Atlantic. While efforts are expanding at AU and institutions across the country, she thinks there are even more opportunities to support first-gen students. They include:
•  Creating a mentorship program that pairs first-gen students with a first-gen faculty member
•  Expanding events and programs to foster community and help students understand the resources available to them
•  Eliminating structural inequalities that result in first-gen students—who often attend high schools that don't offer honors or AP classes—coming in with fewer credits and registering last for classes
•  Making the financial aid process more transparent to ensure students understand the loans they're signing and how tuition hikes work
•  Creating a culture where students know it's OK to ask for help navigating the complex system of higher ed
MORE SPACE FOR FIRST-GENS
"When students first walk into class, they don't necessarily walk in as a Latina, or as a first-gen student. They're just there to be a student," Grier says.
But your background informs your college experience, she says, so it's important to acknowledge the intersection of your identities and make space for them.
Through her determination and initiative—traits common among first-gen students—Pacheco teamed up with two other students to create an official first-gen undergraduate student organization. The First-Generation Student Union (FGSU) will be a space for first-gen students to come together, share their experiences, and learn about the resources available to them. They also want to show first-gen students that there's a community for them.
"I'm hoping this club will be an organization that's dedicated not only to holding AU accountable to have more [first-gen] programming on campus, but one that creates the programming," Pacheco says.
Once the team's application is approved by the Center for Student Involvement, the club can start planning as early as next fall.
CONNECTING FIRST-GENS ACROSS CAMPUS
Everyone has specific needs, Grier says, and CDI tailors its services to each student's experience. CDI staff help students locate the services most applicable to them.
"If you're having financial programs, let's talk to financial aid," Smith says.
Financial aid and socioeconomic status often come into play for first-generation students, Pacheco says. So understanding how to make the most out of a financial aid package is crucial.
You don't need to keep financial challenges under wraps, Smith says, or just pick up another job to make ends meet. While supporting yourself is the norm for many first-gen students, it's important to strike the right balance between financial stability and schoolwork.
"These resources are here for you," Grier says. "They're not here because you can't do it or because you're less than anybody. They're here to support everyone to be as successful as they possibly can."