Achievements
Meet the 2024 Frederick Douglass Distinguished Scholars Five first-year students honor the legacy of an American statesman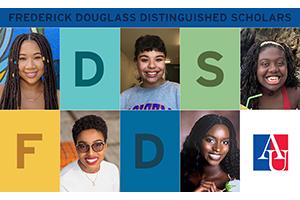 When Riley Phoenix was in the sixth grade, she thought she wanted to be a brain surgeon. Then, Trayvon Martin was killed. Soon after, she organized her first Black Lives Matter march. She hasn't looked back. 
Phoenix, of San Jose, California, is among five remarkable students named to the Class of 2024 cohort of Frederick Douglass Distinguished Scholars at American University. The program honors the escaped slave-turned American social reformer, abolitionist, world-renowned orator, writer, and statesman. In addition to Phoenix, the cohort includes Alex Drakeford of Huntersville, North Carolina; Sirra Faal of Loudon County, Virginia; Amira Folsom of Portland, Oregon; and Emma Hudson of Orlando, Florida.
The full-ride, merit-based four-year scholarship is awarded to first-year students who—according to FDDS criteria—are "ambitious, introspective, and optimistic student leaders with curiosity, strong academic records, outstanding self-awareness, demonstrated leadership experience and creative ability." It is meant to foster student leaders who are committed to multidimensional excellence and want to pursue social justice careers. 
This year's scholars not only embody that description, they exceed it. FDDS program advisor Jessica L. Waters, dean of undergraduate education and vice provost for academic student services, says what stands out about this cohort is "their level of passion for life, their intellectual curiosity, and their willingness and desire to give back wholeheartedly to their communities."
Phoenix, whose latest Black Lives Matter march stopped traffic on US 101 in her hometown in May, says she recalls that the history of the civil rights movement she learned in the sixth grade was incomplete.
"I thought it weird how we only learned about civil rights up until 1965," Phoenix recalls. She says Trayvon Martin's death "really shook me to my core," underscoring for her the reality that the civil rights movement continues even now. 
Phoenix envisions a career in international human rights law that continues her commitment to social activism, and she thinks AU and the FDDS program will bolster her intellectual foundation by helping her answer profound, fundamental questions. "I really like studying the nature of evil," she says. Why do we commit these atrocities, and how do we finally stop it?" 
Alex Drakeford, who like Phoenix, also aspires to be a lawyer, has known that American University was her top college choice since she was 15. She plans to get involved in national politics. 
"I want to be a political science major because I love the political scene. What I like most about the Frederick Douglass Distinguished Scholars program," she adds, "is that they put an emphasis on going to grad school after, and also on social justice." 
Amira Folsom says she wants a "career focused on closing the racial wealth gap in the United States and connecting that to other parts of the world." She says she thinks she'll gain valuable scholarship and experience through the FDDS program, and she plans to double-major in international relations and economics. 
"What really drew me to AU in particular was the School of International Service and AU's new Anti-Racist Research and Policy Center, which really sealed the deal for me," Folsom says. "I just knew this to be a place where I can thrive."
Emma Hudson dreams of a career as a human rights lawyer and will double-major in international studies and political science with law school in her future. She chose AU after attending a summer program here. 
"A faculty member from AU SIS [School of International Service]—his name is Dylan Craig—was teaching. He taught a seminar on international relations. From then on, I pestered my parents about how much I wanted to go to this school," Hudson says.  
Sirra Faal, who will double-major in communication studies and theater, has been a stage performer for most of her life. She says she wants to develop outreach programs that make theater more accessible to children around the world. 
"Lately I've been seeing beyond performing," Faal says. "I think the arts in general, and theater specifically, tend to be elitist. There are these incredible benefits to theater and to live performance that I think every single child can benefit from."
Faal is excited to be part of the FDDS community. "When I read about the FDDS scholarship and specifically, the type of community of scholars they typically accept, it really spoke to me because this sounds like the community I've wanted to be part of all of my life," she says. 
"These are people who come from backgrounds similar to mine, people who have faced struggles similar to mine and who were getting all these amazing resources and opportunities. And that's just the type of thing I've strived for my whole life."