Research
Scholars Partner with Communities to Identify and Solve Problems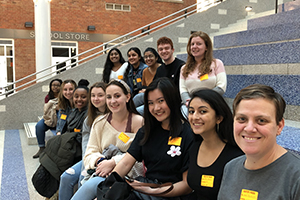 American University's Community-Based Research Scholars (CBRS) and Center for Post-Secondary Success and Readiness have been partnering with the Latin American Youth Center (LAYC) programs at DC's Roosevelt and Wilson high schools to learn how they can better support students toget into college or pursuetheir ideal careers.
The work began during the spring 2019 semester when AU, Maya Angelou Public Charter School, and the LAYC Career Academy joined the two DC high schools to survey students and conduct focus groups in English and Spanish to learn directly from them what they see as the barriers to post-secondary education and career planning. Then AU helped its partners formulate workable community-based solutions to help the students overcome obstacles to accessing post-high school planning, including changes to how they receive college entrance-related information.
CBRS is an experiential living-learning community for service and social-justice oriented students who want to help communities find solutions to their most pressing problems, identify avenues to effect social change, or evaluate program impact. Launched in 2014 by the generosity of AU Board of Trustee member Jeff Sine, SIS/BA '76, and Samira Sine, CBRS has worked with a variety of organizations in the DC region to tackle issues ranging from food insecurity and anti-hunger efforts to homelessness.
"The philosophy underpinning the community-based research approach is that community members are the experts on the problems and challenges that exist within their communities, and, therefore, are the best qualified to find solutions to the social issues that affect them," says CBRS Director Jane Palmer. "Our role is to assist in facilitating the process to arrive at those solutions."
To prepare for their work, the scholars train in community-based research methods that include how to administer surveys and focus groups and how to directly communicate with DC residents to gain a better understanding of their challenges. They also learn about DC's history; issues of power, privilege, and inequality; and research ethics.

CBRS work is a true partnership with the community, and scholars recognize that mutual respect and exceptional listening skills are key.
"Change is a long and continuous process, but we are able to see how our collaborative work can make a significant impact," says Kathryne McCann, SOC/BA '22. "Rather than assuming we know what's best and simply recommending or dictating solutions, it's important that we instead listen to members of the community, seek more information and understanding, and work in partnership to effect the changes they seek."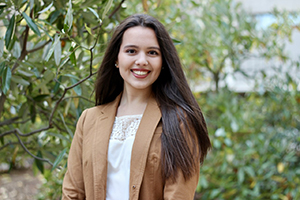 Kathryne McCann, SOC/BA '22
With the 2020 spring semester, the scholars began addressing the issues and obstacles related to college access and career planning for D.C. studentsthat they identified in their initial research findings. Partnering with the LAYC at Roosevelt and a teacher at E. L. Haynes Charter School, the scholars began teaching students how to conduct their own action-oriented, community-based research. They met weekly with students to help them identify issues they wanted to change at their schools and administer their own surveys of their peers, so they could experience the research process firsthand. The idea was to help with their college or career plans and learn how data provides the knowledge the community needs to help solve its problems.
"We set about to empower the students themselves to channel their lived experiences to improve their own high school community and better integrate their immigrant classmates—particularly those whose dominant language was not English," says CBR Scholar John Boyle, SIS/BA '23.
Then the COVID-19 pandemic hit, and by mid-March in-person volunteering with Roosevelt and Haynes had to be put on hold as the scholars reimagined what community-based learning looks like in the age of coronavirus. The students spent the remainder of the spring semester and the summer analyzing data and developing an Action Research 101 curricula for future use by their partners and students.Other scholars are helping Thrive DC with virtual research projects about how homelessness intersects with issues such as racial equity, reentry from prison, victim services, and financial literacy.
A previous year's cohort that included Mary Jane Builes, SIS/BA '21, a former CBRS program associate and teaching assistant, worked with DC Hunger to address food insecurity in local communities and help create a prototype for simplified Supplemental Nutrition Assistance Program (SNAP) applications for seniors that is still in use today.
"One of the gratifying aspects of the CBRS program is that we have the opportunity to equip our partner organizations and communities with the tools to continue to address their issues—long after our formal involvement with them—by modifying and expanding upon the community-based research methods we've introduced," Builes says.
Many scholars volunteer with their nonprofit organizations long after the initial work is completed. For example, Keahi Scott, CAS/BA '22, has been volunteering for two years with Thrive DC serving breakfast and preparing grocery bags for people experiencing homelessness in the Columbia Heights neighborhood.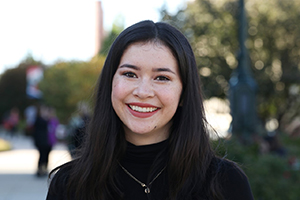 Keahi Scott, CAS/BA '22
"Dr. Palmer emphasized in our classes the importance of sustained relationships when conducting community-based participatory research," Scott says. "By continuing to work with Thrive DC, I am furthering my connections within the community and gaining still greater insights into its dynamics."

For McCann, the success of CBRS hinges on sustaining engagement, cultivating collaboration, and realizing that small acts go a long way.
"Through my CBRS and Thrive DC experiences, I have been able to work directly with the people I sought to help, and often in ways that most people would overlook—like simply giving out an extra pair of socks, or even just sitting to have a quick conversation with someone in need," McCann says. "As much as systemic changes are sometimes needed, never underestimate the importance or the impact of small gestures.