On Campus
AU Graduates Return to Bender Arena for Commencement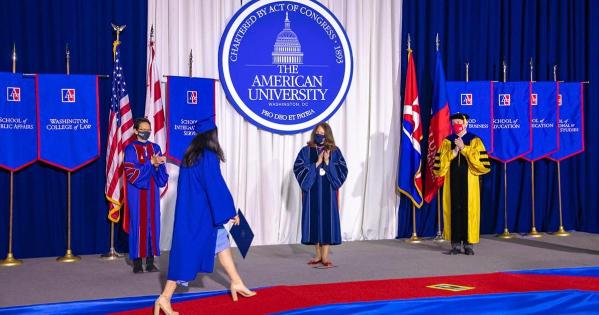 As Saliho Toure walked across the Bender Arena stage on May 8, he felt gratitude for the opportunity to dress in regalia and have his moment.  
Some of his AU friends have, until now, only experienced virtual commencements since the pandemic took hold. But Toure and hundreds of other 2021 AU grads became the first class to participate in an in-person ceremony at American since December 2019. The Class of 2020 will take part in a ceremony May 15-16.  
"It was a really good experience," said Toure, SIS/BA '21. "It was nice to have my name called, dress up, and walk across the stage and take pictures with my friends that I haven't seen all year."  
Toure joined a long line of siblings to graduate college after his family escaped war in Liberia and again after that war spilled across the border into Guinea. Toure was a year old when his family made it to the US as refugees. He grew up in Philadelphia.  
"This was the American dream for them," said Toure, who interned at the State Department. "And I think I can make a difference in the world."  
He now wants to give back and work to help refugees find their footing and adjust to a new country.  
Saliho Toure at spring commencement for SIS on May 8. (Photo courtesy of Saliho Toure).
A Day for Celebration  
The 141st commencement began with a virtual ceremony for the nearly 2,900 graduates who received degrees from eight schools. President Sylvia Burwell told the Class of 2021 that they left their mark on the university while at AU.   
"You have made us think deeper, ask tough questions, examine the truth, and find beauty in the everyday. You have changed us all for the better," Burwell said.  
About 1,450 students returned to campus to walk across the stage at Bender Arena with Burwell; Peter Starr, acting provost; Fanta Aw, vice president of Campus Life and Inclusive Excellence; and the respective school deans there to celebrate them. SOC, SOE, and SIS held in-person processions on May 8, while SPA, Kogod, SPExS, and CAS were on May 9.
Around 600 students from the Class of 2020 have signed up for an in-person procession on May 15-16. On May 23, Washington College of Law will hold its 2020 virtual celebration and some 400 2020 and 2021 WCL graduates will take part in in-person processions. 
School deans and prominent alumni addressed graduates during the virtual ceremony.  
Zuma Hajiyeva, Kogod/BS '21, watched the ceremony with family from Baku, Azerbaijan. Hajiyeva came to AU after falling in love with DC and the campus during a visit while in high school. She grew up in a house where education is rigorously pursued. Her mother has a PhD, and her brother graduated from the University of Maryland and Vanderbilt University.  
Baku is eight hours ahead of DC time, so Hajiyeva adjusted to virtual learning with night classes, including some that went past midnight her time. The ceremony was one final virtual experience at AU.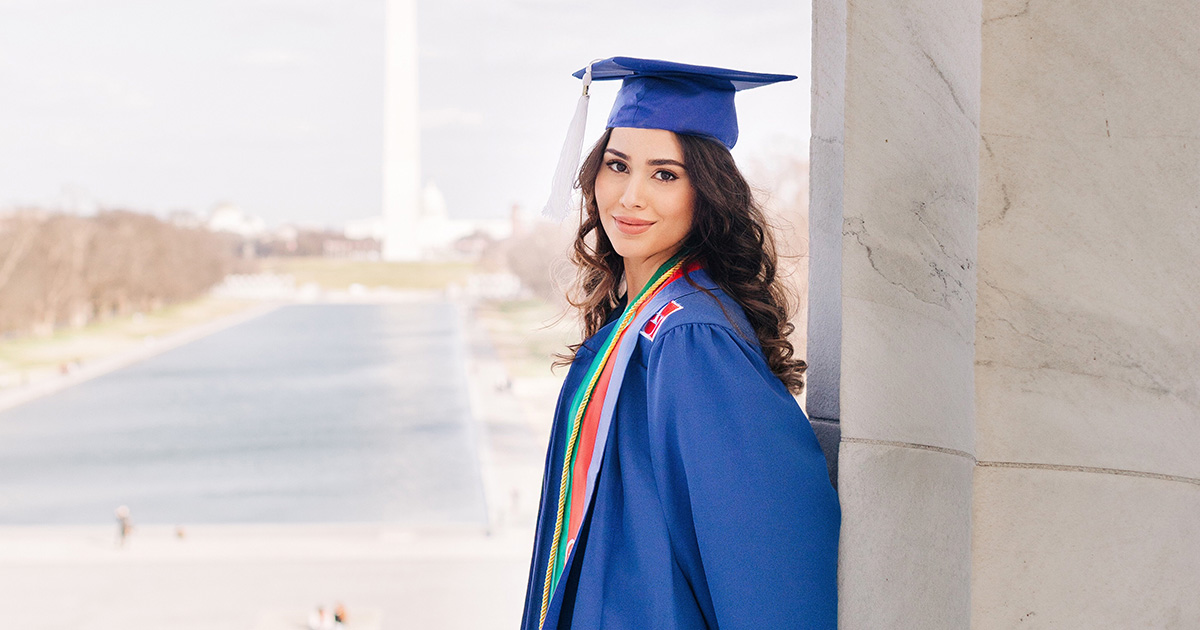 Zuma Hajiyeva, Kogod/BS '21, spent some of her spring semester remote learning in her native Azerbaijan. (Photo courtesy of Zuma Hajiyeva).
"It was very nice to be able to celebrate graduation this past weekend with my family and friends at home, and it allowed me to close the door on my university chapter," Hajiyeva said. "But it's not just about celebrating the past. It's also about the future. Graduation is the first step for me to the real world, and I am ready to give back to my community."  
Giving back and working with the community remained a theme in Burwell's remarks to graduates. She said graduates are well-prepared to excel in an ever-changing world. 
"You push forward with tenacity and drive to create an impact and help others," Burwell said, "As our next generation of leaders, you will help us to come out better and stronger than before."  
Meeting the Moment  
Commencement speaker Todd Park, former US chief technology officer and the co-founder and executive chairman of Devoted Health, urged students to meet the moment.  
Park called our current time a "pivotal moment—one of both great peril and great possibility." He cited how challenging for the world to mobilize to confront the pandemic, but he also talked about the heroic actions and sacrifices of health care workers and the incredible speed at which vaccines were developed. Beyond the pandemic, Park touched on other vital issues where we find ourselves at a crossroads: the fragility of democracy, economic insecurity, and social justice.  
"With the profound gift of your American University education, with all of the tools, knowledge, and skills you have gained through your hard work, you are well equipped to embark upon your changemaking journey," Park said.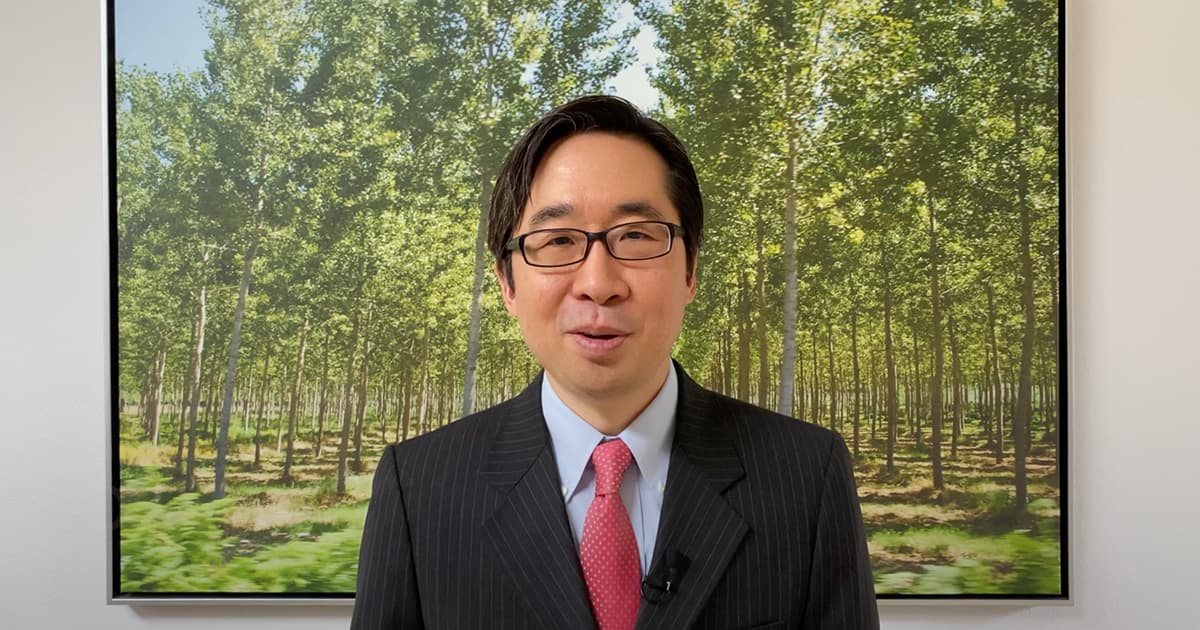 Todd Park, former US chief technology officer and the co-founder and executive chairman of Devoted Health, gave the spring 2021 commencement address.
Park told graduates to dedicate themselves to what inspires them. He highlighted the importance of teamwork and working with teammates with whom you can pursue inspirational goals. He said if you dedicate yourself to impactful missions, then you will find "extraordinary teammates" attracted to those causes.  
"(A) fundamental truth is that the most profoundly inspirational missions are the ones that are of the deepest service to others—missions which truly improve lives, protect and save lives, that inflect the arc of a changing world toward the kind of world that we all want for each other and for future generations," Park said.  
Park also told graduates to "show up as someone who embodies love."  
"Love unlocks more inner strength, inspires more extraordinary effort in you and others, and causes a more powerful chain reaction of positive impact than any other source of changemaker energy I know," he said.   
Finding Your Place  
Lori Younissess watched the virtual ceremony Saturday morning.  
But graduation felt real when she strolled across the Bender Arena stage in the afternoon.  
Younissess, BA/SIS '21, shared the moment with friends who also participated in the procession.  
"It was really nice to be able to walk across that stage," she said.  
Her stroll closed the circle that began when Younissess, a recipient of the highly competitive AU Emerging Global Leader Scholarship, arrived in DC for her first year.  
As a student in Lebanon, Younissess didn't have much experience writing papers. It wasn't part of her academic experience. So, she received a jolt when students asked professors on the first day of class whether they should use MLA or APA for citations.  
"I didn't know what these ABCs were," Younissess said.  
But Younissess figured out how to navigate the academic changes from her high school experience. She said her most crucial step was utilizing a professor's office hours. It's the most significant piece of advice she gives younger students.  
Lori Younissess came to AU on an. Emerging Global Leader Scholarship. (Photo courtesy of Lori Younissess)
After graduating, Younissess wants to work for a few years and then get her Ph.D. Her dream? To become one of those professors from whom she learned so much.  
"I love working with students and mentorship," said Younissess, who was a teaching assistant in 11 classes across three schools, a Career Center peer mentor, and an Arabic tutor. "It would be a great way to pay it forward."