On Campus
Students Lead the Way In Combatting Compost Contamination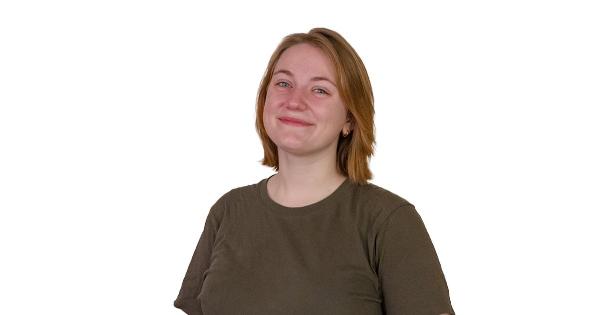 Mollie Russell is committed to protecting the environment, but she struggles at times with what belongs in a composting bin. As a student pursuing a master's in sustainability management in Kogod and an intern in the Zero Waste Office in Facilities Management, Russell is trying to reduce compost contamination at AU.
Even at AU, where leadership in sustainability and addressing climate change is woven through campus, coursework and more, it's no easy task. Compost contamination is widespread on college campuses, meaning that people put things in a composting bin that don't belong, like plastic or glass.
Russell and her fellow interns are leading the way in finding solutions as AU works to meet zero waste goals. With support from AU faculty and staff, they began a trial in mid-March of modified lids on compost bins in the student lounges of Hughes and McDowell residence halls.
"It's my duty as a student experiencing this to do something about it to try and change it," said Russell, who graduated with a bachelor's in environmental science from CAS in December. "What can we do to help people understand what goes in those bins and be mindful of waste-sorting behavior? I wanted to see what would happen if I design something to restrict use and make a more mindful disposer – the opposite of a consumer."
CAS professor Jesse Meiller, Hurst Senior Professorial Lecturer in the Department of Environmental Science, has been advising Russell since her Senior Capstone project.
"Mollie is really motivated to effect a meaningful change with this work that AU can use going forward to have a more successful and effective composting program," Meiller said.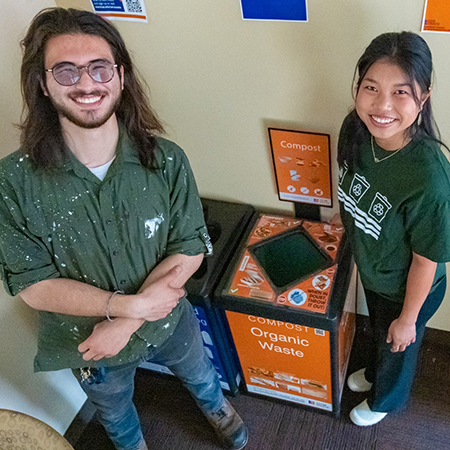 Jesse Cross and Yunqian (Gabby) Li in front a modifed diamond-shaped bin lid.
Contaminated compost
The Zero Waste Office and AU's Office of Sustainability work together to track waste across the university, develop plans to improve infrastructure and outreach, and partner with other key offices around campus on waste reduction, said Megan Litke, sustainability director. AU aims to achieve zero waste by 2030 or divert 90 percent of the university's waste stream from landfills.  
A bag of food waste is contaminated if it contains plastics, cans, glass, clothes, textiles and wrappers. Contaminated food waste gets rejected by composting facilities, can ruin the composting machinery, and can jeopardize the relationship with a composting facility. On a recent tour with Jesse Cross, (CAS/BS '21), who works full-time as the Zero Waste manager and is pursuing a master's in public policy at SPA, he plucked an instant oatmeal wrapper from a compost bin in one of the residence halls. The wrapper's inner lining of plastic in an otherwise paper covering makes the wrapper not compostable.
In addition to the bins around campus, paper towels from the bathrooms, coffee grounds from coffee shops, and food scraps from the dining halls are collected, the result of partnerships with housekeeping and dining staffs, Cross explained.
Since 2018, the "compost crew," a group of paid student interns which today numbers 15, including Russell, collects all of this. They inspect through "drop tests" (dropping the bags to hear for clinking of glass, and items that don't belong, or stepping on the bags to feel the crunch of plastic or cans) to ensure the bags aren't tainted. They also gain skills managing the data for tracking waste to fulfill AU's goals. In the fall, AU turned over 13 tons of food waste, the majority of which was food scraps, to a composting facility in Prince George's County. Only for Russell's project do interns don full PPE and pick through waste in the bins.
"Nobody knows why they like to work with trash. It's kind of an acquired taste," Cross laughed. "I have a couple of students that just want to drive the truck. Some students want to get outside after two years of the pandemic."
The collections and waste tracking must be done by all, and interns can spend part of their time on education outreach and communication on campus or on Russell's project.
Russell's foray into zero waste began as an undergrad when she joined AU's Zero Waste club. She began to understand compost contamination and think about solutions to get cleaner, more usable compost.
Graphics on the modified bin lids give instructions for waste sorting.
'Stop and look at it'
At AU the bins for composting are wide open, making them easy to use. Although Russell did not find research on how to reduce compost contamination, she did find research on how to improve recycling. She learned that two kinds of restrictive lids are used in recycling, a flap lid that must be lifted, and a diamond-shaped cutout lid. For her capstone project, she wanted to see if flap lids would have an impact on user behavior, and she replaced the lids in East Campus residencies. Results were inconclusive but provided insight into the current work testing both types of lids to see if one works better than the other.
Using what materials they had, Russell's team DIY-ed the flap lids and retrofitted the open lids with the diamond cutout. But the lids go further to incorporate education: Graphics about what to compost and not compost cover the flap lid and the outer edges of the diamond-shaped lid, including a slogan embraced in the environmental movement, "When in doubt, throw it out," because it's better to put something in the trash than contaminate the bag. 
Yunqian (Gabby) Li is pursuing a master's in sustainability management and leads communication and outreach for the Zero Waste Office. Li, a member of Russell's team, received her bachelor's degree in interior design from Syracuse University. The idea to incorporate graphics came from Li's recollection from her time at SU. Interior design students did not know how to properly recycle their project waste. SU students and a professor conducted research and found the importance of eye-level, consistent signage and colors.
"When you're throwing things in, you're looking at the lid, so that gives you clarity on what to throw away and not throw away. The objective is to get people to stop and look at it," Li said. "At SU they would audit the bins, find items that don't belong, change the graphics accordingly. It was this continuous feedback loop of seeing what people were throwing out and educating them week after week."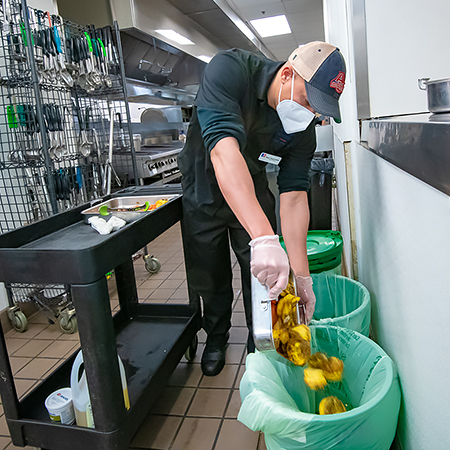 Partnerships with dining and housekeeping staffs are crucial to composting.
Miguel Pascual-Estevez puts food waste in a collection bin.
Learning by Leading
Projects like improving composting will continue at AU thanks to a unique program known as Learning by Leading. Started by University of California-Davis as an internship to solve problems in the university's arboretum and public garden, it was introduced at AU several years ago thanks to Grounds Operation Manger Stephanie DeStefano.
Under Jesse Cross's leadership, the program at AU is expanding.
"Facilities Management wants to provide students with more support for projects that advance sustainability on campus," Cross said. "The Zero Waste club, beekeeping club, community garden, and others, they all had a demonstrated history of working together and making progress."
Environmental Science professor Sauleh Siddiqui, who is leading the National Science Foundation-funded academic network to rethink food systems in America and reduce the problem of wasted food, is one mentor in the effort.
"We're trying to connect the practical goals of the students back to faculty and research and that they see their student group is part of a larger effort addressing challenges," he said. "For example, the community garden wants to provide produce to the DAV and the compost crew wants to work with DAV on composting. How can we combine efforts in a way that meets both goals?"
The trial in Hughes and McDowell ended recently and Russell and her team will assess the data. Russell and Li said they're grateful for partnerships Facilities Management and the housekeeping staff, including a custodial manager, Mirian Lazo, who helps the team to collect data. In the fall, another trial will take place to incorporate what was learned and focus on new areas on campus.