Achievements
Grounds Director Gains Professional Association Top Job
Mark Feist, assistant director of grounds, vehicle maintenance and support services, Facilities Management, is the new president of the Professional Grounds Management Society (PGMS).
Helming the PGMS is just the latest achievement in Feist's 24-year career at AU, where he has seen the growth and expansion of the university's campus into an accredited arboretum and the blossoming of the sustainability and Zero Waste initiatives.
Feist initially worked exclusively on landscape and grounds management, but over the years, his responsibilities have extended to overseeing transportation operations and maintenance, support services, and zero waste management.
Feist, a grandfather of four, golfer (who inevitably inspects the turf of the golf courses), and church volunteer, recently sat down for an interview about his election as president of the PGMS and his work at AU. Comments have been edited for length and clarity.
What is the Professional Grounds Management Society?
The PGMS is a nonprofit group of grounds management professionals dedicated to advancing the profession through education and professional development. We have more than 1,000 members in the US, Canada, and Japan. Many of our members represent institutions of higher education, so it offers networking opportunities with my peers in similar grounds management operations. We were looking forward to holding our 2020 regional meeting at American University until we were forced to postpone because of the pandemic.
How does your involvement and leadership with PGMS benefit AU?
My involvement with PGMS influences and benefits my work at AU in many ways. My role on PGMS' executive board has afforded me with formal leadership training and practical leadership experience, and both have helped me improve my approach in managing the Facilities Operations team. I developed a better understanding of business, human resources, and financial management by completing the PGMS School of Grounds Management certificate program, and I've gained operational insight from other PGMS peers at other universities throughout the US. I've also developed expertise in technical and non-technical horticultural practices by attending educational sessions about winter weather planning; sports field maintenance; arboretum and garden management; perennial, grasses, and ground cover; and others.
With skills learned through PGMS, I have helped implement methods and techniques to our landscaping operations and environmental practices including our tree-inventory system and using organics in the AU landscape, environmentally-friendly de-icing materials and application techniques to avoid chloride run-off into the stormwater system, and alternative fuels such as electric, bio-diesel, and natural gas.
What are your goals for AU's grounds management?
An immediate goal is fully restoring all of the landscape disrupted during the low-temperature hot water system installation now that the Grounds Management team is back to work full time. The project initially was delayed because of the pandemic.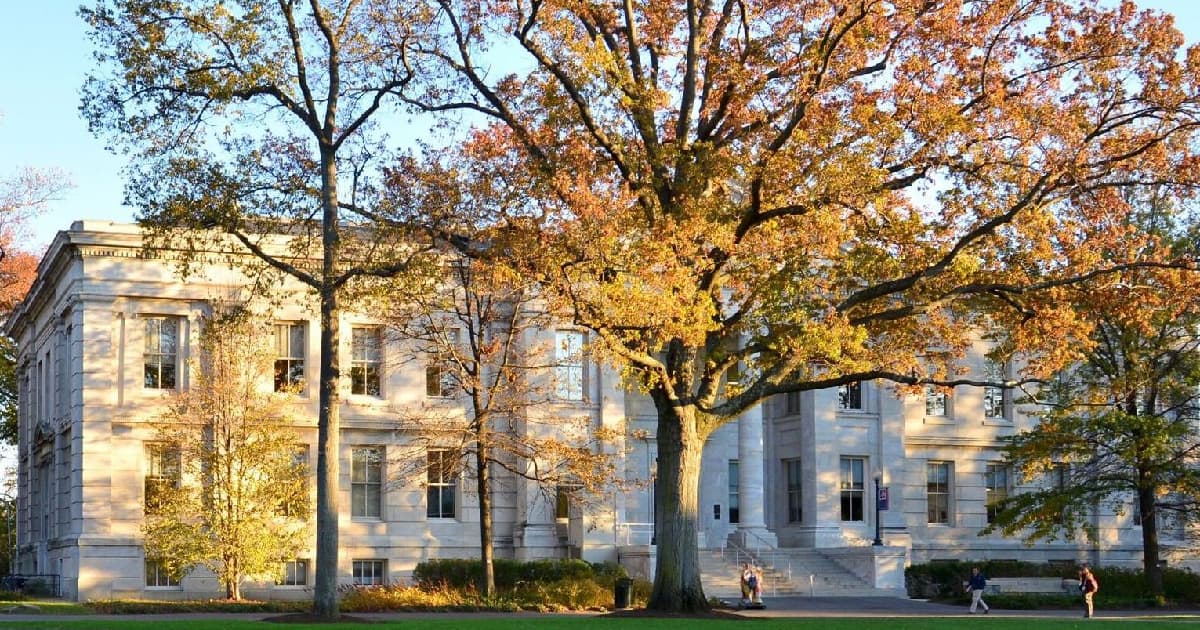 The Eric A. Friedheim Quadrangle is framed on the ends by the Kay Spiritual Life Center and the Bender Library.
I'd also like to see AU achieve Level 3 accreditation from ArbNet, the international arboretum accreditation program. The AU campus currently has a Level 2 accreditation. For Level 3, we have to inventory all our trees, and we have, and we are now working towards inventorying all the shrubs on campus. We also are promoting greater diversity in our plantings.
Another dream project is addressing the hardscape of Friedheim Quad. I'd like to see all the asphalt and various hardscapes from Kay Spiritual Center to Bender Library replaced with pavers that are semi-permeable and more sustainable.
What is it like to work in one of the two arboretums in Washington, DC?
Working at a university that's also an accredited arboretum has offered me some really wonderful and unique opportunities that I might not otherwise have had. I get to work closely with our extremely talented and dedicated groundskeeping staff and landscape architects.
It's wonderful to bring people to AU's campus to show off our arboretum grounds. We conduct about 50 tours a year to neighboring groups, gardening clubs, and other visitors. Our new virtual tour—which we created because of our inability to conduct live tours during the pandemic—has actually given us an opportunity to gain greater exposure. Now people who are unable to visit our campus in person can still experience our arboretum virtually.
Where is your favorite place on campus?
Ever since the pond was installed at Roper Pocket Park about 15 years ago, it's been my favorite location on campus. In the middle of all the action on campus, it's a secluded spot surrounded by trees. I like the pond so much, I installed a pond in my backyard. The Amphitheater would be a close second.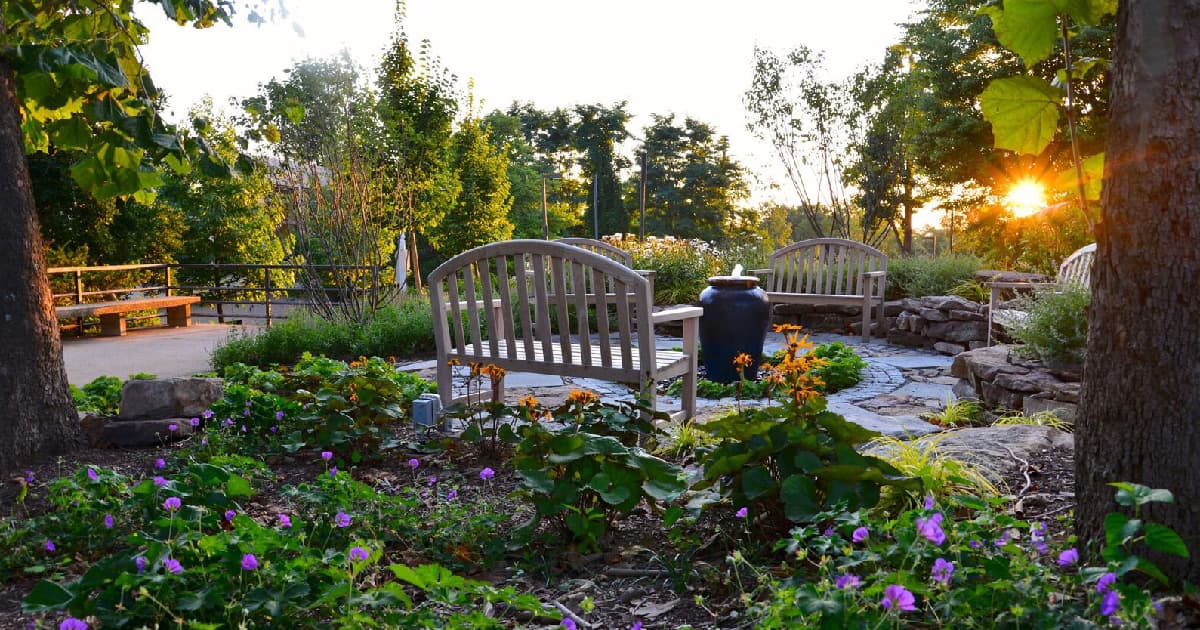 The Roper Pocket Park was established in 2004.
What do you like about your job?
There's nothing I enjoy more than working with our students because not only are they brilliant, they also bring their enthusiasm, inquisitiveness, and openness to innovation to our groundskeeping efforts. When I first came to AU, there was not a lot of student interest in our grounds, nor were there many opportunities to work with them. We overcame this disconnect over the years as the sustainability movement and students' involvement in it began to grow. We really got the ball rolling when we began to hire students as interns. Students were instrumental to establishing our community garden. Facilities Management may support the garden, but its enduring success has been entirely due to students' organizational skills and quick learning. Students also have spearheaded our Zero Waste Program and organic collections. Even during the pandemic, we continue our organic collections process at all our coffee shops and send waste off campus for composting—and it's all been student led. It's been a pleasure to work with AU students in all our efforts.
What is a typical day like for you?
I am definitely an early bird. I wake up every day at 3:20 a.m. and arrive on campus at 5 a.m. Before the pandemic, I used to go to the gym prior to starting my workday. These days, I run four miles on the track. My workday usually begins with checking emails and touching base with the groundskeeping zone leaders, transportation group, and Zero Waste area. I continue to check in with staff throughout the day. One of my major responsibilities is to organize and oversee seasonal activities—leaf removal, spring planting, winterizing, etc.—and making sure all resources are in place.
Groundskeeping has become much easier under pandemic conditions because campus population and traffic are much lower, and we don't have to work around schedules or noise restrictions. As a result, the campus grounds have never looked better. Reeves Field looks the best it's ever looked, but it's also because no one uses it. Without the hustle and bustle of people, the campus is also the saddest it's ever looked.
Why did you choose this as your life's work?
I grew up in Philadelphia and began working at a local garden center when I was in the eighth grade filling 50-pound bags of topsoil, and I continued working there while I attended college at Delaware Valley University. Landscape management initially wasn't my first choice for a career, when I asked myself what I really like to do, I realized just how much I enjoyed my work at the garden center. So I decided to major in ornamental horticulture. Initially out of college, I worked in Philadelphia but then came to Washington, DC, to work at the National Academy of Sciences. I came to AU after that.