On Campus
American University hands out Thanksgiving dinners to students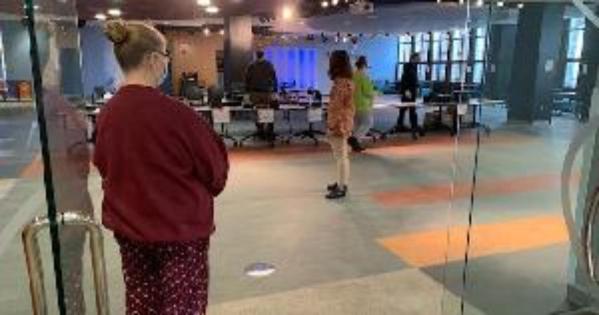 Qinwen Zhang has never had a traditional Thanksgiving meal.
Zhang, an accounting student from China, looked forward to embracing this American tradition despite COVID-19, which has forced her to connect mostly virtually with classmates.
She and her roommate, Lidan Mi, a finance student also from China, were two of about 100 students and staff who received hot meals on Thanksgiving Day at the Mary Graydon Center from volunteers and workers coordinated by the Office of Campus Life, AU Alumni Association's Pride Alumni Alliance, and Residence Hall Association.
Zhang said she enjoyed mixing turkey and cranberry sauce. "I'm very grateful to AU for providing this meal. It must not be easy for AU to continue this tradition and protect students from COVID-19 during this period, and AU did it. AU not only provided good meals to students but also kept the safety and health of students (in mind)," Zhang said. 
AU president Sylvia M. Burwell joined volunteers and staff members who handed out meals to students.
"I was honored to spend some time (Thanksgiving Day) helping to serve meals and ensure this important tradition continues, especially in this trying year," Burwell said. "It is events like this that make me especially grateful for every member of our American University community, today and every day."
For years, AU organizations provided options for meals on Thanksgiving to those students who remained on campus over the holidays. In the past, students could join a buffet line, enjoy the company, and have a hot meal with their fellow students, or they could pick up a grab-and-go meal. 
"Food insecurity is a huge issue for too many students, and when you couple that with the many students who are not able, for whatever reason, to travel home for Thanksgiving, it creates an obvious need that we wanted to address," said Rob Johnson, president of the AU Alumni Association. "This event shows we care, and it makes a real and immediate impact for not only students, but for those who support the event, whether it's through financial contributions, donations of food, or hosting or distributing food to students."
However, the setup that worked for past Thanksgivings wouldn't work in 2020 amid the global pandemic.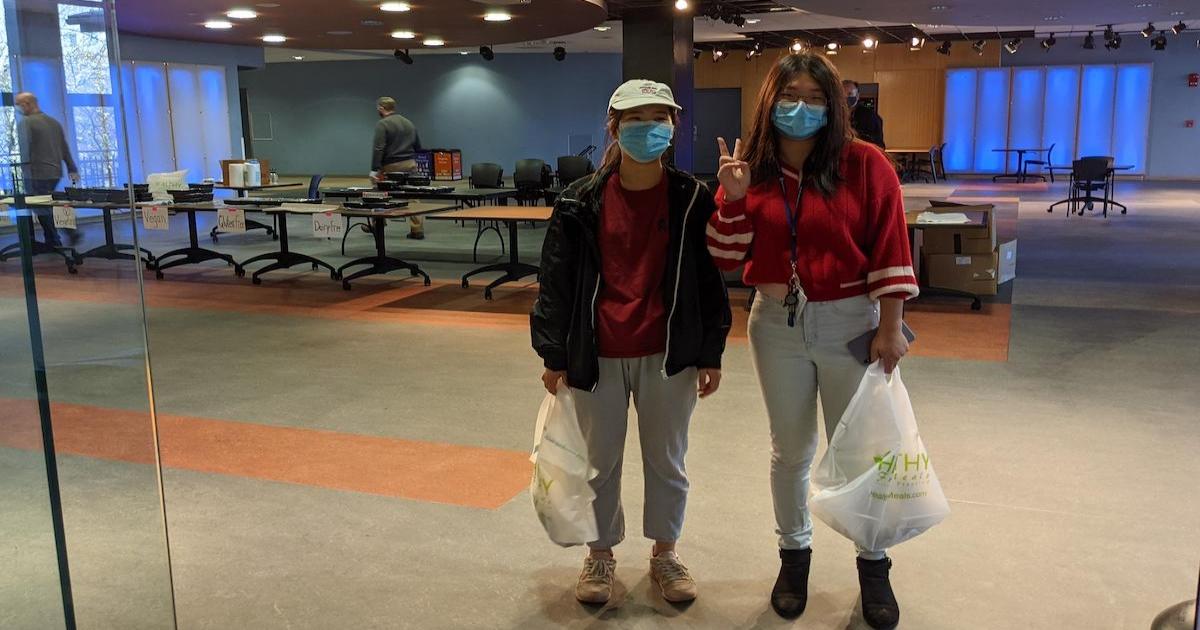 Students Lidan Mi, left, and Qinwen Zhang pick up Thanksgiving meals at AU.
Ashley Boltrushek, senior associate director for residence life, said discussion started in mid-October for how to pull off an event for those students in the DC area. The Residence Life team connected with these students via a survey to gauge interest in a Thanksgiving meal.
The team also needed to accommodate for safe distancing, clear paths of movement and follow health guidelines. They managed volunteers for the event and reached out to a food vendor that could handle food allergies and other dietary restrictions.
Healthy Fresh Meals, a Hyattsville-based company, provided the meals, organizing and labeling the food choices in eight different heat-sealed options: dairy-free, gluten- and dairy-free, halal, kosher, turkey, vegan and vegetarian. "They were so thoughtful in the preparation of meals," Boltrushek said.
Boltrushek said students were very diligent about not coming onto campus if they even suspected they'd been exposed to anyone with cold or flu symptoms. Some students sent friends to pick up food if they didn't feel comfortable coming.
Two meals were given to those in emergency housing and anyone else who made the request on the Residence Life team's survey.
"In challenging times, it is even more important to maintain what is core to community and that is the act of caring and giving back," said Fanta Aw, vice president of campus life and inclusive excellence. "It was heartwarming to reconnect with many students and for our students to know that they are not alone on this important holiday and that their AU family is here to offer support."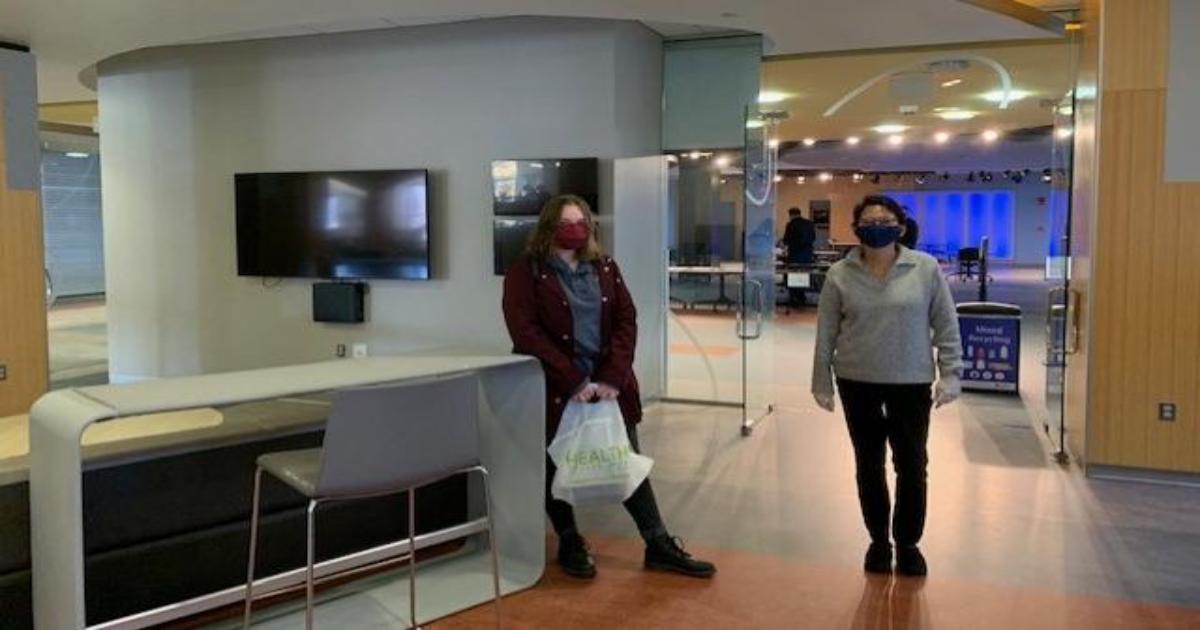 Student Hannah Flood, left, and SIS dean Christine BN Chin at AU's Thanksgiving Day dinner event.
Organizers also gave meals to AU police officers and staff members who were on duty, and Boltrushek said they even handed out food to a few members of the community who were around campus that day.
"It was a resounding feeling of a lot of gratitude," Boltrushek said. "A real feeling of community would have existed just because we were together, but it felt even more special this year."