In the Community
Students Embrace Black History Month with Service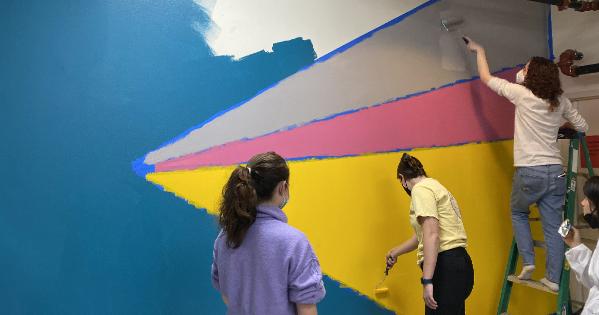 With COVID-19 limiting in-person programming in the fall, first-year student Gabriella Horad had hoped for a chance to meet people and help in the community.
She received that opportunity recently to join fellow students for a Black History Month Day of Service in late February led by the Center for Community Engagement and Service that placed AU students with DC service organizations.
Horad worked with Bread for the City, a nonprofit organization fighting racism by tackling poverty. She packed bags of dry goods, including spaghetti, tuna, peas, peanut butter, and more.
The day of service has traditionally paired with Martin Luther King Jr. Day, but this year's event was pushed to February to ensure students could visit the sites in person.
Other students visited the DC Bilingual Public Charter School, DC Reads, and the Latin American Youth Center Career Academy, where students painted a wall to help brighten and modernize the building for students to enjoy their time there.  
In a meeting before volunteering, Fanta Aw, AU's vice president of undergraduate enrollment, campus life, and inclusive excellence, pushed students to look beyond themselves to the people they serve.
"Service is the rent we pay for being on this Earth," Aw said.
Students also heard from keynote speaker Keesha Ceran, who works with Teaching for Change, which encourages teachers and students to question and re-think the world to build a more equitable, multicultural society. Ceran led an icebreaker discussion of figures in Black history who might be lesser-known, like civil rights and voting rights advocate Septima Clark and Selma march participant Sheyann Webb.
Following a short morning discussion, most students left for the sites throughout the city, but a group stayed on campus. Mary Frances Odukwe, a graduate student in SIS and Eagle Endowment council coordinator, helped on campus packing hygiene care packages for unhoused residents. Odukwe described service as an opportunity to grow and challenge yourself and recommended all students participate in a community service project while at AU.
SIS student James Chan led a group volunteering at the DC Bilingual Public Charter on Riggs Road in the Fort Totten neighborhood of northeast Washington. The group there picked up litter around the campus and worked on beautification.
Chan said a quote about service spoke to him, "Volunteers do not necessarily have the time; they just have the heart."