First Person
AU Student Activist Gets Face Time with Kamala Harris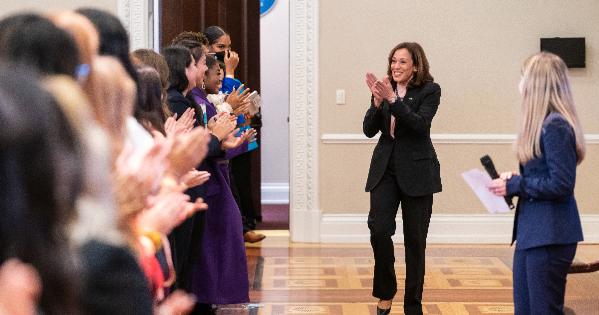 On October 14, 2022, Kaniya Harris, CAS-SPA/BA '24, and other student activists met with Vice President Kamala Harris at the White House about reproductive rights. Kaniya Harris—director of AU's Students for Change Initiative and co-leader of the Black Student Union—was among 75 students from 33 states and 66 colleges and universities invited to discuss safeguarding reproductive rights in the wake of the Supreme Court's decision overturning Roe v. Wade.
Here, she talks about her background and the trip to the White House. 
I was super excited when I found out I was going to the White House. The first thing I did was call my parents. When I called my great-grandfather, he told me to make the experience count because we don't get a lot of Black women from Kentucky at the White House. 
One of the reasons I was chosen is because I lead the Students for Change—formerly known as Women's Initiative. We host events and focus on addressing reproductive rights and sexual violence, racism, sexism, homophobia, and climate change. We plan protests and events like Take Back the Night, bring speakers to campus, and create initiatives like our feminist collective, a food waste program, and multicultural dinner.
I've always wanted to be involved in important issues, and my activism started at a young age. Being a Black girl in the South with a speech impediment was difficult. Constant code-switching and studying the synonyms for words with which I struggled pushed me to advocate for myself and those in my community.
Being one of the first people in my family to move out of Kentucky and come to college was important to me, and I've tried to take advantage of opportunities to organize, amplify, and create spaces for people in my community. That's why I joined Black Student Union in May 2020 before I even graduated high school.
I've been involved in organizing for a while. But when I found out I was going to the White House I was shocked. Right after I got the invite, I talked to my team at Students for Change. I asked for things I should bring up, and we bounced ideas off each other for a full day. I wanted to bring awareness to the things I was seeing in Kentucky and what I'm seeing in DC. We thought about how people at AU want to be represented and the issues important to them.
On the day of the visit, we met as a group at the American Council on Education for breakfast before going to the White House. Speaking with people who've worked on the issues for years and at different schools really helped me get out of my bubble. But you also see people going through similar things we face, and learn how they organize around the same issues at their schools. We talked about collaborating on different projects and building coalitions.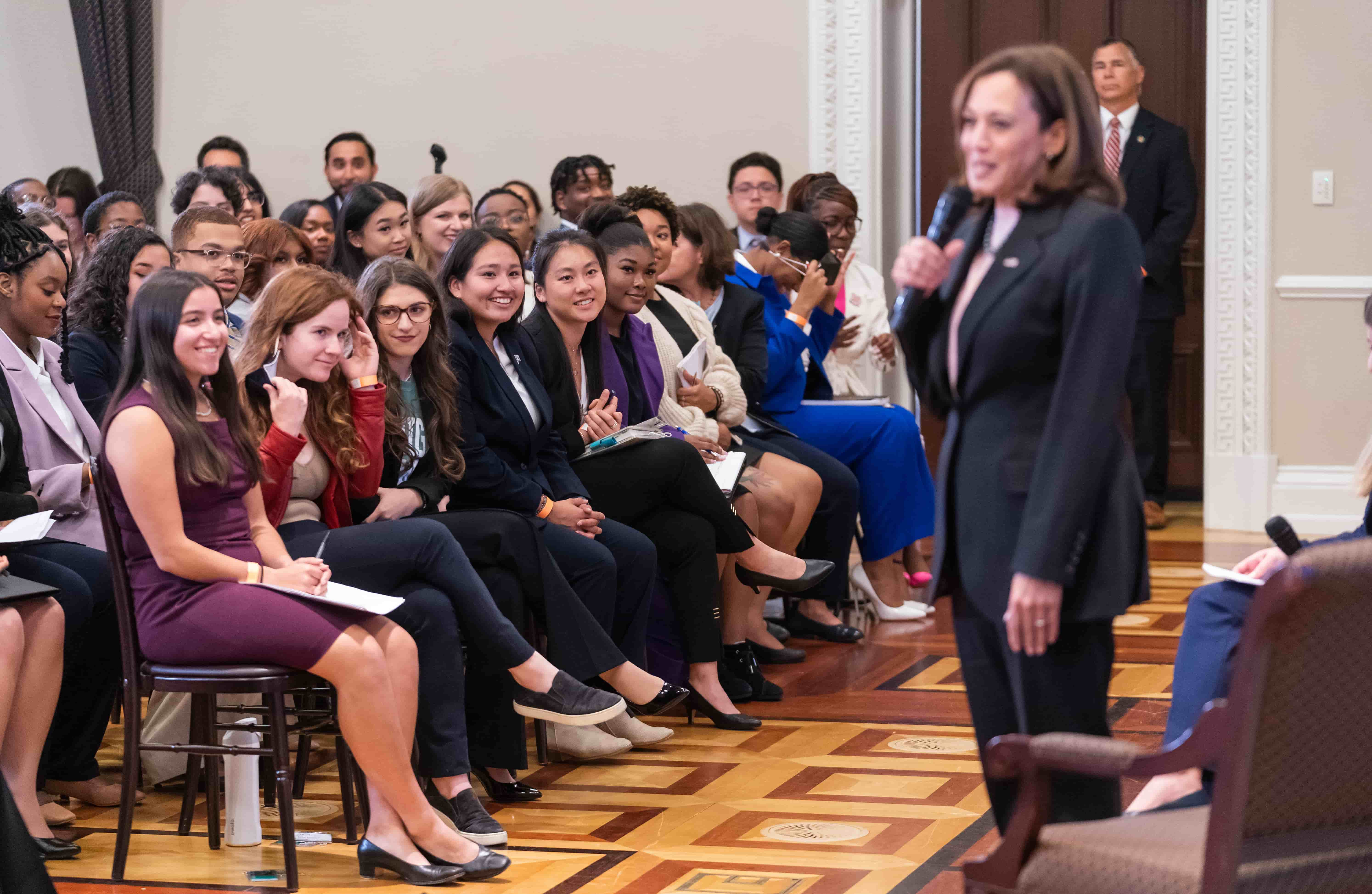 AU student Kaniya Harris, front row, sixth from left, listens to Vice President Kamala Harris talk about reproductive rights at the White House.
After we got through security at the White House—which was very thorough—we did some sightseeing, and I was struck by the age of objects and decorations. Before we went in the room for the event, the group came together and started bouncing ideas off each other. There were a lot of people from other areas, but only about six of us from DC.
When we got in the room, we all stared at the door. Every time it opened, we jumped and thought, 'It's time.' Everybody was super nervous. 
White House staff and folks from Planned Parenthood, Advocates for Youth, and other organizations talked to us before the vice president came in. There were a lot of questions about what to do: Do we clap? Do we stand up? 
When Vice President Harris came in, there were some gasps and everybody stood up and clapped. She was complimenting people; it felt like a nice, warm environment. There were a lot of laughs, but we also talked about the serious issues facing the country. She took questions from us, and we had an open and honest discussion. 
I was in the front row, so we were able to say hello. I introduced myself and said that I was from AU. She perked up. She was on campus this summer, and President Sylvia Burwell was at the White House last month for the unveiling of President Obama's portrait. 
The real eye-opening part for me came from seeing how people from places like Texas and Minnesota spoke about what was going on in their communities and in their states. It's easy to get stuck on what's happening in DC and focus on how the local government approaches reproductive rights. But you really see the struggles students face in other states. We heard how other universities are handling it, and the fights other students face from states cracking down on reproductive rights. 
Here in DC, I don't think a lot about the Midwest, or the Southwest, and the restrictions those communities face. You learn how others organize and which strategies they use.
I have a renewed sense of energy; I feel motivated. I thought about how we can organize as students and amplify the voices of those who feel unheard and how can we increase resources throughout the DMV and make sure people have access to reproductive health services. We're already planning what we can do for the next semester and how we can bring awareness to the issues people face on campus and beyond.