Government & Politics
Thurber Dialogues Continue for Second Year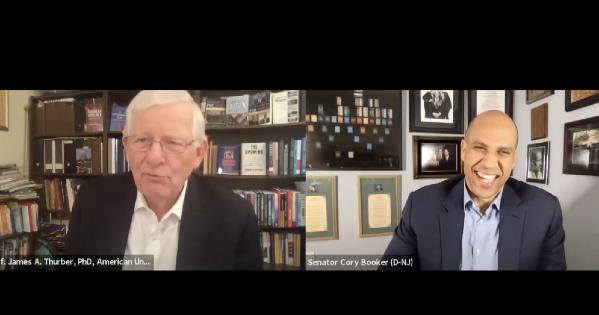 David Barker, the director of the Center for Congressional and Presidential Studies (CCPS) at SPA, and other members of the SPA community planned a series of public forums in 2021 to honor the career of longtime SPA Distinguished University Professor of Government Emeritus James Thurber. 
That one-off has turned into something longer. 
The initial Thurber Dialogues on Democracy included three conversations on politics in America with public officials, an essayist, and academics were so successful they created the incentive to continue these discussions. Thurber and his wife Claudia Harley Thurber, a WCL graduate, former AU adjunct professor and counsel at the Department of Labor responsible for helping to set health standards for workers, decided to endow the series in perpetuity. 
The dialogues opened with Sen. Cory Booker, D-NJ, and have followed with political heavyweights in year two, including Democratic House leader Rep. Hakeem Jefferies, D-NY, and Rep. Adam Schiff, D-California, chairman of the House Intelligence Committee. 
"Our nation, not just those who hold elected office but people who stand as foot soldiers committed to our democracy, to our continuance as a nation and to our highest ideals, you are most certainly that.  It is my privilege in this series to have the honor of sitting with you," Booker said. "I have so much respect and gratitude for you." 
Thurber, the founder of CCPS and the Public Affairs and Advocacy Institute, is still teaching a seminar on ethics and lobbying this semester and just finished a book on the president and Congress even though he is emeritus. He remains deeply concerned about the state of American democracy particularly following the Capitol insurgency January 6, 2021. 
"More than a year after the first violent attempt to stop the transition of power in our history, American democracy is in greater peril than ever," Schiff said. "Our country will get through its present crisis, but what we do in this moment will determine how quickly, and how much damage we must suffer along the way. I am optimistic about the future because of the young people I meet, and their determination to preserve our democracy and planet. At American University, I had the chance to engage with the best and brightest of the next generation, and I wasn't about to miss that opportunity." 
Barker and Thurber both answer questions about the dialogues, their future, and thoughts and concerns on democracy in America. The answers have been edited for clarity and length. 
This Week at AU: This was a farewell series. Why is it continuing? 
Thurber: It was an honor to have a farewell series of forums under my name.  They did so well spotlighting important issues for our democracy that Claudia and I thought it would be great to endow them. The dialogues will be around in perpetuity, because challenges to our democracy will be around in perpetuity. AU is the perfect place for them. There are clear threats to the foundations of our democracy and there are many proposed reforms that focus on those threats. I think it is healthy for our country and our students that knowledgeable people in public office, journalists, and in academics gather at AU to discuss those threats and reforms. We're pleased and honored to do this. The dialogues are about establishing a place to focus respectively and honestly on the health of our democracy on a regular basis.   
Barker: In general, CCPS tries to do a handful of events a year and, in recent years, I've been trying to do fewer events and make the ones that we do higher profile. The dialogues were so successful last year that we just decided to try to continue on with that theme this year and try to get a couple more high-profile policymakers and maybe, you know, one high profile social scientist and so that's what we're doing. 
This Week at AU: These come off as engaging and pleasant conversations. What was your idea behind how these were presented? 
JT: Well, Cory Booker is so engaging, that a conversation with him was easy and fun. I want our democracy to thrive and so do the public officials like Sen. Booker. It's being threatened and will be in the future. Our representative democracy needs continued study and repair. AU is a place where speakers can challenge audiences to think about the state of our democracy. And that's what all the speakers have done. We've invited people who've written about these issues, and they know how to talk about them inspirationally. They care and think deeply about our democracy. The conversations were a great deal of fun. Judging from the size of the audience and the quality of the questions from around the US, many from students, AU is furthering educational goals. 
DB: That's Jim being Jim. But that's the way we try to do these things. You know, we want to be relatable. We want people to just feel like they're sitting in on the conversation, right? That's why we specifically call them dialogues. We just want to have a conversation sort of like you would hear on a podcast or something. That's the vibe we're going for.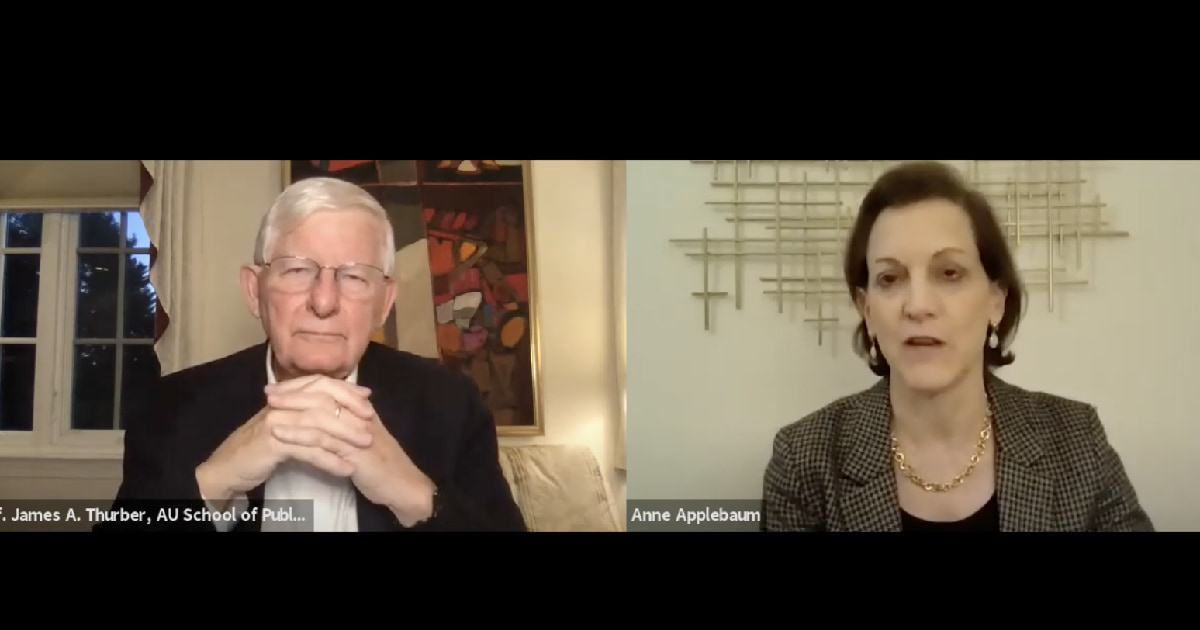 Pulitzer Prize-winning journalist and historian Anne Applebaum joined the Thurber Dialogues.
This Week at AU: The country seems really divided now. Why are your thoughts on the temperature of the political system? 
DB: It's really, really hard right now, because politics is identity based. Our partisanship is highly intertwined with our racial, ethnic, gender or sexual, other identities, religious identities. We sorted ourselves into neighborhoods and into online communities based on those identities and the values that correspond to identities to the point where everything about our dueling cultures is really different. We don't eat the same kinds of food. We don't drink the same kinds of beer. We don't vacation the same types of places. We don't watch the same types of movies or listen to the same types of music and we sure as heck don't get the same kind of information from the media. And so we just fundamentally distrust each other because we don't encounter each other. And that makes trying to do something about that difficult. But we can try to do our little bit. We can have spirited and respectful dialogues. 
JT: The country is deeply divided and politically polarized. If I thought everything was going smoothly in America, I'd probably be hiking in the Cascades worry free or doing something less challenging than thinking about the serious threats to our democracy. We live in a highly polarized and sorted society that keeps getting worse. Sometimes I get quite discouraged about the current direction of American politics and government. I'm very concerned about the near future, but also the long term. As academics, we must be vigilant about the threats to our democracy and must try to do something about them through our research and writing, our teaching, but also through actions as citizens. I'm not happy with the way our democracy is going. Ukrainians are dying for democracy right now, as I mentioned in the last dialogue, while many Americans are taking this democracy for granted failing to appreciate our freedom and security. Claudia and I have established these dialogues as one small way to try to improve our republic and to strengthen our democratic ideals. 
This Week at AU: What do you think Jim's legacy at AU is? 
DB: There's nothing here that he hasn't done really. He's served as dean. He founded this really important center that is the crown jewel of SPA. Thousands of students and working professionals have gone through the centers and benefited and landed important jobs on the Hill and elsewhere.  He's connected AU to the policymaking community in DC. He's advised presidents. He's advised presidential candidates. He's advised lots of congressional committees. I think Jim really embodies the identity of AU and what AU wants to be which is this place for aspiring public servants and people who want to make a difference to come and learn. They come to figure out and find their way as they move forward, and then do their little bit to make the world a better place. Jim, probably more than any other single human being in AU's history, has helped me make that a reality for a lot of students.