Campus Safety
Here's How AU's Maintenance Staff is Keeping Campus Safe During COVID-19
AU campus buildings and shuttle buses are ready to help stop COVID-19 exposure thanks to the AU's Facilities Management Team.
When most of the AU community left campus to pivot to remote instruction and work in the midst of the pandemic in March 2020, the Facilities Management Team stayed to start advanced cleaning protocols and improvements to building ventilation systems to help fight the virus.
All upgrades were in place by the time AU decided to offer the Mid-Semester Residential Experience that is currently underway. Now, AU students, faculty, and staff returning to campus can be sure that residence halls, classrooms, workspaces, and campus vehicles have been prepared specifically with COVID prevention and safety in mind.
Generally, the 160-member Facilities Management Team checks systems for safety before every semester, but now with the pandemic, the team is taking additional measures to protect the AU community.
"All AU buildings not only meet the CDC's COVID safety requirements, but we also took the additional step of ensuring that they also adhere to American Society of Heating, Refrigerating and Air Conditioning Engineers' requirements," said Vin Harkins, assistant vice president of facilities management.
To achieve optimum air quality, heating, ventilation, and air conditioning systems in all buildings have undergone preventative maintenance and performance testing. The team also upgraded all air handling units by changing out more than 7,700 air filters to meet Center for Disease Control guidelines. Outside engineering companies inspected and signed off on AU compliance with those guidelines at the end of 2020.
"We've increased the outside air flow to all buildings as much as possible, while monitoring room temperatures and humidity to avoid extremes and potential mold growth," Harkins said.
As for indoor and high-touch areas throughout campus, the team uses fog machines to help disinfect busy areas quickly, and a well-staffed 150-person Housekeeping Team works double shifts in residence halls, so they can clean everything—even unoccupied spaces—daily.
"For people occupying or visiting any building on campus, we've installed hand sanitizer stations on all floors of every building. Plexiglass barriers have also been erected at all areas where one-on-one contact is likely, like information desks and anywhere a queue may form," Harkins said.
Also, university shuttle bus drivers are now protected with plexiglass shields, and they keep passengers safe by disinfecting their buses after every round trip using fog machines on every bus.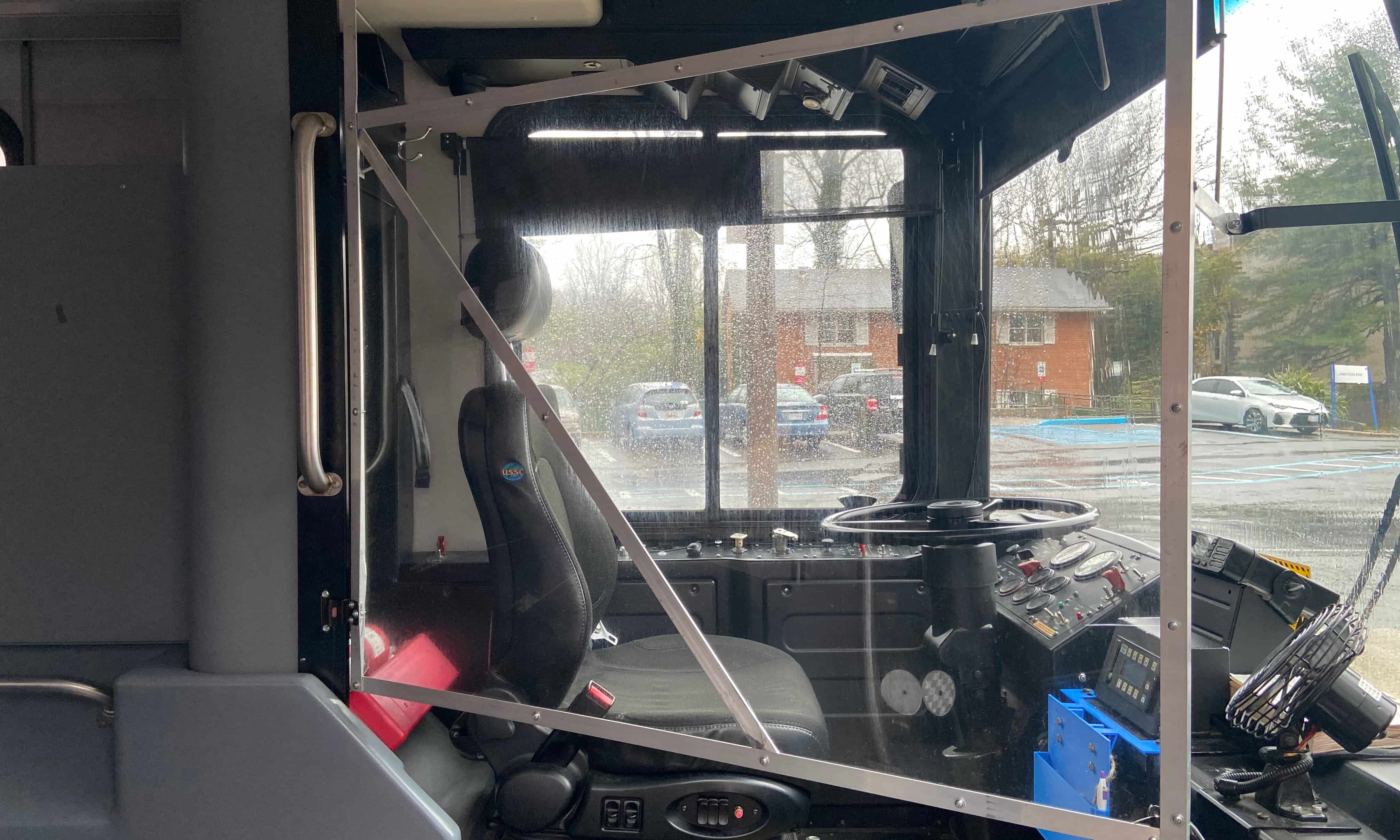 The protective shields on the buses were fabricated at AU, by Brian Hamlin, the assistant manager in vehicle maintenance. "He did this on his own initiative to help protect drivers and passengers," said Doug Kudravetz, AU's chief financial officer. "Hamlin ordered the steel, aluminum and plexiglass and made the entire shield on hinges. It shows how people are going the extra mile to keep the campus safe."
"When people come back to campus this spring, they can feel confident knowing that the Facilities Management Team never left, and that we've spent the past year taking every measure possible to ensure that students, faculty, and staff return to the most safe campus possible," Harkins said.