Student Life
Treating the Whole Student: The Driving Force Behind the New Well-Being Center
AU is embracing a more holistic approach to student wellness with the creation of the Center for Well-Being Programs and Psychological Services.
The Well-Being Center—which consolidates the Counseling Center and the Health Promotion and Advocacy Center into one integrated unit in the Office of Campus Life—"will allow for better collaboration because we're all housed together," said Jacquelin Darby, director of well-being outreach and prevention services. "We can look at wellness from a psychological perspective, a spirituality aspect, along with other pieces."
The center will offer expanded psychological services and therapy, wellness programming, drug and alcohol abuse prevention and sexual violence prevention programs, and other services to help students thrive at AU. All services remain free and confidential.
Here, Darby, who holds a PsyD in clinical psychology, shares what she wants the AU community to know about the new Well-Being Center.  
Changes were made with the whole student in mind.  
"We want to create a community of wellness at AU—and we can't do that if we have two different departments doing things that are aligned but not in sync. Having this under one umbrella allows for more communication across departments that are already focusing on wellness. We also want to reduce the stigma of seeking support."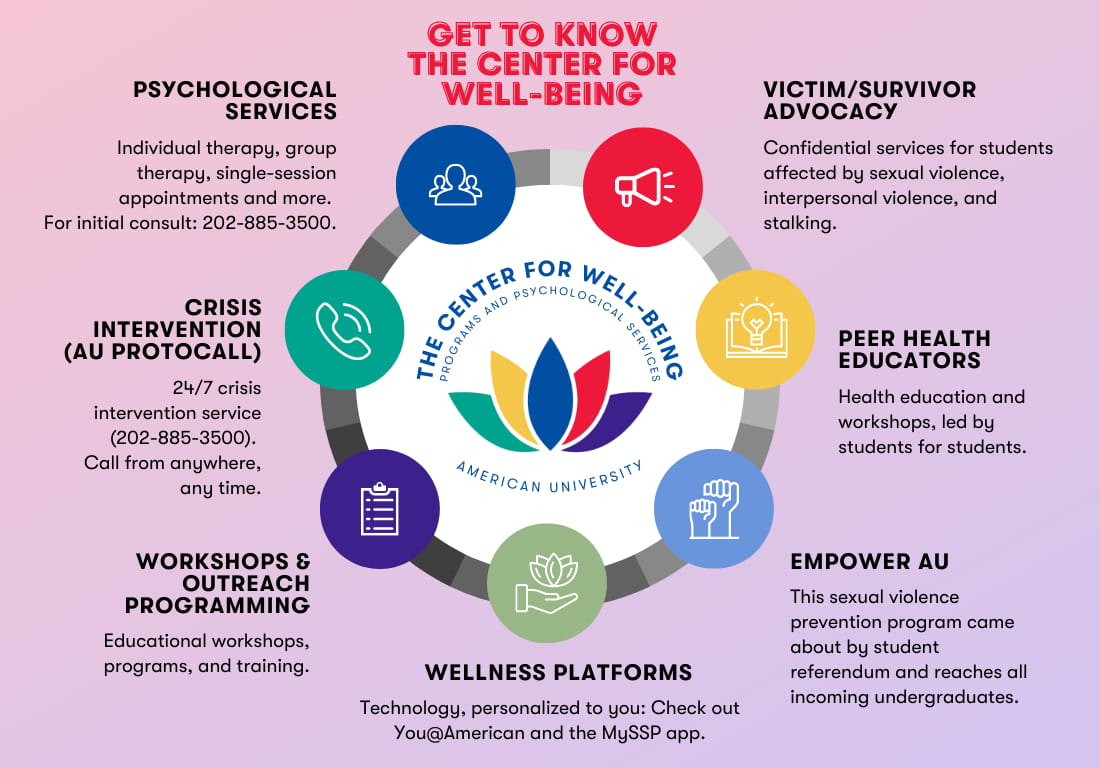 The center is a one-stop shop with connections across campus.  
"If we have a student who comes in with concerns about test anxiety, the psychological side can help with that. If the student also has trouble sleeping, we can refer them to the wellness prevention folks to help with sleep hygiene. Finally, maybe the student needs help learning how to talk to professors. We can send them to the Office of the Dean of Students for help. It's not a revolutionary that the psychological side is referring students to the wellness side and vice versa—but previously they were separate entities."   
We want to increase overall well-being resources on campus.  
"What drives me is a desire for people to get well. A lot of people are hurting or are in pain, and I want to see people be relieved of that. And if we can be a part of that journey, that's great."