Achievements
AU's First-Year Experience Named Among the Country's Best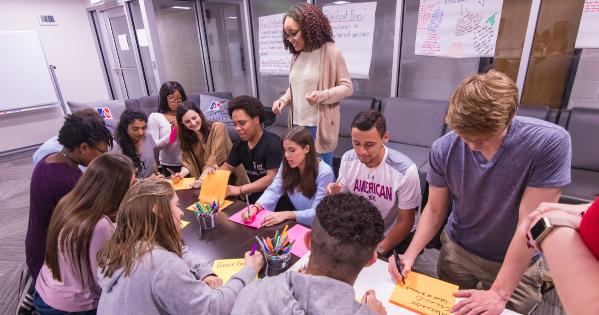 American University's first-year experience is 12th in the nation—up 27 spots from last year—according to US News and World Report's 2023 rankings, released Monday.  
The transformation of AU Core, which includes a series of first-year classes that builds the foundation for academic success, and adoption of an inquiry-based learning model propelled the university toward the top of the first-year rankings, landing alongside Yale University and Boston College. The specialty ranking is voted on by peer institutions.  
"The first-year experience literally touches the whole campus," said Jessica Waters, SPA/BA '98, WCL/JD '03, dean of undergraduate education and vice provost for academic student services. "There have been countless hours of work put into this, and there are so many partners who have helped us progress." 
AU also ranked 7th for study abroad, 8th among undergraduate international business programs, 17th for service learning, 30th among the most innovative institutions, 36th for best undergraduate teaching, and 41st among best colleges for military veterans.  
The university checked in at number 72 overall, up seven places from 2022. The overall ranking marks AU's highest placement since 2018. US News considers 17 measures in its rankings, including peer assessment, graduation and retention rates, student excellence, and faculty resources. 
Waters sees the impact of AU's first-year experience and curriculum changes every time she attends a conference or speaks with a colleague from a peer institution who lauds the speed with which they were reimagined.  
The university made targeted, thoughtful changes to strengthen the first-year experience, including the development of a pair of foundational AUx courses, which explore race, social identity, and structures of power, and the Complex Problems seminar, which features more than 140 sections on topics ranging from vaccine development to climate change.  
"We try to discuss how we talk, who we are as a university, and who they are as people," said Jimmy Ellis, associate dean for undergraduate education. "We're building structure and community and laying the groundwork for difficult conversations that will come." 
Many of the faculty members involved with the Complex Problems sections also spend considerable time working with undergraduates. Waters said undergraduate teaching is one of the dimensions of higher education where AU shines, with renowned experts in their fields leading instruction and discussion. Class sizes also remain small. 
AU's approach to reformulating the first-year experience—along with a dynamic and growing research enterprise and the 2021 opening of the transformative Hall of Science—also contributed to the university being named among the most innovative institutions. At number 30—up 16 spots from last year—AU is tied with Princeton University and the University of Chicago.  
The university's Community-Based Learning program (coordinated by the Center for Community Engagement and Service), which allows undergrads to experience service-learning as part of an existing course, and the Community-Based Research Scholars, a selective, living-learning community experience that emphasizes credit-based work at DC organizations, contributed to AU's top 20 service-learning ranking.  
"We have a commitment to better our community as a whole," Waters said. "Service learning connects theory and real-world practice and allows the students to truly be changemakers." 
AU's top 10 study abroad program features centers in Brussels, Madrid, and Nairobi. More than 60 percent of undergraduate students participated in study abroad prior to the pandemic. 
"I'm most proud that we are able to offer a wide range of academic and cultural experiences that can meet all our students' needs," said Sara Dumont, assistant vice provost for global and immersive studies and executive director of AU Abroad. "We have established three AU centers abroad and more than 60 partnerships with prestigious universities and institutions abroad that benefit the entire AU community, not just those who study outside the US." 
The Office of Campus Life has made intentional progress to support veterans, active-duty service members, and dependents on campus over the past year, re-establishing the Veterans Support Services Network (VSSN). The Veterans Services Office also offers dedicated support to help veterans' access benefits related to education and other support.  
"Educating our veterans is both a commitment we make to those who serve our country and a vital pathway to personal and professional opportunities after their service," said former Secretary of Veterans Affairs Robert McDonald of AU's 41st ranking. "American University's veterans program provides experiential learning and the unique support that helps our veterans pursue their dreams and it is exciting to see their efforts recognized by the US News rankings."