On Campus
Activist Author Talks Book, Centering Black Voices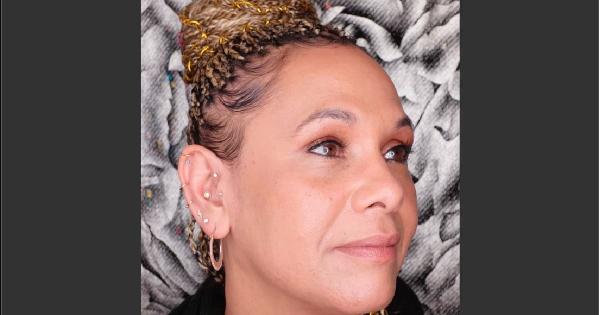 Activist and journalist asha bandele wowed CAS professor Dolen Perkins-Valdez when she said her newest book took only two to three weeks to write.
The quick writing on When They Call You A Terrorist: A Black Lives Matter Memoir, co-written with Black Lives Matter co-founder Patrisse Khan-Cullors, came only because she had immersed herself in the work, research, preparation, and the subject, bandele said.
Bandele spoke to AUx students about her book, the inaugural selection for the new Raise Your Voice Program within the AUx curriculum, on March 12. The program selects a book for AUx2 to center the voices and experiences of BIPOC individuals like bandele to provide a gateway for conversations about race and ease the pressure on students of color from including their own hurtful personal experiences, according to AUx instructors Roshan Abraham and Sarah Jones.
Abraham and Jones called the book "incredibly powerful and an important story to center in a time where there is increasing public outcry about police violence against Black people." The book illustrates key components AUx2 discusses such as intersectionality, systems of oppression, liberation efforts, and cultural celebrations.
Bandele, a voice for social justice and prison abolition, is the director of strategic initiatives for Galaxy Gives, a philanthropic organization, and has worked at Essence magazine.
Perkins-Valdez moderated the hour-long talk sponsored by AUx, Office of First-Year Advising, and Frederick Douglass Distinguished Scholars. The following has been edited for length and clarity.
Perkins-Valdez: Tell us about your beginnings as a writer, as a poet?
Bandele: Black writers are rarely asked about our craft. We're mostly asked about the story in a sort of voyeuristic way. But we don't learn writing this way. I take the guidance of (poet) Sonia Sanchez. She says she instructed poetry as the strictest taskmaster. You can have a bad chapter in a book, and people will forgive you if the rest of the book is great. You can certainly have a bad paragraph and a bad line. Poetry doesn't give you that room. One word can take you out of sequence, can ruin the rhythm.
Toni Morrison would say that if it's not about the village or the community or you, it's not about anything. I had some strict teachers. I had Audre Lorde, the last four years of her life, as my first mentor. You don't get much luckier than that. Audre was encouraging and strict. We had to read, we had to write, and we had to practice. We had to be willing to be edited and come back to the page.
Perkins-Valdez: As a Black woman, I feel cast into the position of truth-teller in organizations. Why do you think that role is often filled by Black women?
Bandele: What happened to Black Lives Matter is movement consistent. Everything, when it comes to our liberation, has been built, strategized, and moved forward by Black women. That doesn't mean that there have not been Black men. It doesn't mean that in different movements, there haven't been white people, people who are Latinx, people who were Asian. That doesn't mean any of that. But I want to center specifically on Black women because we've been decentered in all the areas that we bring.
Part of the reason we did this book with Patrisse (Khan-Cullors) is that that truth was about to be washed out. There was a young man who hadn't done the work, who was not representative of any of the communities. And he gets centered. He's recognizable, and we're used to listening to men. But in this case, it wasn't true. In this case, it was brown women. That's who did this. And when Ferguson blows up, those were Black trans women, the most criminalized people on the planet, got in vans and buses and cars and drove there to put their lives on the line for (Michael Brown).
Even in a great movie, like Selma, Diane Nash only gets a walk-on part. Diane Nash was central. You don't have Freedom Summer without her. Stacey Abrams, who'd been counted out, thrown away, unsupported by the Democratic Party. The Democratic Party doesn't succeed without Stacey Abrams, who had an election stolen from her. We are more than our service, more than what our hands can do. We're also what our minds can imagine, create, and realize, and that's what I hope that people see about Black women.
Perkins-Valdez: What do you think is important for white allies to know right now, and what do you think is important for young people of color?
Bandele: There are so many examples of people who stand in a full breadth of their humanity. I've watched some of it this summer. I'm a block from where they all gathered in Brooklyn. Those are a lot of white children out there risking their lives. There was a young white guy when Bree Newsome climbed that flagpole (in South Carolina). He was part of the plan. He was making sure she didn't get hurt. I don't even know his name. He didn't center himself. He centered her, her safety, and the issue. That's incredible. There were so many examples of that, just this hard last summer of people who didn't center themselves. They centered the issue and protection of the community that had been the target. That is such a living, breathing example, it gives me such hope, and there are examples of that throughout history.
Student: In the wake of George Floyd's death, many individuals posted black squares on social media to show solidarity with the Black Lives Matter movement. How do we encourage individuals to do more and work to inflict meaningful change ranging behind making a quick Instagram post?
Bandele: I probably have a different point of view because when I became a student activist, and there were a lot of folks in my midst who were here on students VISAs, and there was limited capacity for what people could do. I saw I had to shift quickly and see the magic in whatever role folks played, as I think there's majesty in every role.
Some people may blackout, and that's what they're going to do. Good, do that. Everybody has this role. I think that the idea that folks are going to play the same role, it's just not the case. Our job for people who may be an activist is not to confuse what things are. So that we don't look at that that Instagram moment and think it's a movement. It's a moment, and it's a part of the digital strategy; it's one part of it. We're not going to get people who are just going to show up on Instagram to do more if that's what they want to do. But it's to make that an important role, so you can always call them to do that while we're still nurturing those who have a different role to play. And for any of you who are doing that, just my undying gratitude and pride.