Government & Politics
SPA's Thurber Kicks Off Three-Part Series with Cory Booker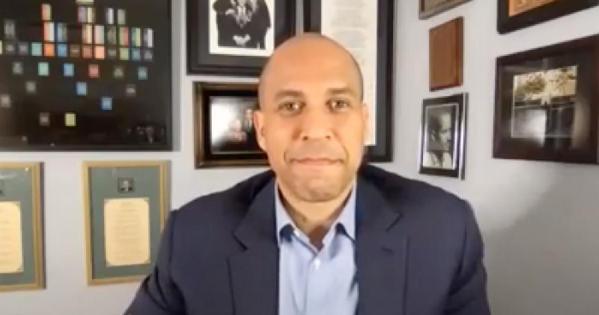 Most retirement parties feature cake and balloons. The School of Public Affairs did one better for Distinguished Professor James Thurber, who's stepping down at the end of the semester after 47 years.
"Jim is American University," said David Barker, director of the Center for Congressional and Presidential Studies (CCPS), which Thurber founded in 1979. When Barker asked him who he wanted to interview to kick off the three-part James A. Thurber Dialogues on American Democracy, "the first person he mentioned was Senator Cory Booker (D-NJ), who is one of the country's most authentic thought leaders and someone we admire tremendously."
The same could be said of Thurber.
The government professor and lobbying expert has authored and edited more than 50 books and 100 book chapters. As director of CCPS until 2016, he sponsored 350 public events and conferences and lectured at 100 universities in the United States and 40 other countries. Thurber also founded SPA's biannual Campaign Management Institute and Public Affairs and Advocacy Institute.
During his hourlong conversation with the New Jersey democrat on January 29, Thurber discussed threats to democracy and prospects for bipartisanship cooperation. The discussion—sponsored by AU's Kennedy Political Union and the US Capitol Historical Society, on whose executive board Thurber serves—has been edited for length and clarity.
Thurber: First, I want to congratulate you on your November reelection. You earned 57 percent of the vote, but I'm a little perplexed: the New Jersey Referendum on Legalization of Marijuana got 67 percent and 200,000 more votes than you did. Was there a lot of ticket splitting going on there?
Booker (laughing): I am blessed to have a significant other named Rosario and when she filled out her ballot at home, I was very distressed when she went to check that box—a vote for marijuana—before she checked mine.
Thurber: I'm a bit concerned about how gridlocked and polarized the Senate is. In your book, United, you write, movingly, that we need "grace, love, forgiveness, and redemption in our search for a more perfect union." How can you use those things when the other party doesn't seem to want to work with you?
Booker: I go to Bible study in Senator Jim Inhofe's (R-OK) office. When I walked in, my implicit biases jumped out at me because I was surprised to see a picture of him and a young Black girl. I asked him about it, and it turns out that she's his adopted daughter. We had a very deep conversation that we probably would have never had if I wasn't in his little hideaway office.
Months later, there is a big education bill going through the Senate and I am distressed because I want to get an amendment to disaggregate data to better help homeless and foster children. And I thought that maybe I should go talk to Inhofe. I remember standing on the floor, and him looking skeptical as I made my appeal. He said, 'Well, let me think about it.' Next thing I see him marching over toward me; he said, 'I'm in.'
Next thing you know, the chair of the committee cosponsored my amendment, we picked up some other Republicans, and now it's the law of the land. We have real problems right now and we can go into that. But I do not want to ever belittle as naivete or as pie-in-the-sky, a firm commitment to principles of grace, decency, honor, and—dare I say—love. Because I still think those are the most powerful forces in our democracy.
Thurber: What keeps you awake at night?
Booker: How much we hate each other. There's more vitriol for other Americans than there is for the people I know from my intelligence briefings are plotting everyday — like the Russians — to undermine our democracy.
I'm worried about us losing our edge because we fail to come together and think big, look to the future, and have a president—I don't care who they are—that doesn't just speak to my next election cycle, but says, 'Hey, at the end of decade, we'll do our moonshot in this generation and defy gravity.'
Thurber: How do you work against systemic racism and white supremacy in America?
Booker: White supremacy is the terrorism we should be most concerned about in our country. Since 9/11, the majority of the terrorist attacks have been right wing extremists and most of those have been white supremacists. From a synagogue in Pittsburgh to a church in South Carolina, we have seen these terrorist attacks happening with chilling regularity.
Systemic racism is a little different, and one of the challenges I see is that we don't even articulate it or recognize it as the insidious problem that it is in our society.
There are more marijuana arrests in recent years for possession than all the violent crime arrests combined. People have had their lives destroyed for doing things that two of the last four presidents admitted to doing.
The problem is, we have grown comfortable with these injustices. And it's hard to grapple with something that you don't even admit is a problem. We are all hurting from this, but it's more like we're frogs in boiling water. We don't realize that our country is at risk if we don't find a way to start speaking truth to reality and have constructive strategies to address those injustices.
Thurber: Inaugural National Youth Poet Laureate Amanda Gorman said, "For there is always light if only we're brave enough to see it, if only we're brave enough to be it." What's your light, Senator Booker?
Booker: I think about that metaphor a lot, that I want to be a light worker. I want to be someone who doesn't just win partisan battles, I want to be [among] millions of Americans that have committed themselves to illuminating the way forward.
All of us are more powerful than we know, more influential than we realize. And a lot of it has to do not with whatever's coming up in a month or two, but how we extend grace today. I don't know what my career will render, but I want to be able to say, when I'm ready to retire, that I tried to live every day as the best I could be because I know that those decisions reverberate in time, in ways that affect another, and another, and another. In fact, I think that's the only salvation we're going to have—not by a hero, be they a president or a senator, but by millions of people who find humble ways to be heroic.
Thurber Dialogues continues on February 24 with journalist Anne Applebaum and concludes on March 24 with political scientist Robert Putnam. Register at american.swoogo.com/thurber.