Research
New Vice Provost for Research Making Quick Impression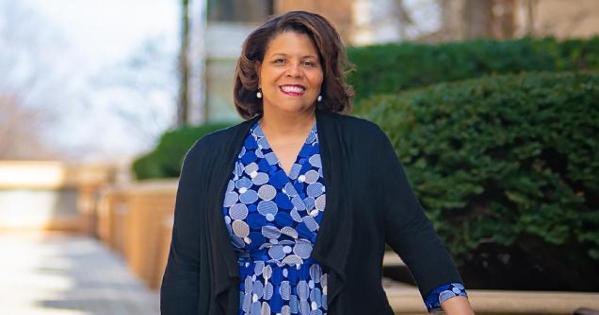 Diana Burley has made a career of evolving with the times. 
Burley chose a career in information technology and later entered the world of cybersecurity. 
Neither field stays static for long. 
"It's a constant race," said Burley, AU's vice provost for research. "The bad guys are trying to figure out how to break in, and you're trying to fix whatever holes need to be closed and narrow the ways that someone can exploit them. It's just a constantly moving field." 
Burley's role at American University will utilize her quick adaptative skills. The university hired Burley in July to lead its research initiatives. She's also teaching a cybersecurity course in SPA in the fall. 
AU acting provost and chief academic officer Peter Starr said the vice provost of research must balance intricacies in supporting faculty and students as they chase research funding. He called the university-sponsored research environment "one of the most complex environments of those we in American higher education deal with." 
Researchers are driven in different ways, so the research head must understand their motivations. The university was looking for someone who not only understands the complexities of funding research through large national agencies and foundations but also appreciates that scholars in different disciplines demand different kinds of support in their pursuit of funding. Writing a large National Institutes of Health grant differs fundamentally from crafting a proposal to a foundation with a complex web of priorities, Starr said. 
"Diana checks all of the boxes," Starr said. "She's a well-funded researcher. She's built an extraordinary set of partnerships over the years. And she has extraordinary emotional and tactical intelligence." 
Burley honed many the tools she brings to AU in a house with supportive, academic-minded parents. 
A DC native who grew up in Pittsburgh, Burley drew inspiration from a family that made marks in both academia and business. Her mother was an academic administrator and received a PhD from the University of Pittsburgh. But before that she worked as a teacher in elementary, middle, and high schools. Her father worked as a corporate executive in finance. She had aunts and uncles who were educators. 
"This is just what we do. This is who we are," Burley said. "There was never a conversation about continuing my educational journey. It was just assumed that, of course, you will continue to grow. If it takes you through an educational path, great. If it takes you down a different path, that's fine too. You have a responsibility to yourself and your family and society to continue to grow and evolve."  
Her father's career taught her to focus on the bottom line, but she also learned from academia an intellectual curiosity and understanding of how to evolve her knowledge. 
"I had always said I would never be a professor like my mother," Burley said. "Yet, I became a professor like my mother but with an eye toward the practicality of the work, like my dad." 
Burley received a bachelor's degree in economics from Catholic University before heading to Carnegie Mellon, where she received two master's degrees and her PhD in organization science and information technology. Following graduation, she and her husband started as assistant professors at Indiana University. She made a stop at Syracuse University before returning to DC to work at the National Science Foundation and then George Washington University (GW). 
During her time as a program officer at the National Science Foundation, Burley worked directly with the organization's research portfolio. She led the CyberCorps program and managed a multimillion-dollar computer science education program. Cybersecurity industry publication SC Magazine named Burley one of eight women to watch in IT security in 2017, and she was cybersecurity educator of the year in 2014. She left NSF in 2007 to become a professor and ultimately the director and chair of the Institute for Information Infrastructure Protection at GW, where she also worked as an interim associate dean for research. 
Burley said she's tried to keep one foot in the outside world while in higher education. That's meant working as a consultant with outside organizations. Keeping an eye towards both sides of her upbringing has flavored the way she has advanced her scholarship. While still in higher ed, she focused on helping government agencies as they started moving citizen services online in the late 1990s. 
"I was always very interested in how information technology would shape the evolution of an organization and how people would be shaped by the advancement of technology," she said. "I wanted to know how people would access these services or how they would navigate technological advancements." 
That curiosity has helped Burley navigate the complexities of research funding. 
As an IT practitioner, Burley must figure out how things fit together. You're often building things, designing systems, and organizing the puzzle pieces of a problem. Understanding how different blocks function together will help with the different layers of fostering research.  
"I'm a systems thinker. You don't do anything in isolation," Burley said. "What you're doing always impacts a piece of the system, and the impact has another impact. You can't focus narrowly without thinking what comes next." 
Burley spent the early days at AU scanning the profiles and web pages of faculty. She'd take a different school and filter through the pages, trying to understand what professors were working on and what they were interested in. She had to do so remotely because of COVID-19, and she worked with the deans and colleges on how to advance research amid the pandemic. 
"Diana hit this place like a force of nature, taking a listening tour and then immediately launching into a campaign of efficiency improvements and intellectual and organizational support for sponsored research by moving forward on all fronts," CAS interim dean Max Friedman said. "She figured out how to navigate the apparent tension between wanting maximum safety for our people while enabling them to restart their research under pandemic conditions. 
"The result? A research university that is back in business with faculty pouring their energies and creativity into the discovery process while complying with all CDC and DC guidance on COVID safety," Friedman said. 
At AU, Burley wants to ensure the university's research infrastructure is sufficient to support faculty and researchers, which includes making sure AU can process grant proposals, receive funding, and work with faculty members to accomplish their goals. She also wants to make sure AU has the core facilities for conducting research and the critical compliance and reporting support faculty require for their research proposals.  
Because of the rapid changes in cybersecurity, Burley developed tactics that go beyond the technical aspects of IT. Even as technology expands and evolves, she said practitioners must focus on the human, behavioral, organizational, and cultural components. 
Friedman said Burley's holistic approach to research has already resulted in positive results. 
"Diana is a consummate professional." he said, "so good at her job that she makes us all better at ours."