Achievements
Five Changemakers Join 2025 FDDS Cohort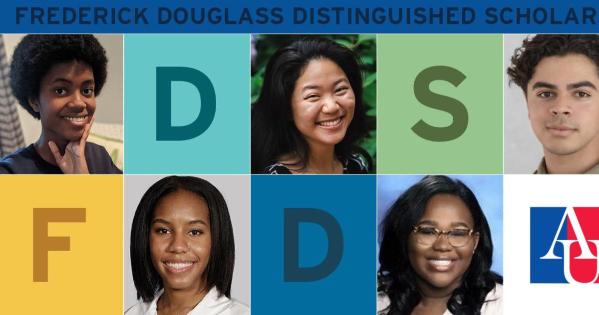 An aspiring doctor, a budding filmmaker, a future lawyer, and two activists are among the five exceptional students that comprise the class of 2025 cohort of Frederick Douglass Distinguished Scholars (FDDS). 
Lena Otto of Kansas City, Missouri; Grace Chen and Chrisraine Gilpin, both from Arlington, Virginia; Nicole Jean-Pierre of Malverne, New York; and John Paul Mejia of North Miami, Florida are the latest in a long and impressive line of students. FDDS is one of the most prestigious merit-based programs in America, providing students with a full-ride scholarship as well as mentorship and professional and personal development opportunities. 
Applicants for the full-ride scholarship go through an intense selection process, including  written and video essays and interviews with program leaders. Beyond a burning curiosity about the world and systems around them, FDDS scholars possess "talent, creative ability and an extraordinary drive" to create socially responsible change. Past scholars have gone on to represent American University as Fulbright scholars and make up a large part of AU's national merit award winners. 
Students in the FDDS program are more than just academically gifted. For Wim Taylor, managing director of the FDDS program, the scholars are "people who want to do good and are doing good." However, Taylor says that this cohort stands out for their resilience and willingness to leverage the losses of the last year and grow. "They're hungry to hit the ground running and have an impact."
Gilpin has always been motivated to create change. An army kid who returned to America from Italy after the 2016 election, Gilpin was inspired to get involved in her high school's Black Lives Matters group and debate club. She was drawn to AU specifically because of its changemaking reputation. For the future lawyer, "it was important for me to be at a place where so many changes are happening and so many people are affecting change." 
Otto applied to the FDDS program because she felt it would support her interests and background in advocacy. Fluent in French, she wants to study abroad in Northern Africa and study the differences in healthcare systems. She was drawn to American University after learning about its beautiful campus, strong study abroad programs and community dedicated to advocacy and activism. Being one of the first people to work and study in the new Hall of Science was also a major bonus for the aspiring OB-GYN, who wants to solve inequalities in maternal health. 
 
Chen sees joining the FDDS program as a chance to continue the work she's already been doing. A self-described art kid, Chen raised more than $1200 last year for various BLM and Asian American and Pacific Islander support groups by selling art online. She also runs Momentum Films, a non-profit that creates promotional films for local non-profits and cause organizations, which she inherited from FDDS alum Fernando Rocha. 
She's excited to continue exploring social activism through her art at AU and can't wait to join the FDDS community, which she says gives her an opportunity to "get all of this support, opportunities, and connections that I might not get elsewhere." 
 
Mejia plans to continue his climate activism work when he arrives on campus. Already a local chapter leader and national spokesperson for the Sunrise Movement, a youth movement to stop climate change, he identifies with AU's politically active student body and looks forward to one day working in political or advocacy communications. As a first-generation college student, he's excited to join the tight-knit FDDS community which will "equip me with the tools and development necessary to be where and who I want to be once I graduate." 
Unlike the others, Jean-Pierre almost didn't make it to AU. It was three days before decision day, and she had already paid her deposit for another school. However, when she found out that she had earned a spot in the FDDS program, she didn't hesitate, describing AU as one of her top-choice schools. 
For Jean-Pierre, the future is less fixed. She wants to support and improve underserved communities and is deciding between pursuing a JD or MBA to fulfill that goal. But she's not worried about making a decision now. The culture of support and community, and "knowing that you have people that will support you, sit down and talk to you about your goals and how to reach them" made AU and FDDS stand apart from other schools she considered, Jean-Pierre said.
Although they have yet to meet in person, the incoming cohort is already getting to know each other through an active group chat. After a year and a half of online learning, Otto is grateful to have people to rely on when she gets to campus.  
"I feel like with this small cohort, we're going to be able to push each other to succeed, even though we're not all on the same path. I feel like since we're all going to be (going through this together); we're all going to achieve the goals we have placed on ourselves," she said.