Achievements
Perseverance Key for AU Fulbright Winner in South Korea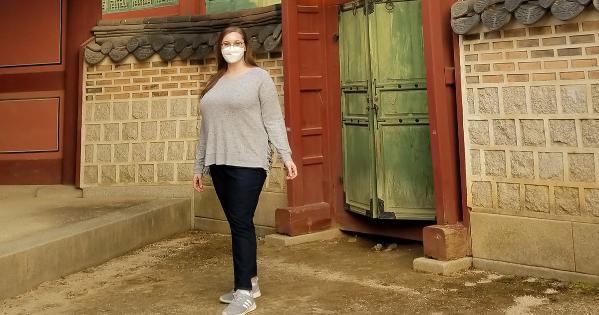 Becky Topol knows she's lucky. 
Nearly all Fulbright scholarship recipients had to defer their award due to travel restrictions from the COVID-19 pandemic. 
But South Korea, which has been one of the most successful countries in controlling virus spread, accepted winners this semester. So Topol, CAS/'12, became the only AU Fulbright recipient in the field when she arrived in Seoul in early January. She quarantined for two weeks before heading to Cheongju City near the center of the country to work as an English teacher. 
"Korea's willingness to accept Fulbrighters this year is amazing, and while the strict two-week quarantine was tough, I know it was a big part of why the program was able to proceed safely," said Topol, who majored in psychology with a minor in theatre. "The fact that schools want Fulbright teachers right now really reassures me that I have something worthwhile to offer." 
The US Department of State's Bureau of Educational and Cultural Affairs administers the Fulbright US program. The program offers both yearlong research programs and teaching assistantships. 
AU had 13 scholarship recipients in the most recent award phase. The other 12 recipients can defer their grant until countries deem overseas travel safe. 
The recognition continues an upwards trend for AU, which has received 100 awards over the past decade. American University was just named a top producer of Fulbright students for the 2020 academic year and has been awarded that distinction in seven of the past nine years. The university has had 214 Fulbright winners since 1971, according to the Fulbright website. AU's Fulbright scholars have visited 67 current countries and two former nations. 
AU students and alumni has traveled throughout the world as Fulbright winners since 1970. (Map by Jonathan Heeter/AU)
Few recent AU recipients, however, have traveled as circuitous a route as Topol. 
 It took Topal three tries to secure her Fulbright award. On her first try, she didn't make it to the semifinalist stage, and she fell short as a semifinalist in her second attempt. Her heart was set on South Korea, which has an age cap on its teachers. Knowing she'd only have one last chance, the Long Island native worked with Lori Felton, the assistant director in the Office of Merit Awards, on her third application. She had a passion for the program, going as far as getting a Teaching English as a Foreign Language (TEFL) certificate. Fulbright selected her in November. 
"She's always been a strong candidate," Felton said. "I have no idea why she wasn't picked before. She has a great perseverance story. And she really wanted it." 
Topol called the first two rejections heartbreaking. 
"If I'd had two, three, five more chances, I might have decided it wasn't worth it and moved on to something else," she said. "But I decided I could commit to trying just one more time, knowing it was the last time I'd go through the process because of the age limit. It's draining and demanding, but it does get easier after that first time." 
Topol said she has adapted well to her assignment at an all-girls middle school in Cheongju City. The students range in age 14-16, and there's a wide range of acumen with English. Topol's job is to make the students feel comfortable speaking English. 
Topol worked for Discovery Education from 2014-20, but she dreamed of teaching English in Korea after developing an interest in Korean media and culture. She began taking Korean language classes at the Korean Cultural Center in DC. That work has eased the transition as well. She teaches three to four classes a day and has lunch with the students to build bonds. 
"My main focus now is to help the kids feel confident enough to speak up and to know that I'm not here to judge them on their mistakes," Topol said. "The students have been so incredibly sweet to me, and I'm looking forward to getting to know them better." 
Topol's grant is through mid-December, but the South Korean partnership does offer extensions, and she wants to stay. She said one year doesn't give you a chance to experience the culture and travel. She's a two-hour train ride from Seoul, and she can get nearly anywhere in the country with a four-hour train ride. 
"I feel so incredibly lucky to be here," Topol said. "This is a strange time to be anywhere in the world, so I'm looking forward to a chance to see a more 'typical' Korea."