Communications
Inclusion Takes Center Stage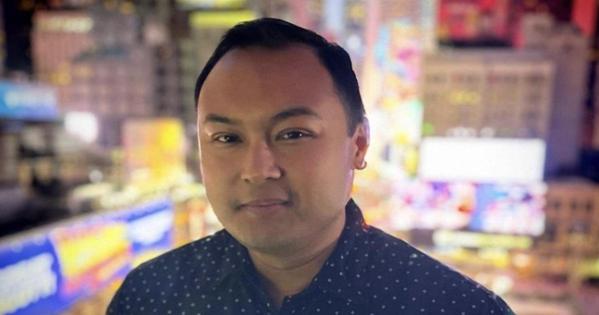 Don Mike Mendoza's path from DC to Broadway was paved with lessons learned at AU.
"We were taught at AU to be vocal and to claim what we want, ask for what we want, and to set goals and achieve them," said Mendoza, SOC/BA '10, MA '17, who studied broadcast journalism and musical theater. "What I got from my experience at American was the ability to really fight for what [I] want and to make change."
Mendoza reflected on his journey from Massachusetts Avenue to Broadway, where he serves as coproducer of the groundbreaking musical Here Lies Love, during a virtual panel discussion on November 2. He was joined by ensemble member Roy Flores and fellow coproducers Rob Laqui and Lora Nicolas Olaes, to discuss the impact of the first musical on the Great White Way to feature an all-Filipino cast.
"We basically have Filipinos in almost every department," Laqui said. "There's never been a show like this."
The musical created by David Byrne and with music by Fatboy Slim chronicles the rise and fall of the Marcos regime in the Philippines. It follows Imelda Marcos, the country's former first lady, and her husband, Ferdinand Marcos, who served as president from 1965 to 1986. Known as the "Steel Butterfly," Imelda held significant power starting when her husband placed the country under authoritarian martial rule in 1972. 
That true story is told with creative flourishes. Instead of a traditional auditorium, the musical takes place amid a raucous disco party, where audience members can move around and experience the performance from a dance floor that sweeps them into the story. "It really feels like you are involved, like you are part of the show," Olaes said.
After setting the stage, CAS professor Aaron Posner, an award-winning playwright and director, moderated a conversation with the group about the importance of inclusion in the arts and why representation matters in theater.
Traditionally, the panelist said, Asian actors have been typecast and limited to minor roles characters in theater. But in Here Lies Love, Asian American and Pacific Islander actors—specifically of Filipino descent—take center stage.
"It blew my mind," Flores said, recalling the emotions he felt when he saw the show for the first time 10 years ago. "It was one of those moments where I'm like, 'Oh my god, this is the story of my people. These are my people telling the story.' We don't have to put on a certain accent to portray ourselves. They are seeing the way we sing. I was just like, 'I need to be part of this production.'"
Near the end of the conversation, Mendoza spoke directly to the AU community, encouraging the audience of mostly students to take inspiration from the play—and to break new ground of their own.
"Ask for what you want in this industry because it's yours to take and yours to change. I wouldn't be sitting here today if I didn't ask for what I wanted," Mendoza said. "The addendum to that is if someone says no, you're asking the wrong person. That's what Kris Jenner said and look where she is now."