Education
Lifelong Learning Grows During Pandemic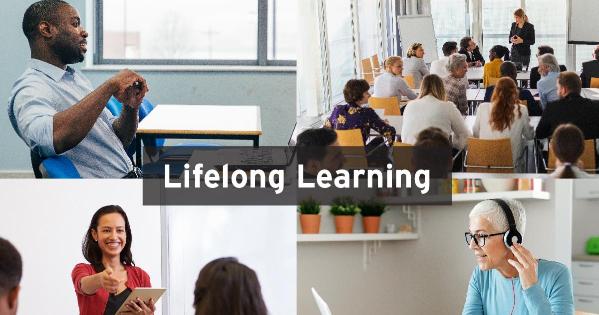 Tracy Burnett, SPA/MPA '18, has spent a lifetime learning.
He learned resiliency and perseverance after he was accidentally burned as a child and endured multiple surgeries. Burnett continued to learn by getting a criminal justice degree, through a career started in law enforcement and time at the DEA, the first of 10 different federal agencies with which he worked. He studied and absorbed knowledge in a career that spanned several stops with offices of inspectors general.
Then, he retired early and returned to school, going through the Key Executive Leadership Program at AU. And now he learns from students as an adjunct professor in the Key Leadership Program.
"I prepare for the courses I teach, and that helps me continue in a path of learning," Burnett said. "So, I've never really stopped."
Burnett is just one of countless students who have benefitted from AU's lifelong learning programs. He arrived as a young retiree and became a non-traditional student. But the span of lifelong learning and those considered lifelong learners is vast. The concept touches nearly every age group and every AU school—pilot programs, certificate programs, degree and nondegree programs, and even pre-college programs like SOC's Discover the World of Communication, which draws hundreds of high school students from around the world.
"We have looked at lifelong learning as a way to engage people at different stages in their education, being able to meaningfully create opportunities for people as they move through their career and through their life," said Jill Klein, interim dean of SPExS and director of the Lifelong Learning imperative for AU's Changemakers for a Changing World five-year strategic plan.
Lifelong Learning is Imperative Five in the strategic plan. While the traditional four-year residential program is foundational to the university, AU is dedicated to growing educational programs that meet the needs of learners at different stages of their lives.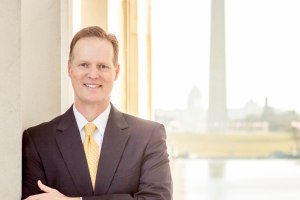 Tracy Burnett graduated from the Key Executive Leadership program after retiring from the federal government.
Much of the growth has come in the digital realm. The strategic plan calls for a development of AU's digital strategy and the creation of a digital strategy office, and AU's efforts in lifelong learning are inextricably linked to the university's digital strategy.
AU's inaugural vice provost for Digital Strategy and Chief Online Officer, Joseph Riquelme joined in February 2020 empowered to direct strategy and coordinate the university's online and digital education efforts.
"Joseph's experience in managing a large-scale digital program operation has allowed the University to quickly advance its digital goals, says Klein. It's really helped with infrastructure."
That infrastructure included the implementation of the Canvas e-learning management system, a digital credentialing and badging system called Credly, and a way to register nondegree students with Destiny One software. A dedicated focus to digital infrastructure became key to executing strategy for lifelong learning.
AU launched online master's degree programs in legal studies, education, and health promotion management as well as a doctoral program in education.
But growth in the digital space also came out of necessity because of the pandemic. Klein said the faculty knew the only way they would reach students would be online and, after plunging into virtual learning in the spring, used the summer to work on strategy and upgrade technology to support the acceleration to digital learning. AU also introduced pilot programs offering micro-credentials, including one in ethical evaluation and skilled bootcamps. A nine-month cybersecurity bootcamp takes a student through intensive program that grants a series of certifications and is designed for students with a variety of academic backgrounds. The bootcamp went from zero to 500 students in less than a year.
"If somebody takes a cybersecurity bootcamp or a workshop in data analytics, they're not getting master's degrees per se, but they experience rigorous learning," Klein said. "I think this creates some flexibility for all of the schools at AU, to be able to really think differently about reaching different learners."
The digital transition has presented both challenges and opportunities for the Key Executive Leadership Program, one of AU's anchors in lifelong learning, as it moved online due to the pandemic. Instructors in Key Leadership like Burnett grew accustomed to traveling to classrooms in federal agencies to coach and teach leadership, and the program also regularly hosted 400 to 600 students on campus in certificate programs.
Key Leadership director Patrick Malone said the federal agencies who supply many of his students wanted to hold off on participation until the pandemic passed because they enjoyed the in-person aspect of the program. However, clients wanted to restart their participation within a month, and the program started delivering online in May.
"We haven't looked back," Malone said.
Both Klein and Malone foresee more hybrid learning models in the future, and that model will allow AU to reach even more lifelong learners. Plans call for accelerated development of Canvas, which is the foundation for future online and hybrid programs.
As the strategic plan enters its third year, the lifelong learning imperative goals include an expansion of digital strategy and piloting new programs. Klein said the team wants to continue developing the digital badging system, recognizing a student's skills, achievements and milestones earned through an online program.
"What we were able to do was to use this environment to build out some infrastructure and really expand our capacity," Klein said. "The office of digital strategy was a big part of that. Actually getting that off the ground—that really creates foundations—to make it much easier to add programs and continue to grow."