Government & Politics
Three Facts and a Fiction: House of Pain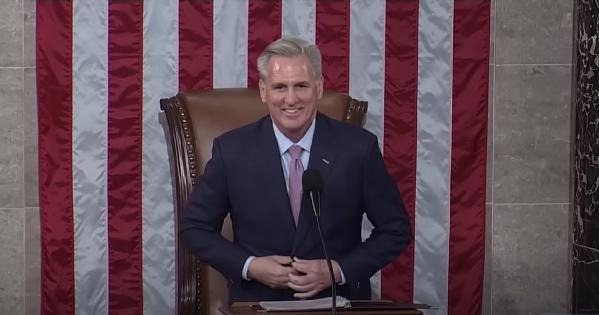 Three Facts and a Fiction is a new This Week at AU feature.  
Distinguished Professor Emeritus James Thurber has seen considerable turmoil during his decades-long career studying the machinations of the United State Congress. But even Thurber, founding director of SPA's Center for Congressional and Presidential Studies, had never witnessed what happened in the House of Representatives last week, as members attempted—again and again and again—to elect the speaker for the 118th Congress.  
It wasn't until the wee hours of January 7, after four days of negotiating and 15 rounds of ballots—the most since before the Civil War—that Representative Kevin McCarthy (R-CA), the House minority leader since 2019, eked out enough votes to win the speakership. "That was easy, huh," McCarthy quipped when Minority Leader Hakeem Jeffries (D-NY) handed him the gavel just after 1 a.m. on Saturday.  
Here, Thurber, who retired in 2021 after 47 years at AU, reflects on a House in disorder: 
Fact: This was the first time in a century that the House of Representatives needed multiple ballots to elect a speaker. 
Most of the time, at least since the mid-1800s, one caucus or conference has an overwhelming majority. But we've also had some pretty good leaders when there were tight majorities. [Former Speaker] Nancy Pelosi (D-CA) was phenomenal at getting votes. Even though there were about 90 people on the progressive side who didn't go along with what the Democratic caucus wanted, she kept a majority. In the past, dissenters fought against a speaker vote because they wanted rules changes because they had a policy preference. This group [in the 118th Congress] didn't want to compromise. They took hostages, but there was no clear picture as to what they wanted other than to blow things up because they distrust leaders in Washington. 
Fact: Some Republicans want to reinstate a motion that would allow a single member to call for a snap vote to oust a speaker. 
I call the snap vote a Mephisto deal—a sort of deal with the devil. It undermines leadership when you have an entrenched faction like [the voters who continously voted no on McCarthy] and will create gridlock. In many ways, it empowers the Senate to be the leader of the Republican party because they can govern and make deals with Democrats. It's going to be hard to do that in the House when they can vote to throw a speaker out any time something angers one person. It doesn't mean the whole House would vote for a new speaker, but it would create disruption. 
Fact: Without a speaker, the House ceased to function. 
During the four days of voting, constituent services weren't available. New members weren't sworn in and didn't have email or telephones. They couldn't hire staff, and if there was no speaker by January 13, no one on the Hill would've been paid. But it was more than an embarrassment or an inconvenience—it was a danger. We have conflict in the world, and representatives on the Armed Services Committee didn't receive intelligence briefings about what's going on in Ukraine and Russia or with China. This undermined the function of the House and empowered authoritarian regimes to say, 'Look, democracy doesn't work.' It hurt America, just as we have some serious issues [looming] with the debt ceiling votes.  
Fiction: Former President Trump's grip on the Republican party is unbreakable. 
The midterm elections showed that Trump has slipped among Republican voters. We saw this further with the vote in the House. Trump has been less than enthusiastic about McCarthy, even though McCarthy has done absolutely everything to earn that support. Trump asked the detractors in the House to vote for McCarthy, but it didn't change anything. He has a weaker hold, and McCarthy [taking 15 votes to] break through is just another of Trump's many losses since the 2020 election. 
Have an idea for 3 Facts and a Fiction? Email editor Jonathan Heeter.