Technology
Treasury Secretary Janet Yellen Gives Landmark Cryptocurrency Speech at AU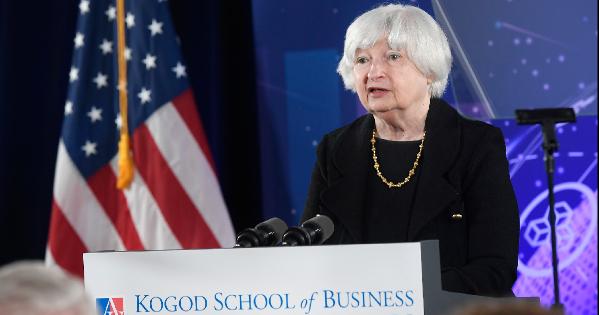 Janet Yellen has spent her career as a trailblazer. 
Yellen is the first woman to lead either the Treasury Department or the Federal Reserve, and she's the only person to lead both as well as chair the president's Council of Economic Advisers. 
Appearing at an incubator for AU changemakers on April 7, Yellen hit another landmark giving the first public remarks on digital assets and cryptocurrency following President Biden's March 9 executive order on the changing technologies. 
Yellen told an assembled crowd and media at AU's Center for Innovation that the government should ensure responsible innovation in digital assets to safeguard national security interests and the planet and protect vulnerable people. 
"The growth in digital services has opened a world of possibilities and risks that would have seemed fantastical only a few decades ago," Yellen said. 
Cryptocurrency value has grown exponentially in recent years, hitting a market cap of $3 trillion in November, according to Time. The market cap sat at $14 billion five years ago. The world has also seen an explosion in internet users, from 3 million in 1990 to 4.5 billion today. 
The growth has increased discussion of overreliance on centralized banks and credit cards. 
Biden's executive order empowers government experts to conduct analysis balancing development versus risks with digital assets, Yellen said. 
The secretary laid out six policy objectives that would guide the analysis and research: protecting consumers, investors, and businesses; safeguarding financial stability from risk; mitigating national security risks; promoting US leadership and economic competitiveness; promoting equitable access to safe and affordable services; supporting responsible technological advances. Treasury will work with the White House to develop reports and recommendations. 
Yellen said past innovation provides a roadmap for responsible innovation on digital assets. 
"Digital assets may be new, but many of the issues they present are not," Yellen said. "We have enjoyed the benefits of innovation in the past, and we have also confronted some of the unintended consequences." 
The advent of credit cards and other technologies created an explosion of electronic commerce, but the modern technologies still have not overcome barriers like the direct deposit delay that many people deal with. Those innovations helped give way to payday loans, which have disproportionately affected low-income Americans, Yellen said. 
"We must be mindful that financial innovation of the past has too often not benefited working families, and has sometimes exacerbated inequality, given rise to illicit finance risks, and increased systemic financial risk." 
Yellen said volatility in the prices of Bitcoin and other cryptocurrencies has prevented widespread usage for payments. She also noted America benefits in the role the dollar and US financial institution play globally, and that "sovereign money is the core of a well-functioning financial system." 
"To the extent there are gaps, we will make policy recommendations, including assessment of potential regulatory actions and legislative changes," Yellen said. "Continuing to update and improve our regulatory architecture will support US economic competitiveness and reinforce leadership in the global financial system." 
AU president Sylvia Burwell introduced Yellen. The two worked together in the Clinton administration when Yellen was the chair of the Council of Economic Advisers. 
"Wherever and whatever Janet Yellen does, she works as a changemaker," Burwell said. "She listens, she uses her breadth of experience and knowledge. And she makes things happen." 
The setting of Yellen's speech coincides with AU's research and scholarship on the issue. 
Kogod's Blockchain Hub, led by professors Joseph Mortati and Robert Sicina, focuses on the impact of blockchain technology on business processes. And WCL professor Hilary J. Allen is a nationally recognized expert on financial stability regulation.