On Campus
Event Welcomes Students Back to Campus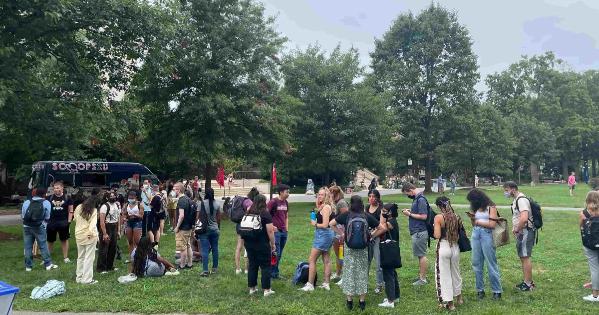 Though Qudsia Saeed and Batool Chaudhry are both from Alexandria, Virginia, they met virtually through the American University Muslim Student Association. 
But after 18 months of virtual meetings, online learning, and Zoom fatigue, Saeed and Chaudhry sat together Tuesday at the corner of Friedheim Quadrangle near Bender Library and the School of International Service. They chatted about the first days of class for the 2021-22 school year while enjoying some ice cream and popcorn. 
"It's nice to be back," said Chaudhry, a third-year business administration major. "It's like being back in my first semester in college. It's nice to see my classmates, see how we've grown." 
Saeed and Chaudhry were two of the hundreds of AU students who showed up for the Celebrate AU event on the quad. President Sylvia M. Burwell (and refreshments) greeted those who showed up. 
Chaudhry appreciated the welcome back event and the chance to interact with classmates. She said having the ability to meet in person for group projects will be beneficial, and there will be more connections with others in events outside of the classroom. 
"Accommodating people's schedules for virtual events was hard," Chaudhry said. "People may not have thought they were as fun. I think clubs will definitely flourish." 
Saeed, who is double majoring in elementary education and sociology, said returning to classes was weird after spending her first year at AU away from campus because of the COVID-19 pandemic. 
"It feels a lot of the social interaction is unfamiliar because it hasn't happened in so long," Saeed said. "Do I know how to talk to professors and approach them? Do I know how to make friends? It's a process I have to ease into, and I want to allow myself to do that. It's refreshing to be in person though. Being in person gives life a little more structure." 
An ice cream truck and hot dog stand sat in front of Mary Graydon Center, while a popcorn vendor handed out bags to students in front of the East Quad Building. The event was delayed a day because of possible inclement weather on Monday. Outside a brief drizzle, the rain stayed away Tuesday, and a humid afternoon made the ice cream truck very popular. 
President Burwell and her family mingled with students and brought an icebreaker for any shy students, their dog, Zuzu. Both Burwell and Fanta Aw, vice president of campus life and inclusive excellence, stopped for pictures and greeted new and returning students. 
"Seeing the students back on campus in the quad, at the Bridge Café, or the Dav and watching them form new friendships reminds me how important physical presence is for community, relationships, and purpose of a residential campus," Aw said. "This is what makes a university, students, faculty, and staff cocreating and in exchange." 
Tuesday's event followed last week's move-ins and convocation. First week events continue with a COVID interfaith Service of Remembrance and Prayer on Wednesday, drag bingo, frisbee after dark, and trivia. And Thursday's Fall Involvement Fair closes the official events for the first week of classes.