Mon - Thu: 9 a.m. - 5 p.m. Fri: 11:30 a.m. - 5 p.m.
One Card & Dining Services
4400 Massachusetts Avenue NW
Washington
,
DC
20016
United States
EagleBucks & Dining Dollars
On Monday, December 17th Eaglebucks transactions and retail locations will be inoperable during a Blackboard Transact System Upgrade, beginning at 7:00pm. Additionally, there will be changes to the payment portal for Eaglebucks.com that will go into effect on Tuesday, December 18th
What are EagleBucks and Dining Dollars?
EagleBucks and Dining Dollars are a convenient, cashless way to make purchases both on campus and at many popular off-campus businesses. Like using a debit card, funds are deducted as purchases are made. EagleBucks can be used both on and off campus; Dining Dollars can be used at AU Dining retail locations. Vending machines across campus accept EagleBucks, and EagleBucks are the only form of payment accepted for on-campus laundry.
Laundry machine malfunctions:
Submit a service request directly to Caldwell & Gregory (we unfortunately are not able to on your behalf) for a technician to address your floor's laundry room as soon as possible.
If EagleBucks were removed from your account, please email eaglebucks@american.edu. Please note that you will need your Caldwell & Gregory service request number, and will need to provide time date and location of the service. We will process your request in up to 7 business days, following review of the request for refund by Housing.
Vending Machine malfunctions:
For concerns with vending machines, please submit a service or refund request through this form. Requests for refund are reviewed by Auxiliary Services.
EagleBucks and Dining Dollars are stored on your AU One Card and can be reloaded at any time by visiting EagleBucks.com. You can also view recent transactions and account balances through this website.
What if I Lose My AU One Card?
If your card is lost or stolen, please visit EagleBucks.com to freeze your account* as soon as possible. This action prevents your stored value funds from being used while your card is misplaced. While you can freeze your account online, you must visit the One Card & Dining Services office in Mary Graydon Center or email eaglebucks@american.edu to reactivate your AU One Card.
* Please note that freezing your account will only disable Meal Swipes, Dining Dollars and Eaglebucks funds on your One Card.
When Do EagleBucks and Dining Dollars Expire?
EagleBucks balances will carry forward throughout a student's tenure at American University. Upon the completion of a student's degree, a refund request for any unused Eaglebucks can be made, by emailing eaglebucks@american.edu.
Dining Dollars balances will not carry over from one Academic Year to the next. Their activation will end on the last day of spring exams with the end of the Meal Plan. Dining Dollars cannot be refunded.
Cash withdrawals for funds in EagleBucks or Dining Dollars cannot be made at any time.
Where Can I Use My EagleBucks?
During the summer 2018, we have worked to improve the Eaglebucks Merchant Program. With this transition we are adding new merchants throughout the DC region to support your experience both in and outside the classroom. Feel free to make a suggestion of merchants by emailing us at eaglebucks@american.edu.
Below is a list of merchants accepting EagleBucks. Please note that the purchase of alcohol and tobacco products with EagleBucks is prohibited. By clicking on any link below, you will be directed to an external website. We are not responsible for the content on these websites.
* This location is operated by AU Dining Services.
Bender Library
Mary Graydon Center
Butler Pavilion ("The Tunnel")
East Campus
Katzen Arts Center
Kerwin Hall
School of International Service
McCabe Hall
Washington College of Law - Tenley Campus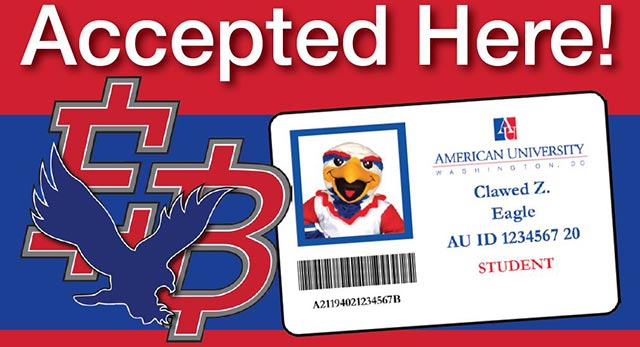 Off-Campus Eaglebucks Locations
Visit the Eaglebucks page to see up to date information on our Off-Campus Eaglebucks merchants and promotions