Monday-Friday 9a.m. - 5p.m.
Catheryn Seckler-Hudson Award Cassandra Moore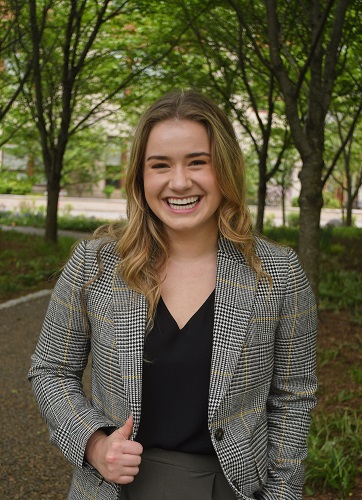 A senior who best exemplifies qualities of character and achievement, while making significant contributions to Student Government.
Hometown: Bellevue, Washington
Major/School: Law & Society, School of Public Affairs
Cassandra is a leader, an advocate, a listener and a doer. She has made a significant impact on AU Student Government, the Greek system, the Title IX system, and the Student Conduct system.
While serving as Delta Gamma's Vice President of Risk Reduction, she saw a need for a conversation within the Greek community about Title IX. She spearheaded the creation of an interactive, informative session on what Title IX is and how to navigate the process — an event that was so successful it has now become annual, with all Greek organizations required to attend.
For the last two years, she has been active with the Center for Advocacy and Student Equity (CASE), an organization within AU Student Government that provides free and confidential resources for students facing code violations. For the past year, Cassandra has served as CASE's director and dedicated a significant amount of her time and resources to improving the Center's presence on campus and accessibility to students. For instance, under her directorship, CASE organized a google form to collect feedback on the email AU sent out regarding mental health on campus and provided that feedback to the administration.
She has also acted on her passion for social justice and legal reform through internships at the DC Office of Police Complaints, the National Center for Missing and Exploited Children, and as legislative intern for a Member of Congress.
As one person who has worked closely with her said, "When in it comes to lifting the voices of students on campus that may not have thought they would ever have an advocate, she is the gold standard."