Monday-Friday 9a.m. - 5p.m.
Evelyn Swarthout Hayes Award Jordan Redd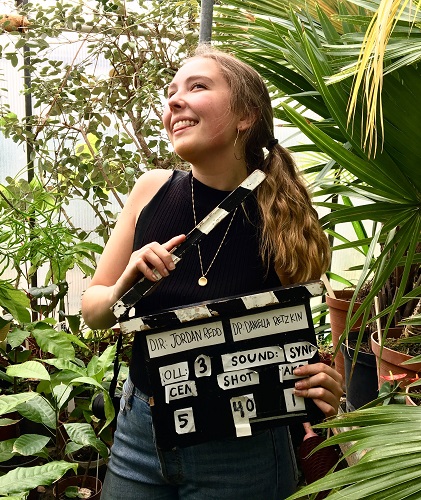 A student who has contributed most to the University through the arts, while maintaining a high academic average.  
Hometown: Warrington, Pennsylvania.
Major/School: Film & Media Arts, School of Communication
Jordan is a stellar student whose energy and creativity are combined with a dedication to using media arts to explore identity and expand representation.
In her years at the American Literary Magazine (AmLit), she not only contributed her own work but served as Photography Editor and ultimately as Editor-in-Chief. She also hosted photography workshops and organized a panel presentation on the importance of representation of the LGBTQ+ community in film and television.
In her own art, she has explored concepts of identity, using double exposures in thought-provoking ways, in work that will soon be featured as part of the Queer Arts show that AmLit is creating to amplify the voices of the LGBTQ+ community. Along with her work at AmLit, she also served as staff photographer for the AU Women's Initiative, where she photographed and filmed the organization's events.
In addition to her artistic work, Jordan has taken courses beyond the required degree requirements, including a top-level scriptwriting course. During her junior year, Jordan received the SOC Dean's Internship, where she interned in the documentary unit of Voice of America, working with the executive producer of the series "After Parkland." She took the opportunity, as well, to study abroad (and film) in Prague, Czech Republic.
Jordan also helped to memorialize and publicize a small but beloved aspect of current AU life when, as a sophomore, she was the videographer and editor for a film that made it into the Washington Post: WonkCatUmentary, about AU's own Wonk Cat.