Monday-Friday 9a.m. - 5p.m.
Fletcher Scholar Award Arianna Lopez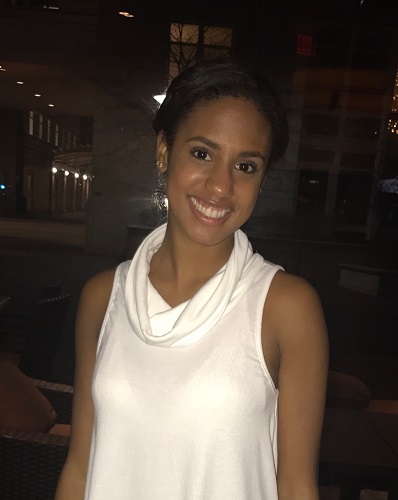 A senior who best exemplifies integrity and selflessness in citizenship on and off campus, together with academic achievement.
Hometown: Palisades Park, New Jersey
Major: Chemistry, College of Arts & Sciences
Arianna Lopez is a champion – in the research lab, on the sports field, in her volunteer service, and in the deep impression she makes on others.
As a Division I student-athlete on the cross country and track team, she committed 20 or more hours a week to training and competing. There would seem to be little time left in the day for more, but somehow, for Arianna, that was just the start.
When she wasn't in the field, she was often in the research lab, working in partnership with Chemistry professor Monika Konaklieva. Arianna's research has developed over the years, with much of her efforts focusing on developing compounds that may help in combatting various diseases, including Alzheimer's. Her research has been supported by different grants, including the NASA-affiliated DC Space Grant consortium and the Mathias Summer Fellowship. Her commitment to her research shows her passion for academic pursuits and for helping people in need, a theme of Arianna's life across the board.
And there's more. Throughout her years as a student-athlete, Arianna spent time weekly facilitating health education programs to youth in the DC area through The Grassroot Project.
This year, she expanded her education efforts by serving as a peer facilitator for the AU Eagles Leadership Academy: Emerging Eagles program. She mentors younger student-athletes while helping teach them important leadership characteristics. Arianna also spent time every week volunteering at a local hospice center, often taking the time to simply sit and converse with patients who may not have anyone else to be with them.
In 2019, Arianna was profiled in American Magazine for her extraordinary combination of sports, scholarship and service. As a recommender puts it: "There is no better way to define Arianna than as a selfless citizen."