Arts
Art in CDI New Art Exhibit in CDI Features Work by Some of AU's Best Artists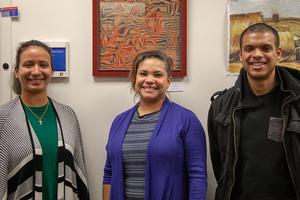 Who doesn't love walking into a room and seeing an intriguing, thought-provoking piece of art? If you visit the Center for Diversity and Inclusion (CDI) between now and Wednesday, April 10, you can see an art exhibit featuring some of AU's finest student artists.
"Art changes the space, and it changes the energy and the way that people feel welcome in spaces," says Consuelo Grier, CDI's Director of Multicultural Student Support, who initiated the idea with Kyle Hackett, professorial lecturer in the Department of Art.
CDI works to serve as a home away from home for students, and Grier and Hackett saw this as an opportunity to make their space more inviting. "Art can be a conversation starter," Grier says. "It can also just feel welcoming."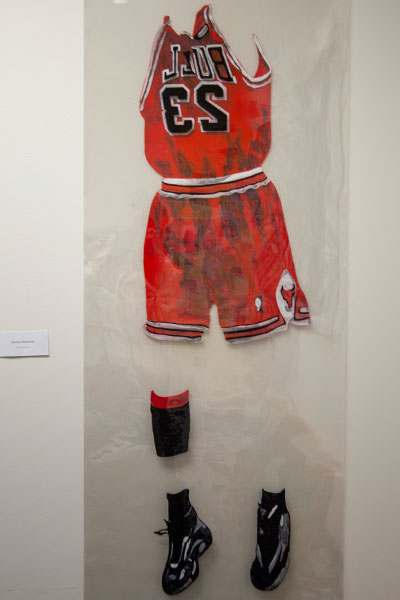 The exhibit, curated by Hackett from student submissions, highlights art that reflects CDI's mission. One example is the piece by Sonimar Maldonado that explores ideas of clothing and identity. Like many of her neighbors in her native Puerto Rico, Maldonado is a fan of basketball and Michael Jordan. Her piece is a print of Michael Jordan without Michael Jordan – the star himself is missing, with only his iconic Chicago Bulls jersey and shoes visible.
"I'm obsessed with the idea of costume and how a person can make a costume become a symbol of something bigger than just clothing," says Maldonado, a graduate art student. "So, I decided to take the person out of it, and it still holds as much power as if the person was within it."
The questions it raises are many. Who is Michael Jordan? Does his stardom as a basketball player erase and subsume his identity as a black man? Is his stardom so powerful that it transfers to the very clothes he wears? Can both those things be true at once? Take a look at the piece for yourself and see what ideas it sparks. That, after all, is part of the point of art – and creating space for conversation and thought is certainly part of the mission of CDI.
Then there's "Found It," by Nieko McDaniel, also a graduate art student. Created from a piece of discarded cardboard, it features a maze-like design with bold red colors that forces the viewer to search for an exit while discovering hidden symbols. The title of this work also carries another meaning to McDaniel: finding your place in life.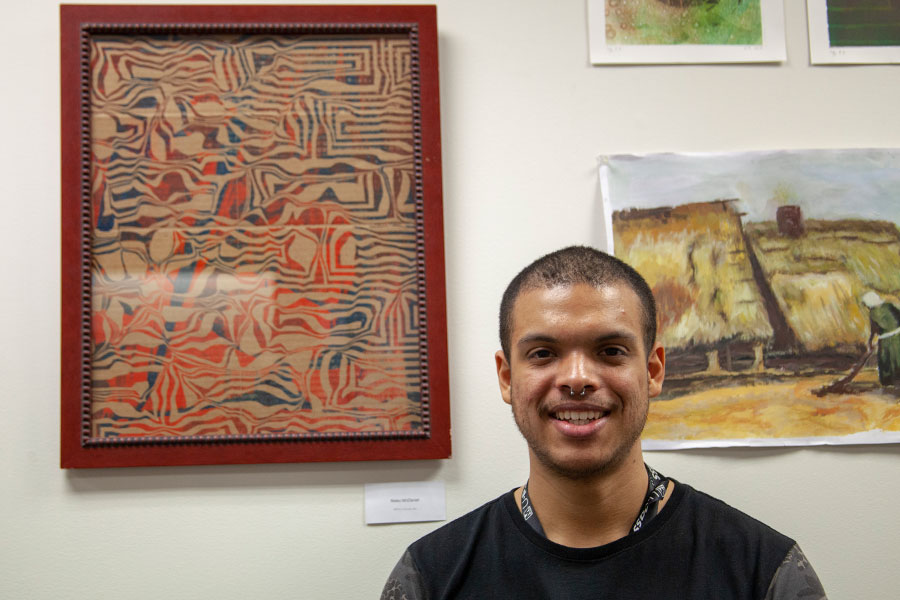 It's part of a planned new series that reflects on the meaning of finding one's place – but not in a way that's comfortable to explore. "It's not about finding your place in life and being happy," McDaniel says, "but being so paranoid about losing your comfortable life and doing everything in your power to secure it."
Grier hopes to bring more art to CDI and find ways for build bridges between student artists at Katzen and MGC and energize the space by encouraging thought and conversation.
The multi-artist student exhibit runs through April 10 at CDI's offices in MGC 201-202.
Sonimar Maldonado's work can be viewed at www.sonimarmaldonadoalvarado.com
Nieko McDaniel's work can be viewed at
www.niekomcdaniel.com