On Campus
McDowell Celebrates Its Golden Jubilee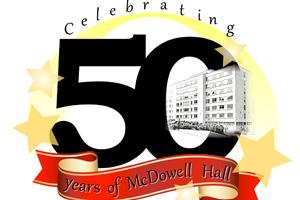 There's been a lot of history to celebrate on campus lately. Just days removed from the re-dedication of the Kay Spiritual Life Center, McDowell Hall cut the cake on its golden jubilee – commemorating its 50 years as a residence hall at American University.

The birthday event, held in the McDowell Formal Lounge and hosted by School of Communication professor and McDowell Hall's faculty member in office residence Joe Campbell, saw speakers from university administrators to students reflecting on the structure's importance and history at AU.

University president Dr. Neil Kerwin, an AU alum who first came to campus as a freshman in 1967, recalled the man whose name the building has carried since its opening on September 10, 1962.

"This hall is named after a very prominent figure in American University history," he said. "Bishop McDowell, in some ways, was one of the intellectual founders of American University. He developed an intellectual and educational plan for the university back in the nineteen-teens."

Vice president of Campus Life Dr. Gail Hanson detailed exactly how the once all-female hall – which underwent major renovations last year – looked when it first opened, with features specifically tailored to residents of its era. A residence hall of 555 women housed entirely in triples, each floor included a pajama lounge, kitchenette, laundry room, bathrooms, and a typing room to keep typewriter noise away from sleeping quarters.

"You look at the building, and it doesn't look much different on the outside, though it was built fifty years ago, but you realize that the succession of people who have lived under this roof have lived very different lives," Dr. Hanson said to the current McDowell residents attending the celebration. "They looked different, dressed differently, lived under different rules, and did some very funny things at times."

Over the years, McDowell Hall has had many different functions beyond its role as a residence hall. In October of 1999, the building opened its doors as a safe Halloween destination for trick-or-treaters from AU's DC Reads program. Former President Jimmy Carter held his 2005 Commission on Election Reform in the Formal Lounge, and in 1972, McDowell acted briefly as a European-style hostel partnered with American Airlines for students visiting Washington DC.

In his closing remarks, Dr. Kerwin motioned toward the new residence hall under construction nearby. He emphasized the unique importance of AU's residence halls as living-learning communities, where education continues to stretch beyond the classroom and into students' moment-to-moment lives. In McDowell, like in other campus living options, students can join community clusters that dedicate themselves to a topic or issue such as a foreign language or social justice.

"My great hope is, as that [new] residence hall grows up into a part of this institution, it grows up as well as this hall did," Dr. Kerwin said. "This is a place, as I think all our residence halls are, that extends the educational process. More and more of our instruction comes out of the classroom and into the halls. I think that's very beneficial for a place like American."

So, while from the outside one might just see another residence hall on campus, it's clear that this living-learning community plays a vital role in the lives of AU students. With 50 years of continued academic and residential history, McDowell Hall and its residents certainly have a lot to celebrate.