Student Life
New Wellness Platform Launches for AU Students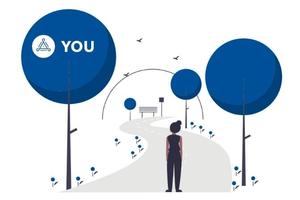 Perhaps you have trouble sleeping. Or you're stressed about finances. Or you feel good about classes but can't quite picture a career path – plus, you're feeling isolated right now, and have been procrastinating a bit. 
AU students now have access to a new tool that can help: a personalized wellness platform, YOU@American, with self-checks and evaluations to help each student assess their challenges, set their own goals, and support their emotional wellbeing.
It's available to all undergraduate and graduate students and can be accessed through accounts on the AU portal. There's a brief orientation online that takes students through the basics of using the platform – including tips on managing stress, setting achievable goals and acknowledging accomplishments. 
Faculty and staff can also make accounts (which are also confidential) – although at this time, the goals and concerns are dedicated to students. 
Traci Callandrillo, Assistant Vice President of Campus Life, shares more about the platform and how it works:
What is YOU@American?
It's a personalized and private student well-being portal that provides tools, content and resources specifically for college students. It's a tool for helping students to thrive academically and personally that can be used anywhere, at any time, by students with a broad range of goals and needs. It also provides a central hub for university success and wellness resources.
How does it work?
Students access it on their phones or computers and personalize it to address their own concerns and goals, while remaining private. It offers self-directed assessments, self-checks that are private and anonymous, and goals and results generated from evidence-based methods.
Is this a mental health resource?
It can certainly be a helpful support for emotional wellbeing. We know these are incredibly challenging times in so many ways, and all of us can use more tools. It's not a form of counseling, though. Users seeking counseling will be directed to the Counseling Center and our resources such as ProtoCall, because You@American is specific to AU and interfaces with our other services. 
What does it address?
It addresses a very wide-ranging set of needs specific to college students. It's grouped into three broad areas – Succeed, Thrive and Matter – that encompass a full range of wellness and emotional health areas, including career readiness, financial wellness and literacy, emotional coping, academic success, and sleep. The areas are quite wide-ranging.
What made AU decide to add this particular tool?
One thing that really attracted us is that it's created by behavioral health experts, so it's evidence-based. It's also personalized, so students can create their own goals. We like that it's specific to college students. The commitment of the company not to sell, share or use data was also crucial to its selection by AU.  
Can you say a little more about privacy?
It's completely confidential and does not sell or share user data, except as part of an Institutional Review Board (IRB)-approved research study, which we currently do not have for our community here at AU. The AU administrator can access general analytics about how our students are using the platform, but we do not have access to any student's individual information. This commitment was crucial to its selection by AU.