Mon - Thu: 9 a.m. - 5 p.m. Fri: 11:30 a.m. - 5 p.m.
One Card & Dining Services
4400 Massachusetts Avenue NW
Washington
,
DC
20016
United States
This page provides information regarding the Eaglebucks Program at American University, including program details, how to view balances, make deposits and where Eaglebucks transactions can be made.
For additional information and questions please contact the office of One Card & Dining Services at 202-885-CARD (2273) or email eaglebucks@american.edu
What are Eaglebucks?
Eaglebucks are a convienent, cashless way to make purchases, using the university issued One Card, both on campus and at many popular off-campus business. Like using a debit card, funds are deducted as pruchases are made.
Eaglebucks can be used both on campus and off campus; Vending machines across campus accept Eaglebucks and Eaglebucks are the only form of payment accepted for on-campus laundry services.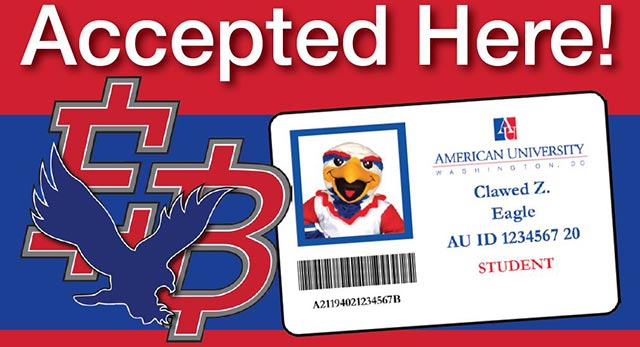 Off-Campus Eaglebucks Locations
Visit the Eaglebucks page to see up to date information on our Off-Campus Eaglebucks merchants and promotions.
Now Accepting EagleBucks!
For concerns with vending machines, please submit a service or refund request through this form. Requests for refund are reviewed by Auxiliary Services.
EagleBucks and Dining Dollars are stored on your AU One Card and can be reloaded at any time by visiting EagleBucks.com. You can also view recent transactions and account balances through this website.
Laundry Machine Malfunctions: Submit a service request directly to Caldwell & Gregory (we unfortunately are not able to on your behalf) for a technician to address your floor's laundry room as soon as possible.
Laundry Service Refunds: If EagleBucks were removed from your account, please email eaglebucks@american.edu. Please note that you will need your Caldwell & Gregory service request number, and will need to provide time date and location of the service. We will process your request in up to 7 business days, following review of the request for refund by Housing.
If your card is lost or stolen, please visit EagleBucks.com to freeze your account* as soon as possible. This action prevents your stored value funds from being used while your card is misplaced. While you can freeze your account online, you must visit the One Card & Dining Services office in Mary Graydon Center or email eaglebucks@american.edu to reactivate your AU One Card.
* Please note that freezing your account will only disable Meal Swipes, Dining Dollars and Eaglebucks funds on your One Card.
Replacement Fees for Lost Cards is $20; to be paid by cahs, credit or through a Student Account upon time of replacement.
Community members whose One Card photos are more than one (1) year old should anticipate needing to have a new photo captured upon issuance of the replacement One Card.