Mon - Fri: Available Remotely, 9 a.m. - 5 p.m.; Available for in-person by appointment only; Sat & Sun: Closed
One Card & Dining Services
4400 Massachusetts Avenue NW
Washington
,
DC
20016
United States
NOTICE OF SYSTEM OUTAGE: SERVICES RESTORED. We thank you for your patience while we conducted a Transact System upgrade (December 18th at 9:00 a.m. - December 19th at 2:00 p.m.) to improve the quality and services of the system. Services for One Card Transactions have been restored which includes use of vending machines, laundry card readers, on and off-campus vendors, printers/copiers, the EagleBucks Add Value machines and Eaglebucks.com. If you have any additional questions or concerns, please contact our team directly by emailing eaglebucks@american.edu.
This page provides information regarding the Eaglebucks Program at American University, including program details, how to view balances, make deposits and where Eaglebucks transactions can be made.
For additional information and questions please contact the office of One Card & Dining Services at 202-885-CARD (2273) or email eaglebucks@american.edu
What are Eaglebucks?
Eaglebucks are a convienent, cashless way to make purchases, using the university issued One Card, both on campus and at many popular off-campus business. Like using a debit card, funds are deducted as pruchases are made.
Eaglebucks can be used both on campus and off campus; Vending machines across campus accept Eaglebucks and Eaglebucks are the only form of payment accepted for on-campus laundry services.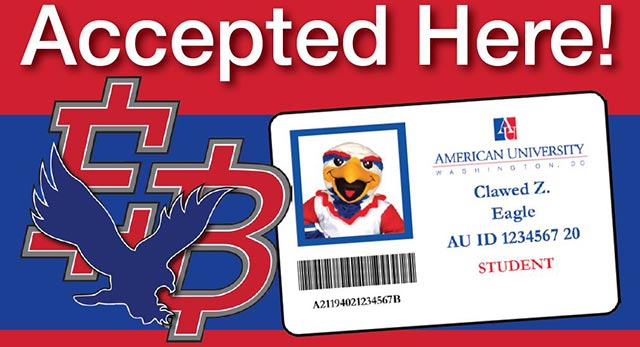 Off-Campus Eaglebucks Locations
Visit the Eaglebucks page to see up to date information on our Off-Campus Eaglebucks merchants and promotions.