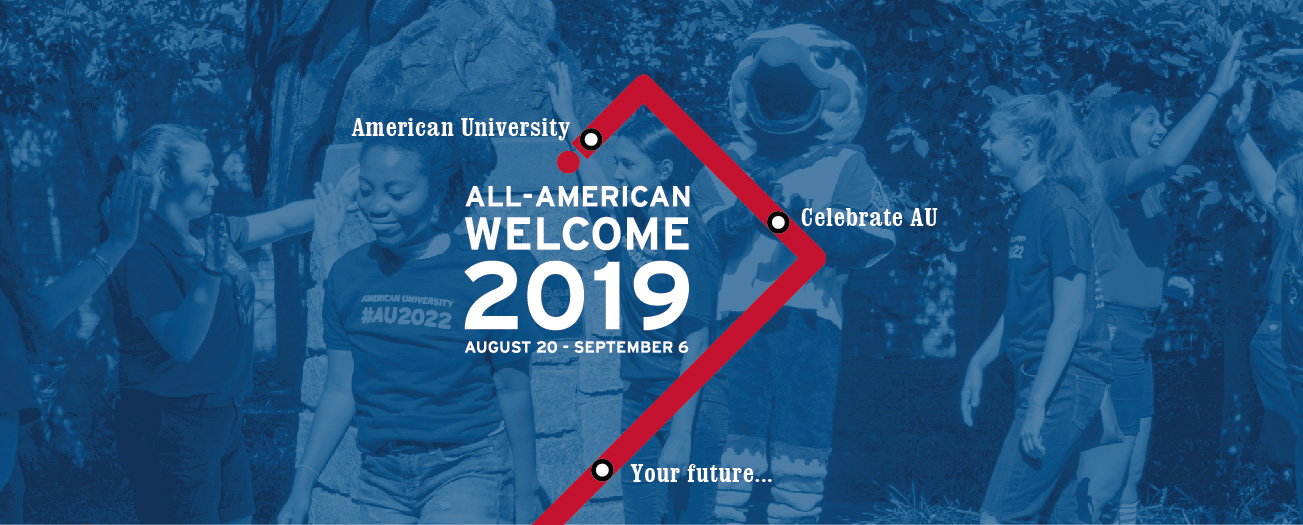 August 20-September 6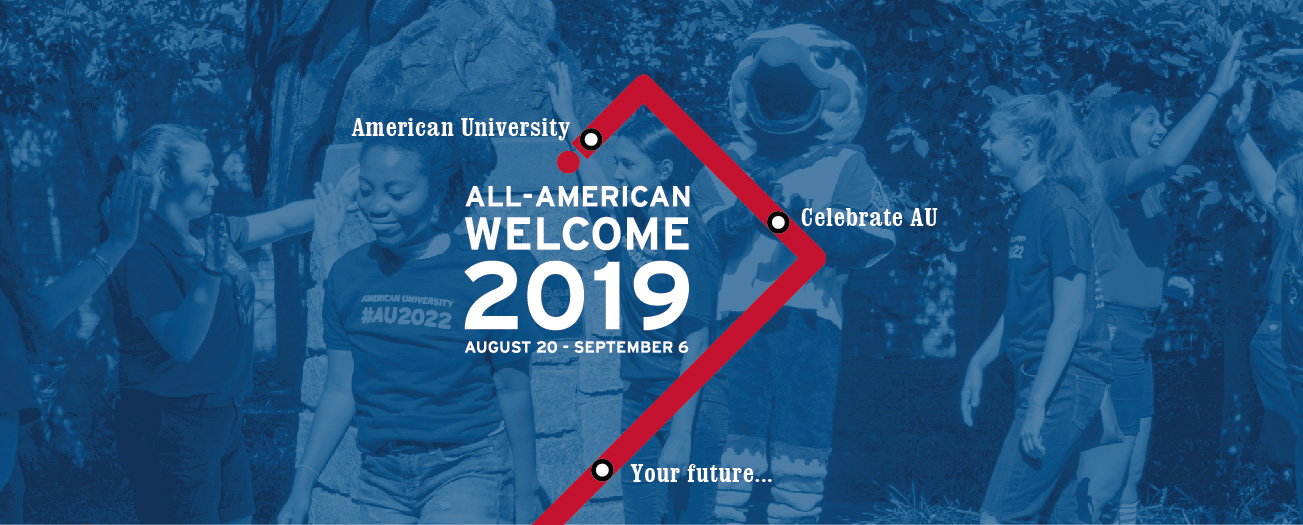 The following information is from 2018.
Information for All-American Welcome 2019 is coming soon!
What is All-American Welcome?
All-American Welcome is designated as the official period to welcome American University's new students to campus. This transition period provides a valuable opportunity to build upon the AU community by bringing together new students on campus. It is a time to encourage student involvement, boost school spirit, and create life-long memories. The week is packed with plenty of fun events from convocation, to Explore DC, to bingo, to free movies, and outdoor activities. There's something for everyone during this incredible week! Check out the full 2018 schedule to be in the know about the upcoming 2019 All-American Welcome and follow us on social media for updates throughout the summer! 
All-American Welcome Traditions
All-American Welcome is full of many fun traditions and events! These events are free and open to all first year students!
The All-American BBQ is a long standing Welcome Week tradition. Hosted on Friday, August 24th, it is a time for students to come together on the quad after a week of getting to know one another! This fun (and food) filled event is definitely one you won't want to miss! First-year students receive free admission when wearing their Class of 2022 shirts.
Friday, August 24, 2018
First Year Students Assemble 
10:00 a.m. Friedheim Quad (rain or shine) 
Enjoy refreshments provided by the American University Alumni Association and get your "official" Class of 2022 T-shirt to wear for the convocation processional. Bagpipers will lead your class from the quad to Bender Arena at approximately 10:30 am. Your AU academic journey begins as you pass through Glover Gate, rub the talons on the eagle statue, and enter Bender Arena to the cheers from faculty and staff. 
Incoming Transfer Students Assemble 
10:00 a.m. Battelle-Tompkins Atrium 
Transfer students will gather for refreshments and an opportunity to meet other transfer students. A limited number of Class of 2020 and 2021 T-shirts will be available to wear. Join the procession from the quad to Bender Arena at approximately 10:30 a.m. 
Opening Convocation 
11:00 a.m. (faculty, staff, and returning students gather at 10:30 a.m.) 
Bender Arena Join President Sylvia Burwell for her second Opening Convocation as we open the academic year and formally welcome the Class of 2022 and incoming transfer students. Highlights of the event include remarks by President Burwell, Student Government president Valentina Fernandez, and Scholar-Teacher of the Year. Faculty, staff, and returning students will gather on the roadway and in the Bender lobby at 10:30 a.m. to greet the students as they enter the arena.
Check out our guides for traveling to campus and shops in the local area!