Monday-Friday 9a.m. - 5p.m.
Stafford Cassell Award Shadi Nasabzadeh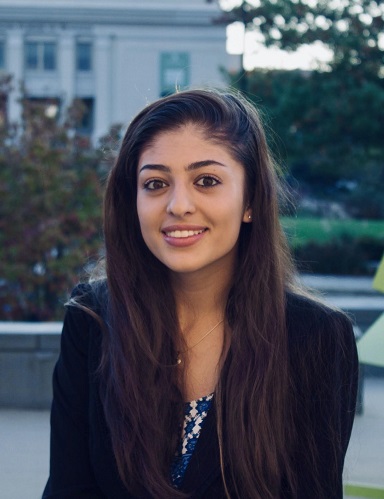 A senior who best exemplifies the traits of Stafford Cassell - total, selfless dedication to the University, profound energy, reliability, intellectual curiosity, friendliness, and helpfulness.
Hometown: Denver, CO and Orange County, CA
Major/School: International Studies, School of International Service
One of Shadi's earliest political memories is of demonstrating in Denver with her parents to support the Green Movement in Iran, during which millions of Iranians took to the streets to protest election unfairness. Her moment of political awakening was related to the integrity of an election—and that focus would become core to her work at AU.
As co-founder of Youth Progressive Action Catalyst, Shadi developed strategies to sustain the organization, including pushing for registration as the Hybrid PAC Blue Future; fundraising so they could start investing in congressional races; and ensuring through establishing an alumni network that momentum in 2018 carries through to 2020 election.
At the Kennedy Political Union, she was instrumental in bringing speakers to campus who included Nobel prize laureate Malala Yousafzai and Heather Booth, who led the NAACP National Voter Fund to increase African-American election turnout. Additionally, as an AU Ambassador during her entire time at AU, Shadi gave tours, hosted day visits, and spoke as the student keynote at four admitted student receptions across the country. 
Shadi was also active with the AU Honors Program, the Iranian Student Association, the Center for Diversity and Inclusion, the Peace and Violence Research Lab, the AU College Democrats, and Delta Gamma sorority, where she was key to raising $200,000 to create an endowed lectureship. A former competitive debater at the state and national levels, she also volunteered to support debate to public high school students through the Washington Urban Debate League.
She pursued this work with a "campus-renowned work ethic, drive, and perseverance" and "an indelible moral compass."
Shadi graduated in December 2019 and is now a legislative specialist with an international law firm in Washington, DC.