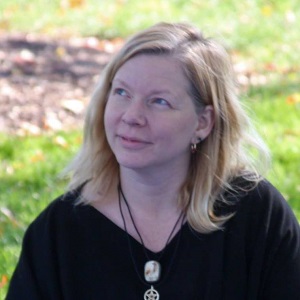 Gwendolyn Reece

Associate Librarian University Library
Degrees

Ph.D. Education, American University; M.S. Library and Information Science, Simmons College; M.A. Religious Studies, University of California at Santa Barbara; B.Ph. Interdisciplinary Studies, Miami University

Favorite Spot on Campus

Any of the little wooded nooks hidden around campus.

Bio

Gwendolyn is the Associate University Librarian and Director of Research, Teaching and Learning in the University Library. Gwendolyn's scholarly research is primarily on Contemporary Paganism and she has an MA and was a doctoral candidate in Religious Studies at University of California at Santa Barbara. When her lead two professors left UCSB, she went to Simmons and became a librarian. Gwendolyn joined American University's faculty in 1998 and earned a Ph.D. from AU's School of Education in 2007. Her research used ethnographic methods to investigate a school for at-risk youth that used Waldorf methods, invented by Rudolf Steiner.
Partnerships & Affiliations
• Library and Information Technology Association (LITA) Legislation and Regulation Committee: June 2007 – Current
Member

• Library Administration and Management Association (LAMA), June 2006-June 2008
Website Advisory Board

• LITA Education Committee, 2003-2008
Member

• LITA Open Source Interest Group, 2002-current
Member

LITA Open Source Interest Group 2005-2006
Chair

LITA Open Source Interest Group, 2004-2005
Vice Chair
Scholarly, Creative & Professional Activities
Research Interests
Waldorf Education and Educational Equity.  The relationship between environmentalism and spirituality.
Selected Publications
Aids," co-authored with Mary Mintz. In Using the Political Science and Government Literature, Janice Flug & Marc Holtzer (Eds.). New York: Routledge [Forthcoming, Expected Publication 2008].
Waldorf-inspired Education and At-Risk Students: A Qualitative Case Study of the T.E. Mathews Community School. PhD diss., American University, 2007.
"Critical Thinking and Cognitive Transfer: Implications for the Development of On-line Information Literacy Tutorials." Research Strategies 20:1 (March 2007) 482-493.
"Multiculturalism and Library Exhibits: Sites of Contested Representations." Journal of Academic Librarianship 31:4 (July 2005) 366-372.
Honors, Awards, and Fellowships
LITA – certificate recognizing outstanding participation
Beta Phi Mu
Phi Beta Kappa