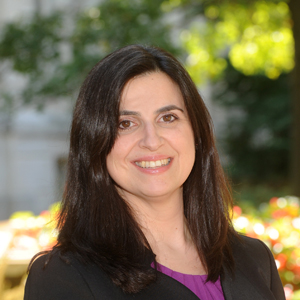 Jennifer Gumbrewicz
Professorial Lecturer
Department of Justice, Law & Criminology
Jennifer Gumbrewicz is a successful attorney, experienced professor, and proven leader with a long career in legal practice, research and communications. A graduate of AU's School of Public Affairs and Washington College of Law, she also received her master of laws focusing on national security law from George Washington University. Professor Gumbrewicz has represented Fortune 500 corporations as a civil litigator in cases and investigations in areas including construction, antitrust, health care, intellectual property and insurance. Since 2001, she has lectured and designed courses at AU for in-class and online on facets of the American and international legal and political systems. Her focus includes national security law; First Amendment and privacy concerns; and criminal law and procedure. She has also served the U.S. Senate in several capacities. For the Senate Judiciary Committee's Subcommittee on the Constitution, she worked on the reauthorization of the USA PATRIOT Act. For the Senate Caucus on International Narcotics Control, she helped draft a report on U. S. programs in response to drug trafficking across the Southwest Border.
Loading ...

OFFICE

SPA - JLC
Hurst - 206H
FOR THE MEDIA

To request an interview for a
news story, call AU Communications
at 202-885-5950 or submit a request.
Teaching
Summer 2015

JLC-479 Prosecution of Terrorism

JLC-679 Prosecution of Terrorism
Fall 2015

GNED-240 General Education Area 4 Topic: Justice in the Face of Terror

JLC-103 Critical Issues in Justice

JLC-194 Comm Service Learning Project: Critical Issues in Justice

JLC-402 Comp Systems of Law & Justice
Spring 2016

HNRS-302 Honors Collqm in Social Sc: National Security Debates

JLC-402 Comp Systems of Law & Justice